Stunning Farmhouse Kitchen Lighting Ideas
So you just redecorated your farmhouse kitchen with artificial plants, and now you might be wondering just how you can go about brightening up your area? Farmhouse kitchens can be dark, especially if you're not planning to paint the room and leave it as-is. This is especially true for kitchens and dining rooms with wall-to-wall cabinets and appliances. Having farmhouse kitchen lighting ideas can help make your space feel a little more inviting and put you in a better mood while cooking. Here are eight farmhouse kitchen lighting ideas to get you started:
Stunning Farmhouse Lighting for The Kitchen 2022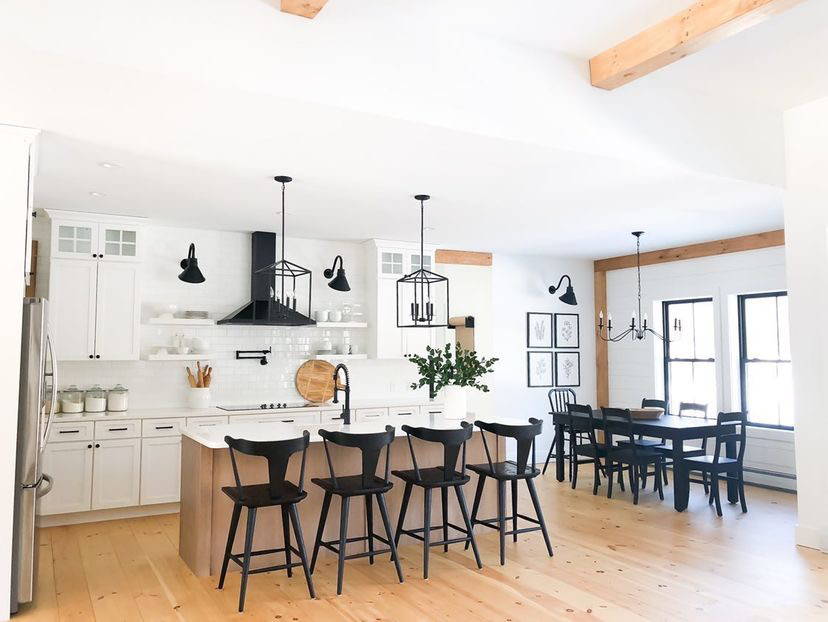 Hang Lights With A Metal Cage

Hang lights with a metal cage around your cabinets and appliances. This will give your space a retro, industrial feel without being overly overbearing. You can also add faux hanging plants to give it a hint of greenery. This type of lighting offers excellent versatility, and you can use it in any space of your home. They come in different shapes and sizes, so you'll find one that matches your kitchen's design. You will also love how easy they are to install.
Artistic lighting is a great way to brighten up your farmhouse kitchen decor. You can use this type of lighting to create a mood in the room. Start by trying out different lights and brainstorming what you might like. Next, you can use a chandelier or an art piece to center it on the table as a focal point in your kitchen. These pieces can be put up quickly with just some essential household tools! This is an easy way to add color and design without spending time or money.
Use Rustic And Reclaimed Materials.

One of the best ways to brighten up your farmhouse kitchen is using rustic materials like reclaimed wood and metal. These materials look great in a farmhouse-style kitchen and can give your room an instant makeover. You could also use some brass fixtures, which will make the space feel more modern and sleek.
Match Your Lighting With Your Furniture

One of the easiest ways to brighten up a farmhouse kitchen is to match your lighting with your furnishings. When you hunt for new furniture, keep in mind what colors are already in your kitchen. For example, if your kitchen has dark wood cabinets and dark floors, light shades like white or yellow can suit your lighting. On the other hand, if you have darker wood cabinets and a more lightweight floor, you might consider using navy blue as your primary color for illumination.
Use A Rustic-Looking Chandelier.

Incorporate natural lighting when designing your new kitchen, you should add much natural light as possible. One of the simplest and most dramatic ways to brighten up your kitchen when it's dark is to look for rustic chandelier light fixtures. The rustic design adds a touch of beauty and simplicity without being too overbearing. A farmhouse chandelier will be perfect for this.
Clear glass is a great option for lighting your space. It's easy to install, versatile, and can be used. For example, clear glass can easily cover an overhead light fixture with a decorative shade if you have an overhead light fixture. If you don't have an overhead light fixture, clear glass will still work as long as you place it in a high-up spot for best results. You could also use bulbs lit from behind the glass, like these chandeliers or these hanging lamps.
Install Simple Wall Sconces

Wall sconces are a great way to light up your kitchen and make it feel more inviting. They can be sleek, contemporary, and provide just the right light in your space. If you're using wall sconces with flameless candles, the sconce will also help provide ambiance at dinnertime. If you want something brighter, try installing recessed lighting in the ceiling of your kitchen or dining room.
Related: Farmhouse Kitchen Wall Decor Tips
Consider Contemporary Design

Your farmhouse kitchen might be dark, but that doesn't mean you can't make it look modern and sleek. Contemporary design is a great way to add a modern touch to your space without making it look too different from what it already looks like. In addition, some white, light colors, and natural textures will help the room feel more comfortable.
Whether you're a fan of a traditional farmhouse style or trying to get away from it, there is no denying that the kitchen is the heart of your home. It is where you spend the most time, so it is no surprise that it deserves a little extra love! With this in mind, we have put together some farmhouse decor ideas to help you get some different light and warmth into your kitchen while giving it a design that suits your needs.