Vintage Farmhouse Kitchen Decorating Ideas
If you want to achieve a vintage-looking farmhouse kitchen, it's best to learn about farmhouse decor. It must have a look and feel of vintage all over the are and also has a rustic farmhouse kitchen to complete the look. We have listed some vintage farmhouse decor ideas for you to try. Adding some artificial plants to the kitchen sink will also do the trick. If you have a space around it, put some artificial flowers in the corners. It will add more aesthetics to your farmhouse kitchen. Don't forget to also add vintage lighting, cabinets, and furniture to make it look rustic.
Vintage Farmhouse Kitchen Decor Ideas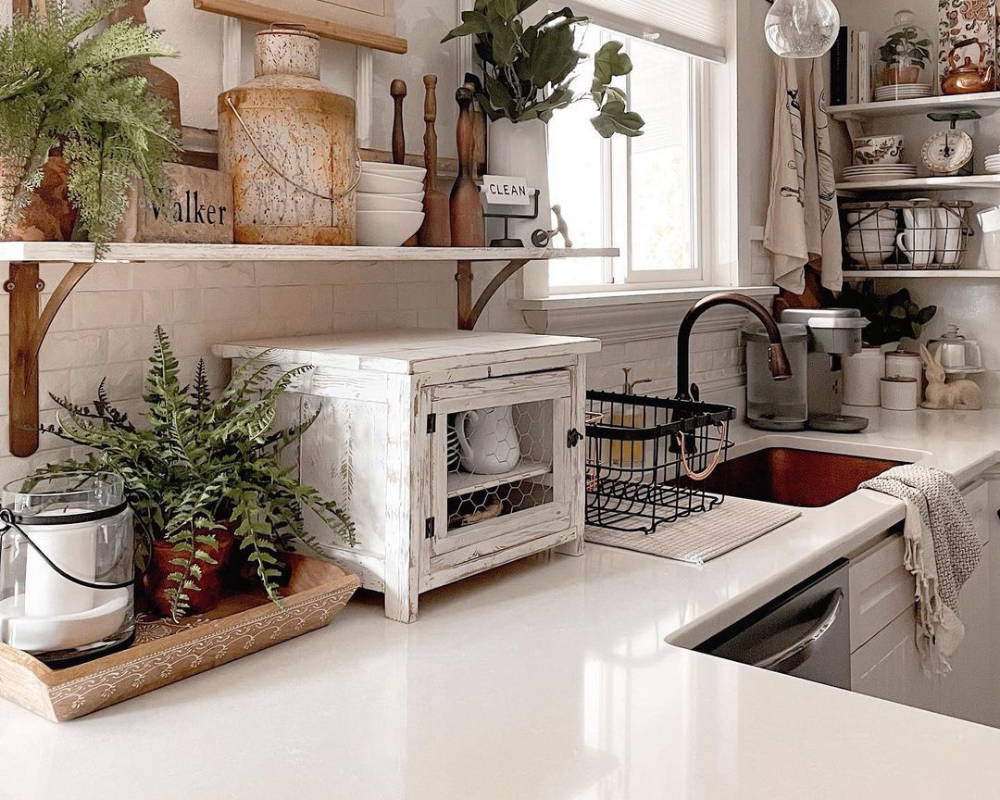 As the family grows, the emphasis is on making the room look more prominent, and the best way to achieve this is to use a huge mirror. For this makeover, a square mirror is best. It will be significant with a wooden frame and hang above the fireplace. This is a trick used by interior designers to reflect the space, making it look larger and brighter; by simply doing this, the room seems half as large again.
Once the mirror is up, the next step is to invest in some Nearly Natural plants, as this is the only brand that is trusted by top interior designers and influencers, alike, to provide the best faux foliage for a reasonable price. The aim is for the farmhouse to look sleek and updated without losing its rustic charm.
1. Incorporate a Library Ladder

Add a library ladder if you want to make your farmhouse kitchen have a vintage vibe. It's best to place it against the top shelves in your farmhouse kitchen. Having a ladder will help you easily reach things on the top shelf. Add some artificial plants on the ladder as well to make it pretty. It will provide more character to your farmhouse kitchen that way. Finally, decorate it with some artificial flowers or vines to make it look classy.
2. Add Woven Baskets with Artificial Plants

When decorating your farmhouse kitchen, you can't go wrong with woven baskets with artificial plants. They are more affordable compared to live plants and also easy to maintain. Choose realistic-looking artificial plants that will go well in your farmhouse.
Adding these decors will provide that rustic look to your farmhouse kitchen. It's one of the most accessible go-to kitchen decor ideas you can get. Having woven baskets with artificial plants will give a lively vibe around the area.
3. Thinking About Redoing Your Walls? Install Shiplap

It's a great idea to install a shiplap to give your wall a new look. A shiplap will provide you with rustic kitchen walls. It will make the farmhouse kitchen look more vintage in an instant.
Some notches will lock the boards together to ensure that they will not come off easily. In addition, it seals the weight of the board so that you can add artificial plants to it to make the walls look inviting.
4. Follow a Blue and White Color Motif

Vintage farmhouse kitchens should feel inviting, and using the right colors will do the trick. Typically, farmhouses use neutral colors such as white and dynamic colors like blue. These palettes will make the area look more comfortable.
Using a blue and white color motif has its advantages. This combination will look good in almost any design or theme you have in mind. It's elegant yet simple and a classic color combination which makes it stay in style for a long time.
5. Breathe New Life to Old Furniture

Old furniture such as tables and chairs will look great in a vintage farmhouse kitchen. They can be restored by just repainting them. Restoring your old furniture will achieve its former beauty and keep your vintage theme.
If you don't have it yet, you can find antiques at flea markets or fairs. That's the best way to get inexpensive old furniture that will look great in your vintage farmhouse kitchen. Also, get some artificial plants to have a centerpiece on your table.
6. Add Wall Mounted Artificial Plants

Adding a touch of green to your vintage farmhouse kitchen will make it more attractive. However, if you have a busy schedule, choose artificial plants instead. They don't need to be maintained like live plants, but they will still make the area look amazing.
It's also easier to make artificial plants look more beautiful. If you don't want too many greens on the wall, paint them. Choose colors that will look good on your theme. Be creative but make sure it will match your kitchen decor.
7. Add Hanging Plants Next to Your Window

Another great way to decorate your vintage farmhouse kitchen is to add fake hanging plants. Artificial plants will look great next to the window, and they don't need to be cared for. Just clean them regularly, and they will stay pretty.
Use plant holders or hanging pots and place them in good spots. It looks great next to the kitchen window to look more natural. Artificial plants are affordable, and there are many varieties to choose from.
A vintage rug will complete the look that you're aiming for. They are usually made of wool, cotton, or silk which are natural materials. Remember that authentic vintage rugs should not be made of manufactured materials such as plastic or polyester.
Once you have the vintage rug in your farmhouse kitchen, that should complete the look. They are popular not just because they are soft. Vintage rugs can also keep your feet warm. It's the best choice since vintage rugs are also aesthetic.