Farmhouse Bathroom Wall Decor: How to Create a Lux, 5-Star Spa Experience
What's better than coming home to a fresh, energized bathroom to cool off after a long day? Especially in modern farmhouse and farmhouse bathrooms, having a little taste of nature is essential for creating a thoughtful home.
We're here to inspire you to create farmhouse bathrooms you will want to recreate this spring. But the bathroom creates challenges in designing a space to love; the humidity, wetness, and other elements make it difficult for live plants; we recommend wall décor plants instead. But don't worry that they'll look tacky, you deserve the 5-star spa treatment, and we're here to teach you how to get the look without breaking the bank. Because we want you to feel closer to nature, let's bring the outdoors to your space to reimagine the lushest and luxe bathroom you've ever seen right at home.
Trust us! We have over 75+ years of experience in the faux plant industry. And today, we want to share those top tips all for free. And spring is the best time to begin this makeover journey. It can only get better from here. Get the best farmhouse wall décor tips from the top interior designers to recreate the the perfect scenery.
What To Consider For Your Farmhouse Bathroom Wall Decor

Set a budget - With the limitless ideas for this space, it's easy to go overboard and spend too much. So before you start, consider setting a budget, then stretch the dollar even more by being on the lookout for promotions and retention offers from brands.

Measure your space - Because spaces are unique in sizes and needs, you must measure your space before adding any accents; not only is this needed for materials, but it avoids messy returns. Stick to a budget; you might order a more oversized, more expensive item instead of saving. For tips on measuring your space, look at how to

choose the right sized tree and plant

.

Be flexible - We all know that decorating is a never-ending process; it's crucial not to become overwhelmed; remember, it's your home. These things take time and will never be perfect. Have some patience.
Wooden Farmhouse Wall Mounted Hook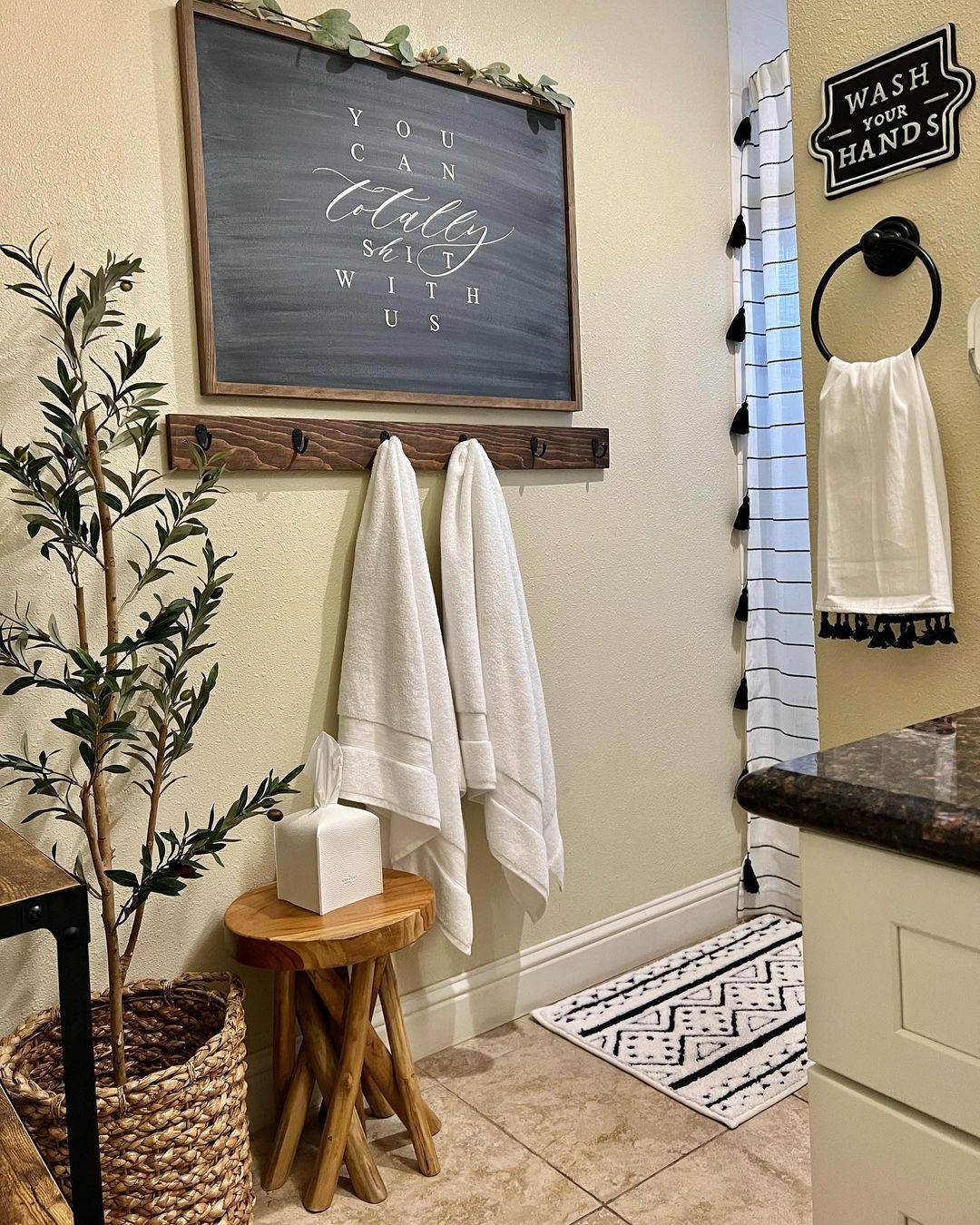 We love this wooden farmhouse wall-mounted hook. Especially in tight areas, it's an amazing little space-saving trick that adds some visual interest wherever displayed. Next, add the drying towels or other clothing.
Consider adding this hook to the back of the door - Especially if you lack space, this is a great way to have more open real estate on the walls for other accessories.

Add black finishes - Because wood is a dominant element in farmhouse décor, consider painting the hooks in a black finish.

Add some wall décor above the hooks - For some more visual interest and an elevated look, consider adding some wall décor.
Word Art in Wooden Frames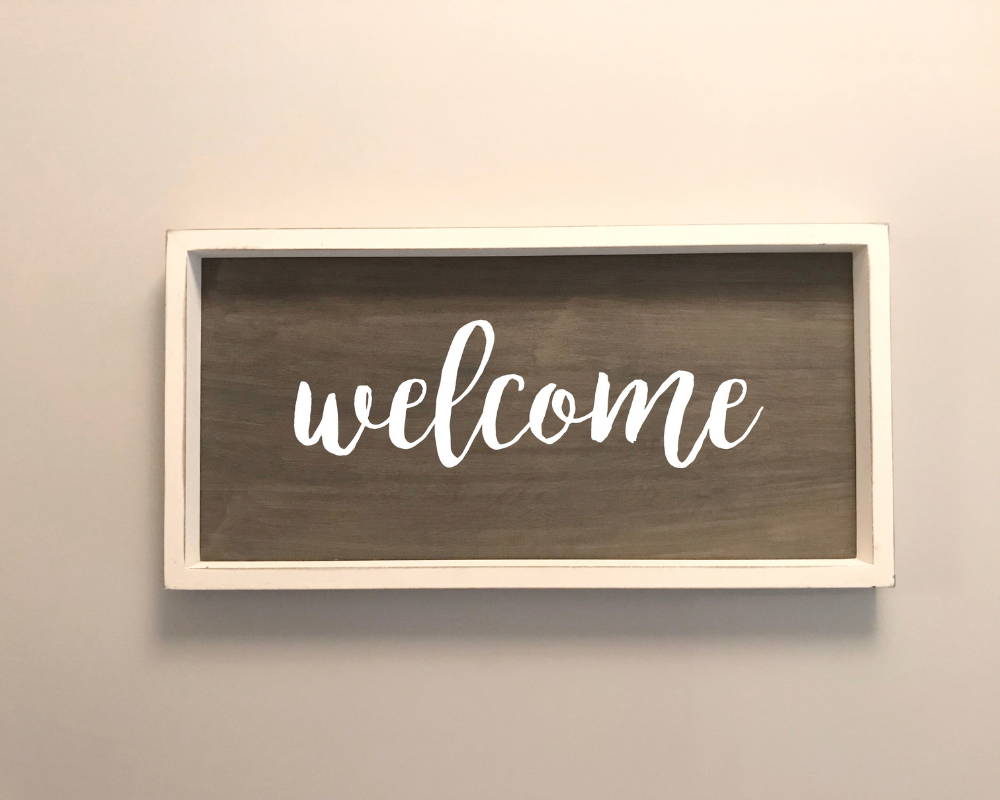 Wood art is a great way to maintain that natural element throughout the bathroom. However, some people might not like this as it's more farmhouse versus modern; you'll love these tips if you want more rustic touches.
Stick to a color pattern - This is crucial for adding any wall décor. If you try to mix and match different wooden wall décor, it looks messy; keep the look clean by sticking to one style.

Choose some with messaging and others without - Don't lose sight of the goal by having too many décor pieces with messaging that can cause the look to become heavy.

Complement the look with some faux plants - Check out our fake plant wall décor tip to learn more about decorating your walls with faux greenery.
Round Bathroom Sink Mirror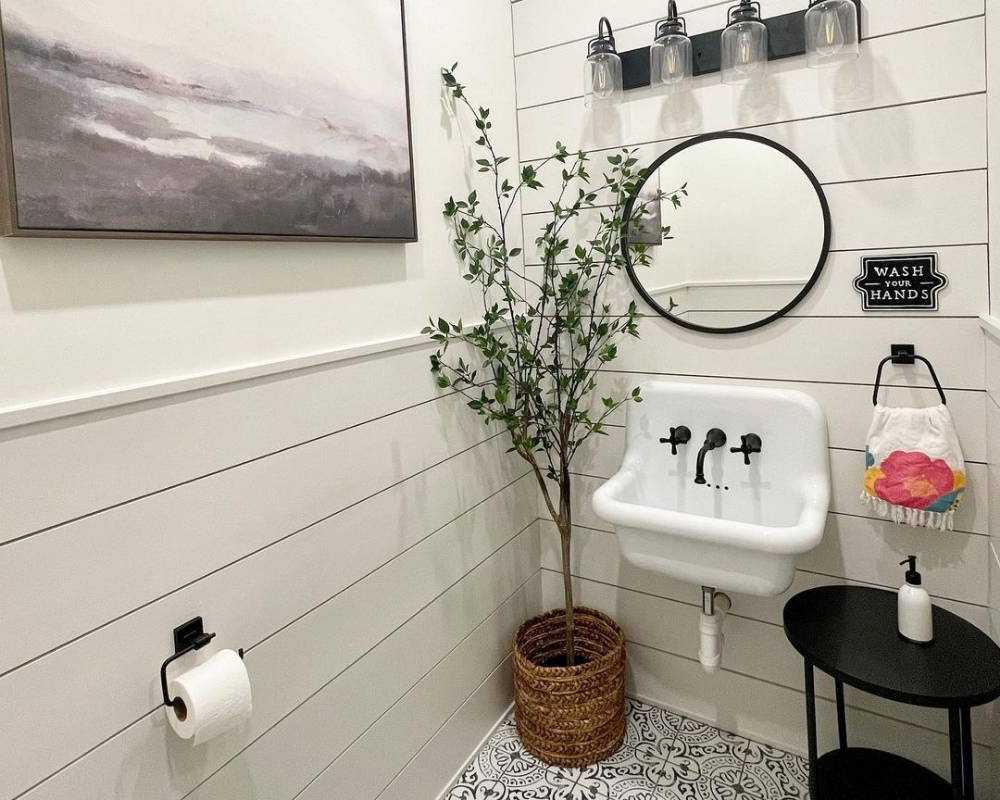 Round bathroom mirrors are perfect for bathrooms and other areas. They provide a modern yet upscale look.

Measure your space - Add some lux flair by looking at a well-proportioned round sink mirror. Make sure it at least covers the length of the vanity or at least fits perfectly in the middle.

Makes the space looks bigger - Smaller spaces always have the same issue; how to make the area seem more significant? Mirrors can emit light to create an illusion of a larger bathroom.

Consider a dark round mirror - We love black finishes in farmhouse bathrooms; create that luxurious look with a circular mirror with a black finish.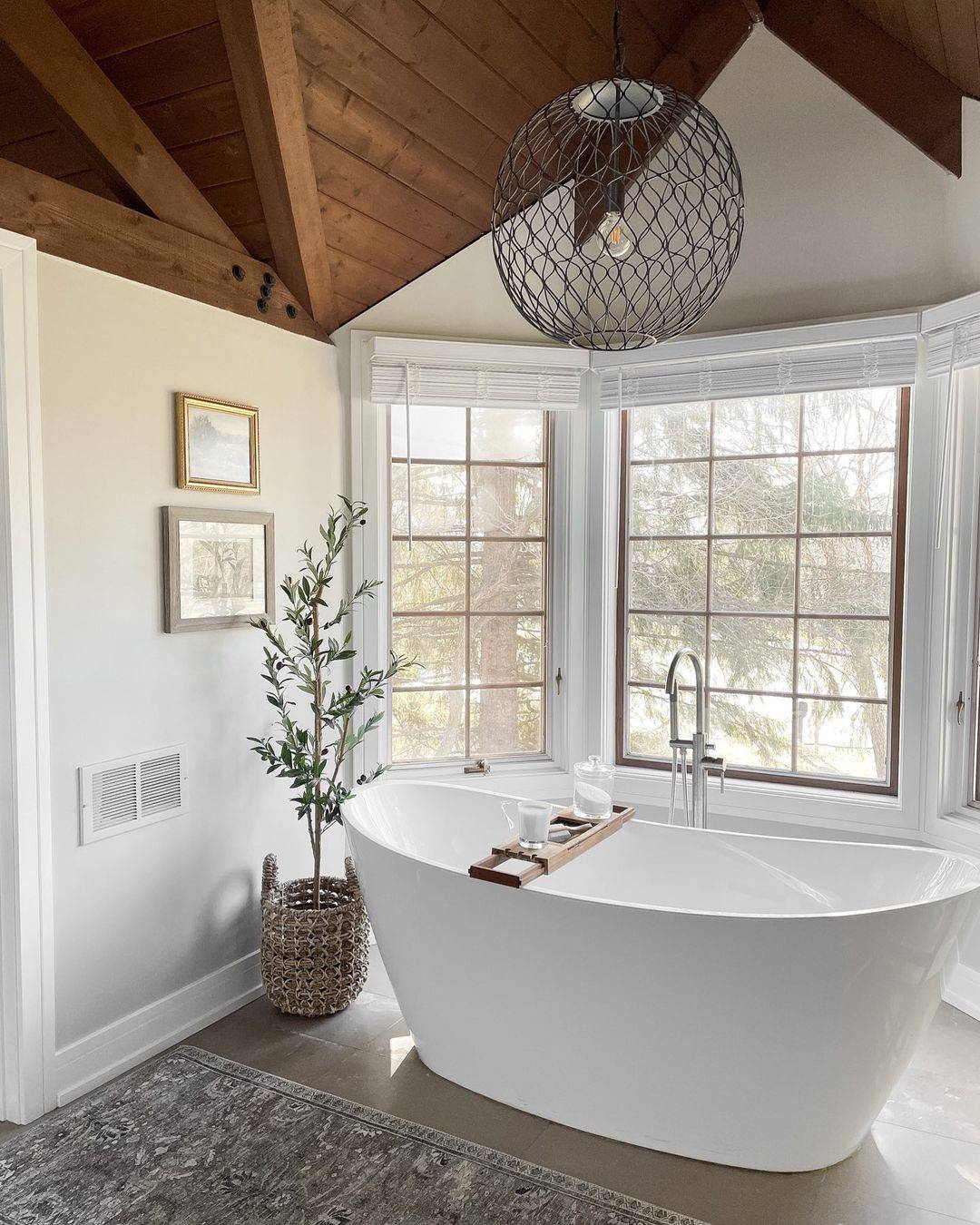 Mixed finishes are a great way to enhance the look. Especially different shades of gold, take the bathroom to the next level.

Mix black and gold finishes - There's no better way to create harmony and flow than mixing finishes, significantly darker ones, and lighter ones.

Consider displaying the images on shelves - If you have wooden shelves, add the framed pictures in this space; you can keep them away from the porous and water areas of the bathroom.

Add happy images - Feng Sui is the best element of any space, especially the bathroom, an oasis to get away from.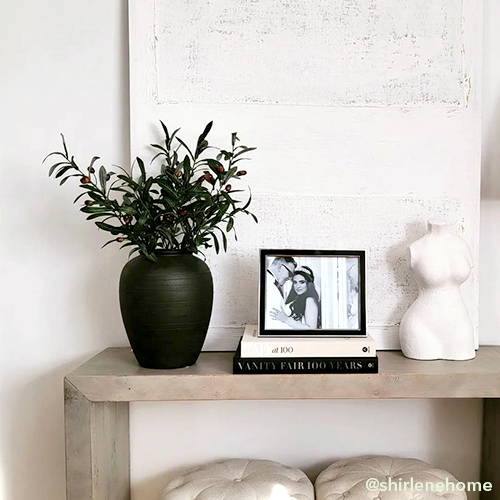 The benefits of artificial plants are endless. They provide cognitive stimulation, but they create a lush space to love. Adorn your room and transform your area into an oasis of green. Here are some faux plants you should think about adding:
Olive Trees - Join the fam by adding a mini olive tree to your bathroom; liven the space today.

Hanging plants - This tip is for those with tight areas; hanging plants are a space saver when you run out of real estate.

Silk Flowers - This is a great way to soften the farmhouse look and inject a little fresh from the farm vibes. Silk flowers are great because they don't require maintenance. A win-win.
Floating Wooden Farmhouse Shelves + Artificial Greenery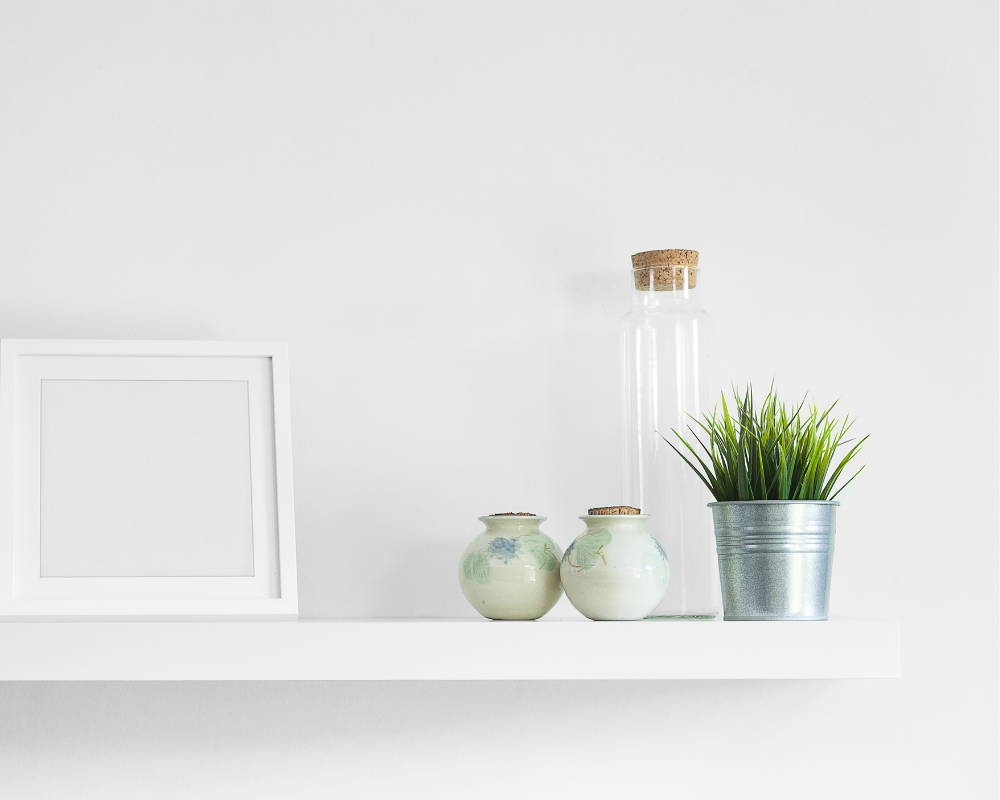 Floating shelves are beautiful in every way. Make them even more stunning by enhancing the look with some artificial greenery. Learn why everyone is raving about why you need fake plants for the bathroom.
Choose sets - If you're looking for a one-and-done solution, consider a collection of faux mini plants to make life easier.

Look for a trailing plant - You know that trendy look, where there's an overgrown of leaves? This look is classic yet sleek and adds a touch of nature.

Add in a rustic planter - Look for those bases with rustic or wooden touches for cohesion and balance.
Hanging Plants Next to Bathroom Window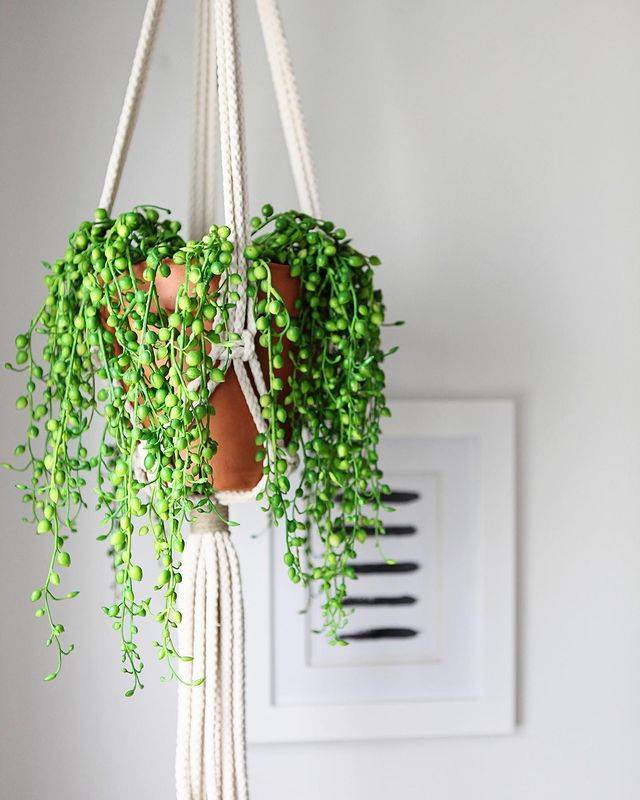 Because some plants are fussy, add a touch of the wild to a bathroom window. Plant a view to love.
Ferns - Welcome to the jungle; feel like you're showering a rainforest by hanging some faux ferns to the window.

For a colorful look, display the Bougainvillea - We love this faux hanging plant for a little more color and a lux, Floridian feel. Think about adding two or three for some balance.

Consider a living wall - We know this requires a ton of work, but the results are a modern yet sleek finish.
Incorporate Artificial Wreaths

Wreaths aren't just for the front door! You can add them to any bare corner of the bathroom, no matter the size of the space.
Change the wreaths seasonally - Create a tradition by changing the wreath seasonally; it's a great way to refresh the bathroom as time goes on.

Think about the colors - In farmhouse décor, you can be more rustic versus more modern, affording you the option to choose which colors blend seamlessly.

Add two if the space allows - This one is a bit unconventional, but we love bathrooms with multiple wreaths in a straight line; it makes for an elevated look.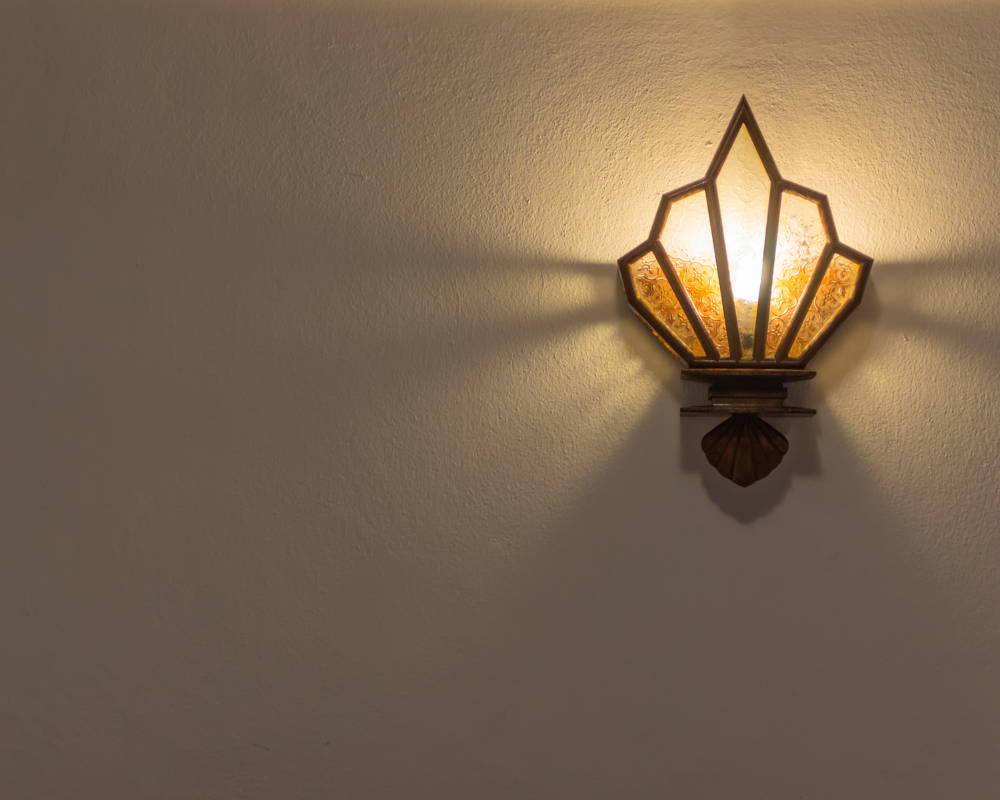 Wall scones are such a classic and beloved piece, often, people gravitate towards trends, but wall sconces are here to stay.
Add two on top of the vanity - Make getting ready in the morning more accessible by adding light to the vanity. Sconces look great on each side of the mirror.

Mix finishes - Again, one of our favorite design tips to elevate any look is adding lamps of different finishes, specifically black and gold.

Add an Edison bulb - For a touch of rustic yet classic design, consider an attractive Edison bulb.