Top farmhouse bathroom you'll want to recreate ASAP
Bathrooms are one of the essential rooms in the house; it's the place we destress and get ready in the morning. We like to think of bathrooms as the room that sets the tone for the rest of the day. This is why it's essential to make it as personal as possible and bring the outdoors in, especially in farmhouse-inspired homes. We love how bathrooms can take the house to the next level and energize us in the morning before tackling challenges. And what better way to soften the wooden accents than with some soft, verdant greenery and silk flowers to create a charming countryside look and feel. Many interior decorators recommend faux greenery because of its versatility, as many bathrooms lack natural lighting and are moist. This is why fake plants are perfect for the bathroom; they help achieve your dream bathroom look without maintenance.
But don't be scared of faux greenery anymore! We know faux plants get a bad rep, but with innovations in manufacturing, they look as lifelike as can be. Nearly Natural was founded by a horticulturist with experience in the live plant industry to capture mother nature's beauty at every branch, stem, and trunk. So, inspired by nature, feel confident in our designs. You can see our faux plants displayed in any glossy design magazine, social media influencers' home, and top restaurants. Also, read more about our top influencer bathrooms for farmhouse décor and recreate the look effortlessly today.
Michelle's cozy Texas bathroom

We love Michelle's Texas, cozy home, inspired by her surroundings. This bathroom is goals, and it's easy to see why. The patterned tile brings a dramatic touch, while the wooden vanity and black finishes create balance throughout the whole bathroom. The mini olive tree between the toilet and vanity is an excellent idea for that awkward space between the two; you can add any artificial plant to this space. We also love the use of shiplap throughout the bathroom; this is what takes this room to the next level, giving it that designer touch. The shiplap creates visual interest and makes the space feel more cohesive and put together. You can see how the patterned tile and shiplap bring different lines for an elevated look. Consider shiplap, and from time to time, you can paint if you start getting bored and want to make a change in your space without going all out.
---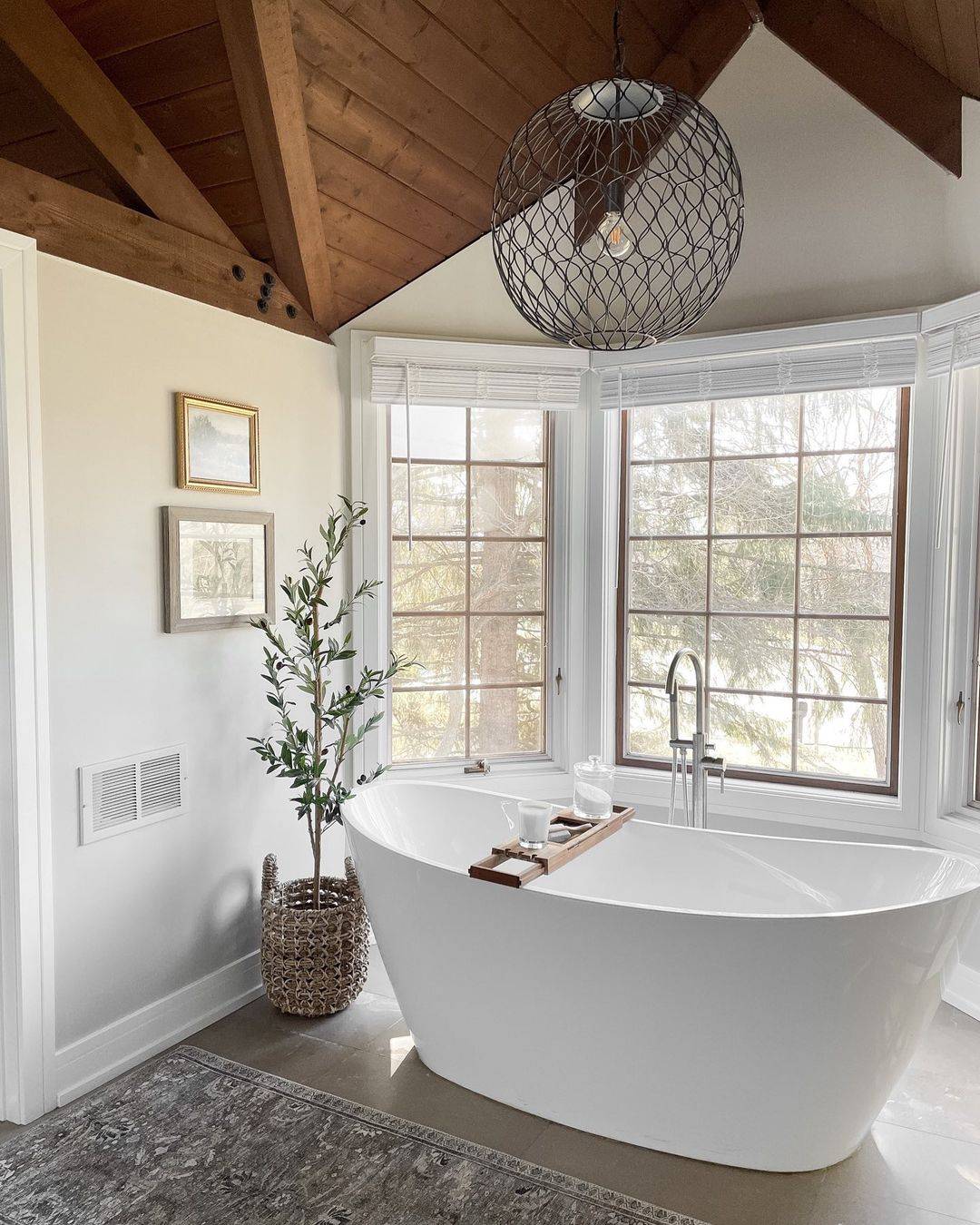 Chelsea's dreamy cottage-core-inspired bathroom

One of the things we love about farmhouse décor is its versatility in design. You can see influence from modern, contemporary, mid-cen, and cottage core aesthetics. The choice is yours when decorating your bathroom. If you're more on the cottage core, Provence look, you'll love the inspiration from this cozy, farmhouse-inspired bathroom. Bathtubs are some of the most luxurious ways to self-care, and they make for a great décor piece. To get that vintage look, consider adding a painting above the bathtub in the center. Consider adding a wreath and a matching garland to create a woodsy vibe for a fairy-tale Disney look. Accent and soften the look by curating some faux trees for an extra touch of nature.
---
Who doesn't love an open, large window while bathing in a bathtub? It's the closest thing to showering al-fresco. Think of it as a looking glass into nature; there's nothing better than immersing yourself in the outdoors. And especially in farmhouse décor, it's the best way to feel the influence of the outside. As the saying goes, sometimes less is more… And when it comes to wall décor, all you need is a window and light-hued walls. This is the beauty of farmhouse décor; you can have both maxi and mini styles, with rustic influences, you have the option to style as you want. And to soften the look, add a faux olive tree in a rattan planter; the brown from the planter and trunk will elevate the look by bringing the outdoors in and creating a balance among the elements.
---
Lauren & Kim's Modern Farmhouse-Inspired bathroom

We love this dreamy, modern farmhouse bathroom. This is another excellent example of all the different ways a space can still be farmhouse-inspired but with a modern twist. The clean, straight lines accent the beauty tub from the large window with dark finishes. The tile injects a touch of drama, and it even matches with the floor for a cohesive look. Then you can see how the white wall balances the whole look and is almost the same tone as the bathtub. For a bit of touch of décor, the rug adds some more color and symmetry for more visual interest. Finally, you can see how the accessories connect the room. The trunk, planter, and stand add those natural touches. To make fake plants look more real consider curating with faux moss or river rocks to make them look as lifelike as possible.
---
USING FAUX TREES TO CREATE YOUR DREAM OASIS:
You're one step away from creating your dreamy farmhouse-inspired bathroom with the most important element, nature. Our faux olive trees are a great addition in any bathroom, as seen in these customer and influencer-inspired space. See more amazing options for your farmhouse home, in our farmhouse collection. Follow us on social media or email / SMS to get notified of our sales, promotions and NEW item drops.