Outdoor and Indoor Spring Wall Decor
Spring is here, and there is so much to consider when decorating a home, and front porch decor for spring is beautiful. Although overwinter, the garden can look a bit drab; think about using some spring wall decor with artificial plants that look so real that no one will ever know they are faux.
To get the right effect for the home, take a look at the artificial plants online and be inspired to get started on the porch project as there is so much that can be done to beautify this space, and thankfully, it can be done quickly. The spring wall decor will be mainly greenery, and there is a choice of decor themes to meet this need and take the space successfully from winter through to the end of summer without spending a fortune on plants.
8 Spring Decor Ideas to Consider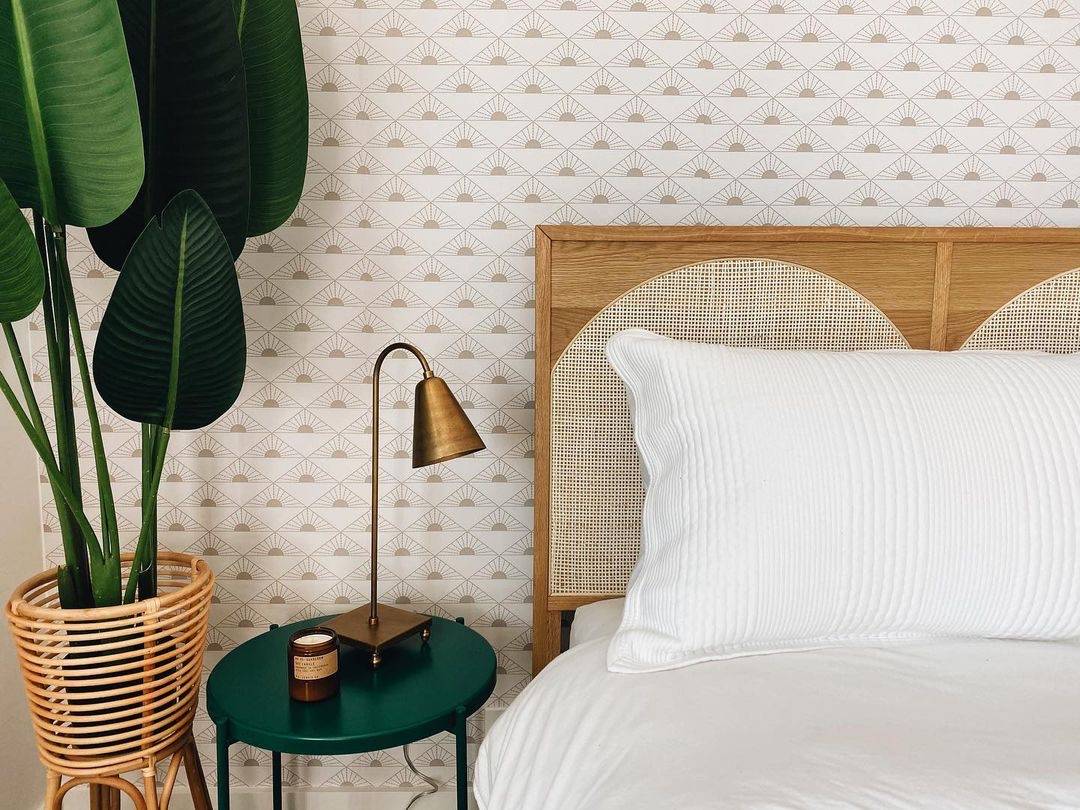 ARTIFICIAL GREEN WALL - A wholly artificial wall allows the homeowner to choose the look they want and to have it instantly instead of waiting for it to grow.

A MIRROR IN THE WALL - If the garden is small, insert a mirror in the middle to reflect and increase the perception of size in the area. Called trompe-l'oeil, this is an art technique using realistic imagery to create the optical illusion that the object depicted exists in three dimensions. It will make the garden look much larger than it is.

CREATE A VERTICAL GARDEN - For a soft green effect, insert a vertical garden; a country fern design in panels gives the area a soothing, lush effect.

INSTALL A SIMPLE WATER FEATURE - Nothing creates a relaxing effect like the sound of water. It is suitable for the birds in the garden to bathe and drink from in the heat of summer.

Place the reticulating ( saves water as it reuses it) water feature in the middle/ front of the green wall, and have a plumber connect it.

MEDITERRANEAN GARDEN - To give the wall a Mediterranean feel, place a large potted artificial Olive tree at either end of the wall. The Olive comes in a big pot, and the soft green leaves will add a new dimension to the wall.

A TRELLIS - If space permits, a small trellis can add to the summer ambiance. Trail a faux grapevine over the top and relax underneath it.

MONDO GRASS - The paved space in the courtyard is often prone to weeds. The new faux Mondo Grass is the perfect replacement for the weeds and will complete the look of your outdoor space. Just install it in rows between the pavers, and it will last for years, hose it to keep it clean.

This completes the lovely rustic farmhouse minimalist look without a lawn to mow or garden to weed.

SPRING WALL ART DECOR -

Farmhouse Wall decor

tips will always include some signs, and in the original farmhouse, there are always redundant signs lying around the property. So to take a suggestion from the past, purchase your signs and erect them on your garden wall.
Wall Decor Tips & Essentials for Spring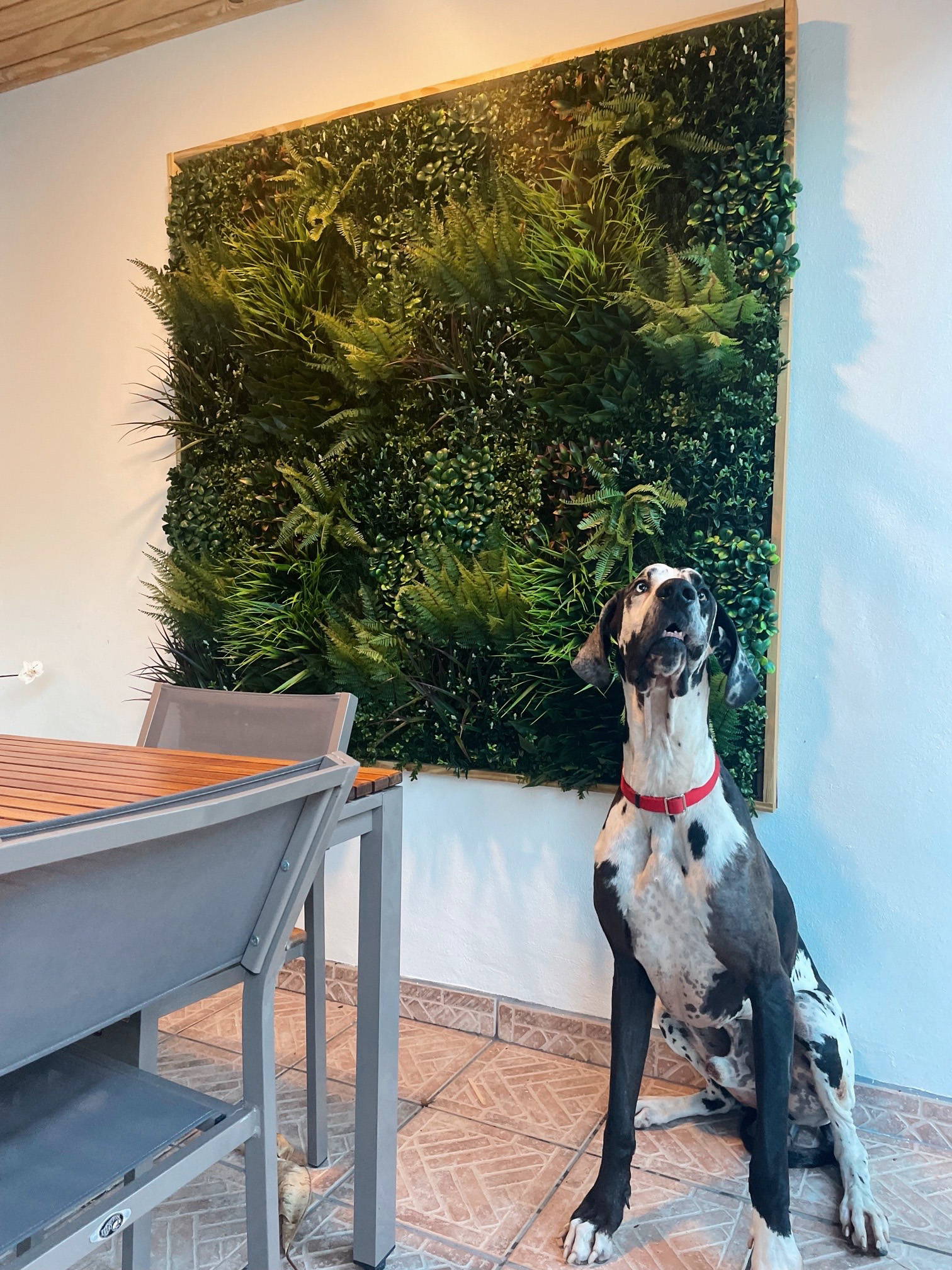 As the days get warmer, it is time to make a few changes to your green wall, and some ideas to keep the rustic look alive are:
GERANIUM - Add UV-resistant geranium to the wall for color.

BOUGAINVILLEA HANGING BASKET - As the summer heats up, add a couple of hanging baskets in bright red Scarlet O'Hara Bougainvillea

HIBISCUS - For a softer look, try two hanging baskets of Hibiscus.

STEPHANOTIS - The Stephanotis is a summer climbing plant with white waxy flowers often used in wedding bouquets. Twine it through the green wall, and it will look authentic.

BEGONIA BASKET - The Begonia will lift any outdoor wall and bring it to life, buy a few to liven up the wall.

WALL DECOR USING PLANTERS -

Our favorite planters for outdoor spring

areas will be placed around the perimeter of our courtyard for maximum effect.

SQUARE PLANTER LAVENDER - The Nearly Natural lavender looks so real that it even fools the insects, and to continue the Mediterranean theme, complement with an olive tree.

FIG TREE - No courtyard is complete without a gorgeous Fiddle Leaf Fig; it comes in its pot and is quite large, and you can DIY it in your planter.

POTTED PALMS - Several potted palms to fill in any blank spots in the garden are always helpful; select them in various shades of green and move them around to where they are most needed. Artificial Paradise Palm looks fantastic, and it is a good idea to order two; palms look better in pairs.

SUCCULENT PLANTER - Succulents are exciting and colorful with different shapes and shades. Have a planter just for succulents.

EXTRA PLANTERS - Have some extra planter boxes ready to plant some gorgeous silk flowers; they are so realistic that you will be unable to resist them to add color when needed.

SPRING WALL DECOR RUSTIC FARMHOUSE WALL ART

Look at the wide range of rustic wall art and choose a few pieces to enhance the look of your spring wall decor.

THE MAPLE LEAF SHUTTER - This looks great installed in the green wall; it is in a frame and looks like a secret window adding mystery to the wall and instantly giving a rustic feel.

BIKE WHEELS - The round cycle wheels add more rustic charm to the garden space, and it is good to purchase two and mount them onto the wall for that extra spring wall decor look. Then when summer is over, they can be mounted on the porch.