If you're looking to spruce up your outdoor spaces without the hassle of constantly having to maintain it, opt to replace living greenery with a wide selection of artificial outdoor plants and fake trees. Exclusively designed with UV-resistant to withstand the natural elements, our collection of artificial topiary trees, bushes, flowering plants, hedges, and many others can help transform porches, elevate outdoor entrances/exits, even add a hint of life to a deck, patio, balcony, or even an entire backyard. By inserting faux verdant greens, your everyday outdoor environment(s) can feel and look fresh all year-round.
7 Benefits of Using Artificial Outdoor Landscape Plants

Because living plants and trees might not be realistic for all exterior spaces, our outdoor artificial plants and fake trees can make landscaping feel effortless - and practical at the same time! With the help of artificial outdoor plants, you can also create an instant effect - rather than waiting for the typical growing period that living flora requires. Did we mention the huge benefits of using artificial outdoor plants? By using fake plants for outdoor spaces you'll never have to worry about the following:
Top 6 Landscape Design Styles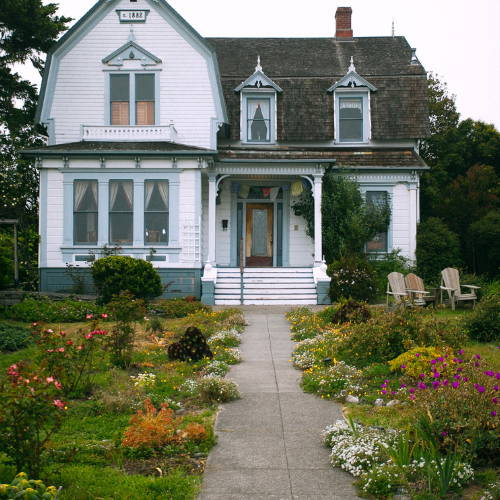 Maybe you've been to Versailles, fell in love with the gardens, and now want to recreate the same artificial plants garden design in your home. If you're looking for some traditional landscaping ideas, we're here to help you create the romantic and posh landscaping you dream of. The one type of tree that is synonyms with these romantic gardens is the classical topiary tree. These trees are expensive and time-consuming to maintain, but you can quickly achieve the look using faux topiaries. Artificial boxwood topiaries in the shape of a sphere look polished year-round, helping deliver that traditional look. They've stayed true and survived the test of time by always being en vogue.
There's nothing more sizzling than a desert outdoor plant landscape. There's something romantic yet so spicy about desert landscaping plants that make us happy. While many thought succulents were just another trend, they have genuinely transformed interior design. If you're looking for desert landscape ideas, we have a couple that you can try effortlessly that update your interior architecture and style. A desert landscape idea for the backyard is to use fake landscaping plants such as succulents around a walkway and complement some river rocks on the tile side. Desert landscape idea for the front yard is to house two Yucca trees in the front of the house and on top of the planter add some colorful flowers or some shrubs for an elevated, hotel look. If you're stuck deciding which fake landscaping plant is right for you, use our buying guide for large artificial plants.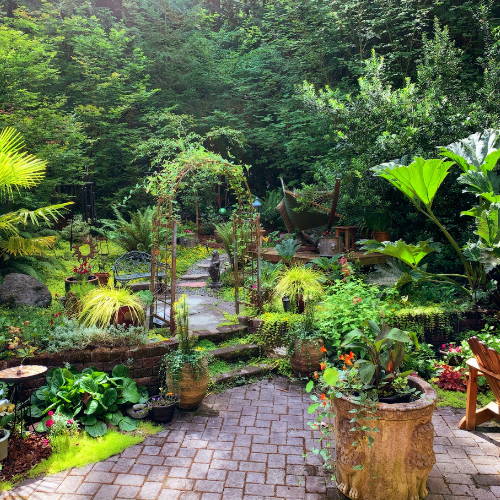 The Japanese are known for their serene, tranquil outdoor oasis that'll relax even the busiest person. If you want to recreate a Japanese landscape backyard, we have some Japanese landscaping ideas. For the backyard, we recommend using some bamboo trees alongside a koi pond and colorful flowers. A Japanese garden is about finding balance with color and greenery; having different green shades helps achieve this look. A new design trend increasing in popularity is Japandi, the marriage between Japanese style and minimalism. This can be done in a garden and decorating with clean lines, subtle colors, and many faux trees. Explore our top 5 most realistic outdoor plants.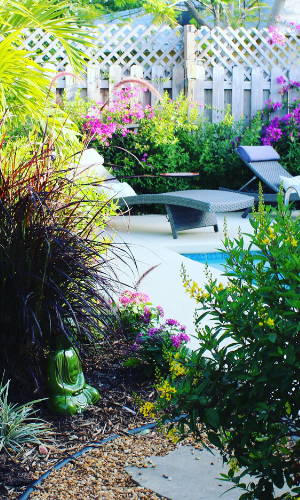 Have a pool in your back yard? Throw in some ferns & ponies around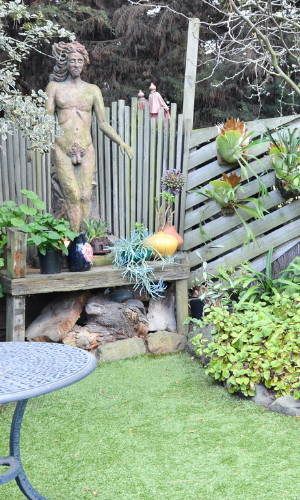 Decorate with ferns and artificial plants in darker planters
Stay in a vacation state-of-mind with some tropical landscape ideas that'll help you kick back and relax. Some ideas of tropical landscape plants include the famous palm trees, Fiddle Leaf Figs, Bird of Paradise and Monstera and Dracaena. Low maintenance landscape design typically includes multiple palm trees alongside colorful flowers that soften the look. By using artificial landscaping trees, you can ensure you're always ready for summer, no matter where you live. No more worrying about winter, ensure your plants look flawless all year. With artificial tropical plants, you never need to worry about maintenance or upkeep that can get pricey. Decorate with faux plant wall décor for a true jungle look.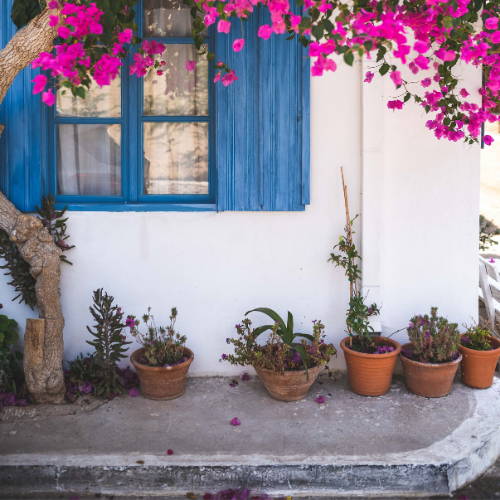 Country landscape design has gained popularity over the last few years and has become mainstream. Rustic, country farmhouse landscaping ideas include decorating with grains, topiaries, and shrubs. These different textures bring a cozy feel that is synonyms with rustic landscaping. Accent these faux plants with some rustic, wooden planters and add some faux moss or river rocks on top. For the front yard, add some topiaries and greet guests with a warm welcome; consider adding some rustic tiles or some river rocks alongside the driveway for a cozy look. To finish the look, consider adding some shrubs around the entryway.
If you're looking for some Mediterranean landscaping ideas, you've come to the right place. Recreate your backyard into a Tuscan getaway that'll make you feel as you're walking through Italy. The most famous Mediterranean landscape plant is the olive tree, our customer favorite. Complete your Mediterranean landscape design by adding these minimalist, airy plants to any outdoor area and accenting them with rustic, European planters. We have a variety of outdoor olive trees in all shapes, sizes and styles to ensure you can build your faux dream garden. If you need a European vacation, our olive trees will take you on a romantic journey every time you step outside. All the guests will be saying chao.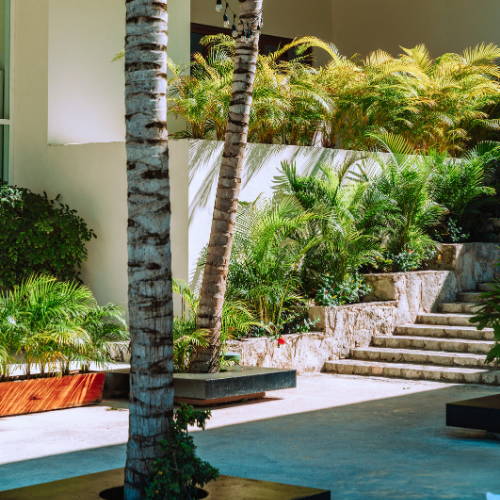 Please note some imagery featured is purely inspiration and not a product of Nearly Natural.