Need some fresh air in your indoor space? Crave more greenery but live in a tight area that limits the amount of space you have? Artificial plants are about to help you blossom because, well, they hang from the ceiling.
Live in a castle, apartment, house, or dorm? Don't worry; you can elegantly hang indoor plants that spruce up your space without compromising square feet. Some plants you might want to consider are cascading Ivy, florals for a burst of color, or some ferns. No matter your aesthetic or design style, there is a perfect outdoor plant for you.
Indoor hanging plants can liven up a room by bringing the outdoors indoors. If you're worried about having to water a plant, look no further than Nearly Natural's collection of faux plants.
We pride ourselves on designing hanging plants that look incredibly lifelike by partnering with top interior decorators and horticulturists with an eye to detail.
Not only that, but watering a real hanging plant can be a hassle, and the right fake plant will look natural, but you don't have to drag a step stool out to water it regularly.
Fake plants lift your mood, and you don't have to worry about dirt or little critters making a home in them. Let's face it, we are so busy, and artificial hanging plants are an easy way to make your home look more beautiful, but they don't take a lot of time to maintain. Nor do they need a sunny window.
There are so many options for hanging indoor plants, so we've created this guide so that you can find the perfect greenery for any room in your home. Let us provide you with a little inspiration.
Choosing Where to Hang Your Indoor Plant

Silk hanging plants never go out of style and faux hanging plants don't require any upkeep so they are going to be part of your space for a very long time. So, it's essential to think through where you're going to hang your plant.
Hanging plants are great for any room from a living room to a bathroom to a dorm room. Look for spots in your home that look a little bit plain. An indoor hanging plant is going to liven up your choice of room. Pay close attention to corners of your rooms—hanging plants look great in corners.
Another thing to note is where you can hang your plant near a window because having the plant hang near a window will make it look even more like a real plant.
How to Hang Plants from the Ceiling

Artificial plants don't weigh as much as real plants so a J-hook may do the trick. If you want to be on the safe side, you can easily purchase a hook kit like this one.
If you get the hook kit, you'll need a ladder, a drill, and a friend to spot you while you are on the ladder.
Mark the spot where you want to hang your plant and drill a hole to your hook kit's specifications. Be sure that the hole you drill is smaller than your hook so that it fits snuggly in the hole.
Your new hanging plant arrives in a planter attached to rope; on top you will find a little hanger so you can hook to the ceiling when you're ready to hang. Need not worry; this process is easy.
Caring for Your Artificial Plant

Unlike their real counterparts, artificial plants need no watering or maintenance, meaning you can spend more time on things you love.
To ensure your faux plant can last years, we recommend removing dust using a feather duster about once a month.
A feather duster will do the trick. So, when you're dusting your home, be sure to dust off your hanging plant once a month quickly. Use a duster with an extendable handle like this one.
Every couple of months, do a detailed cleaning of your hanging plant with a toothbrush or small paintbrush. This will allow you to get into each leaf's crevices, vine, or flower to keep the plant looking fresh and realistic.
Here's a list of our top 10 hanging indoor plants but if you have a different faux-favorite, please share them with us in the comments below!
What are the best hanging plants ?

The best hanging plants depending on your style, budget and size. While some of us might be limited in space or have an abundance, the best hanging plants are the ones that fulfill your need. When buying faux hanging plants pay attention to the price, reviews, and images so that you can avoid returns. The price will dictate the quality and longevity; it might be worth spending a bit more for higher quality that lasts longer. Nearly Natural has a vast selection of artificial hanging plants indoors and the best hanging plants for bedrooms. Take a look at our selection; we guarantee you will fall in love with a new faux hanging plant.
Our 5 Best Selling Artificial Hanging Plants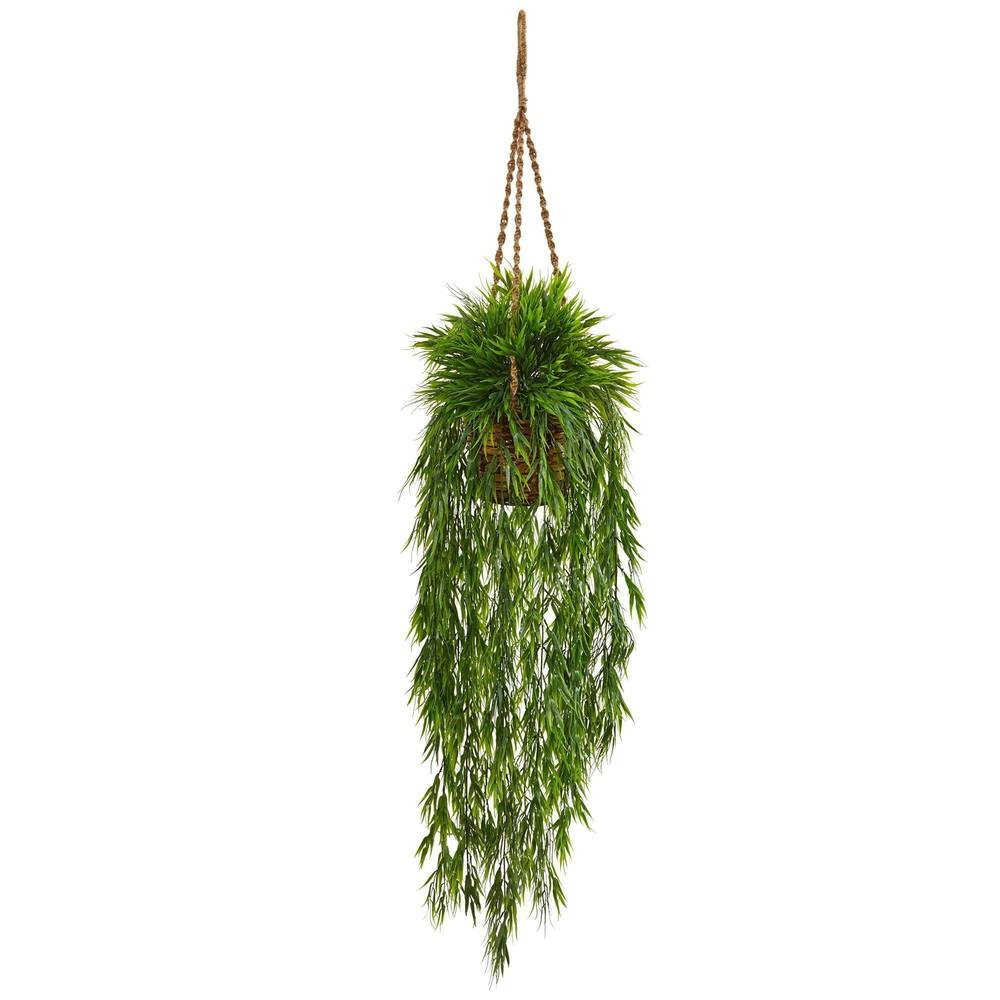 Mini Bamboo Hanging Plant

Perfect for an area where floor space is a luxury, this bamboo hanging basket will instantly brighten any environment. Place it next to a sliding patio door or in a window, and no one will know your secret. You'll have the look and feel of a hanging plant without the worry of water dripping onto your floor. Bring the East's famous essence to your living areas with this faux hanging plant and create a sense of calmness and relaxation. Bamboo is synonyms with the serenity of Asia and is sacred in many cultures for its medicinal and longstanding use in harvesting and cooking. You can now enjoy this exotic, tropical plant in your home. Quickly retreat to a peaceful environment after a long day at work—fun fact: The panda bear's diet is 99% bamboo.
Hibiscus & Spider Artificial Plant in Hanging Basket

Add a fantastic pop of color to your wall to instantly brighten up your space with this artificial hibiscus and spider plants. Passionate, deep red flowers blossom over lush, thin variegated leaves that are showering down freely from the included hanging basket. This 31-inch artificial hanging plant will look great when hung from the ceiling of your enclosed porch with other colorful succulents for a vibrant finish. This is one of the best hanging plants for living rooms as it brings color and texture. Perfect for modern, eclectic, and many other style decors. Native to Florida, the hibiscus is associated with tropical beach vacations, and with the help of this faux hanging plant, you can escape to your holiday without ever leaving home. Best of all? This hanging plant looks excellent in many living areas.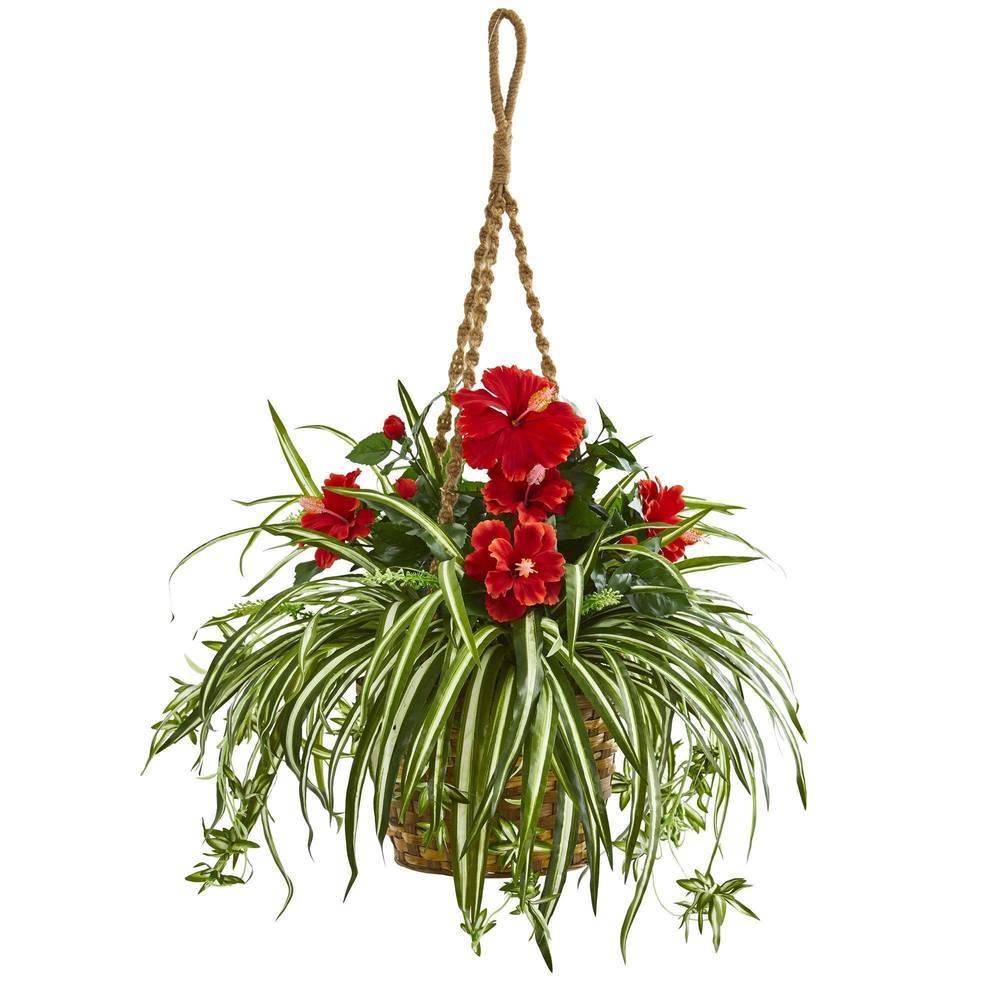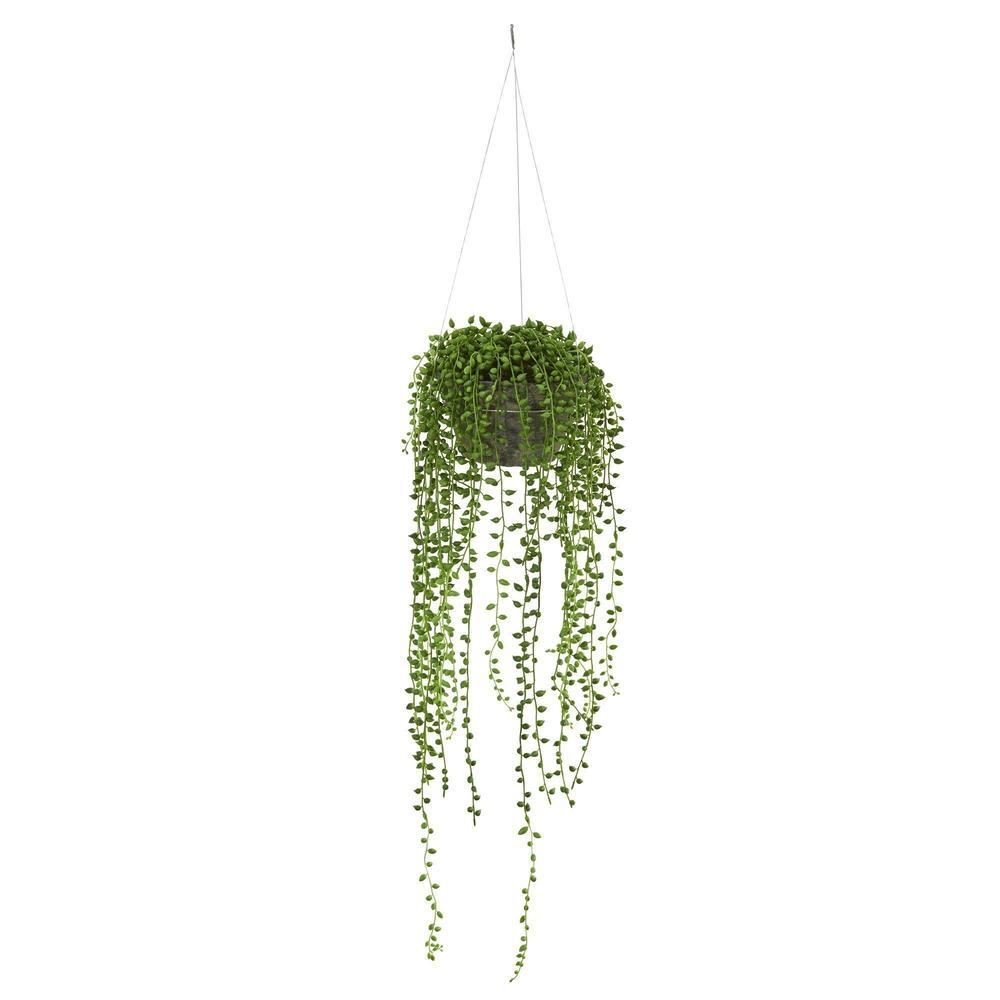 String of Pearl Artificial Plant Hanging Basket

Compact in size, the artificial string of pearl plant is ideal for use in limited floor space. With its unique greenery that spills over the included stone vase, it's natural appearance will recreate the allure of the outdoors inside your home. Hang it above your kitchen island for an elegant finish. If you crave the jungle look, this artificial hanging plant will welcome you to a tropical oasis. Perfect for many style decors. Customers love the ease of care and how realistic it looks. Many report back that they're friends even think it looks real. If you lack a green thumb but want an indoor jungle, this is the faux hanging plant for you.
Eucalyptus, Maiden Hair & Berry Hanging Basket (Set of 3)

Faux hanging plants are some of the best ways to decorate. Especially if they are filled with lush, leafy plants. These Eucalyptus, Maiden Hair & Berry Hanging Basket set combines three different (faux) plants, all ready to hang wherever you wish. This is a set of three, so you can decorate your entire home or office with ease. Never needing water, making it a stylish gift for someone who loves plants yet is a bit forgetful when it comes time to water them! Add cohesion to all living areas by adding faux interest plants that complement many style decors. Designer tip: Pair close together adjacent and parallel to each other for symmetry. Add in kitchens next to the window or on top of the kitchen island for a refresh. It also adds a fun touch in the bathroom next to the sink.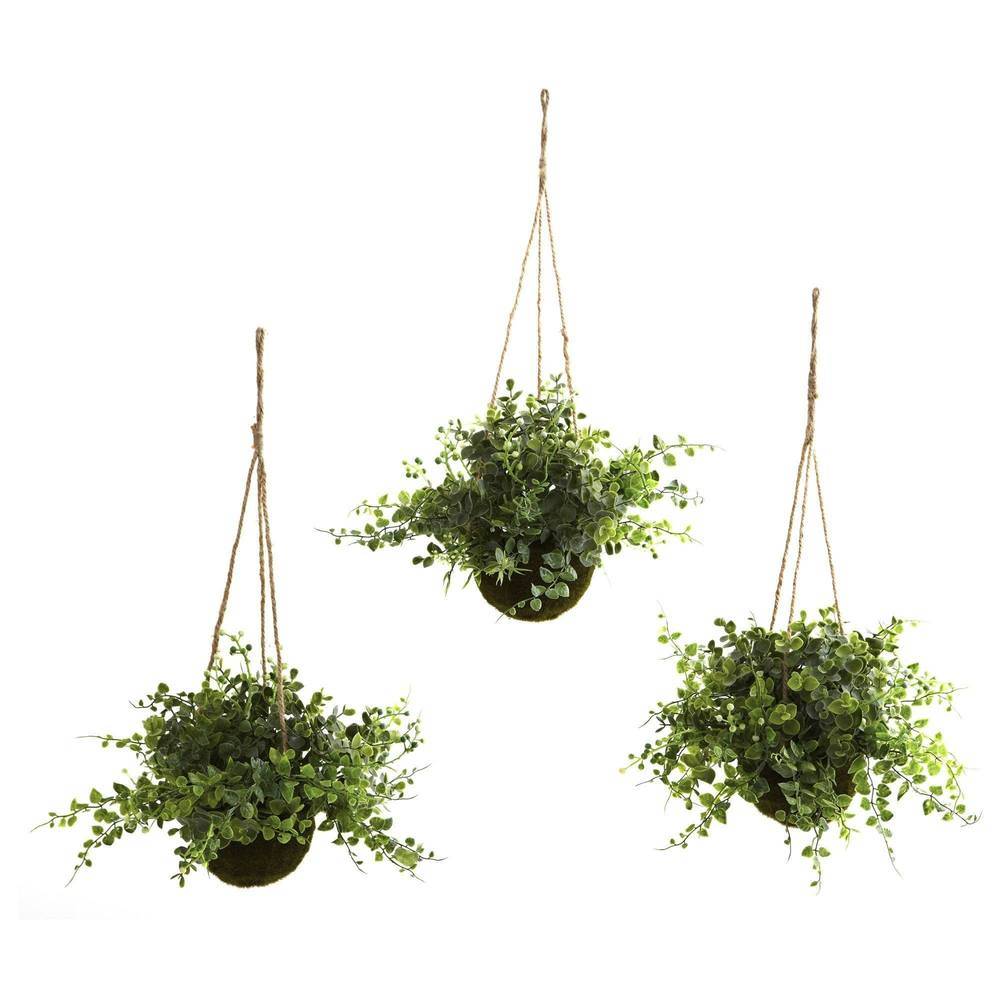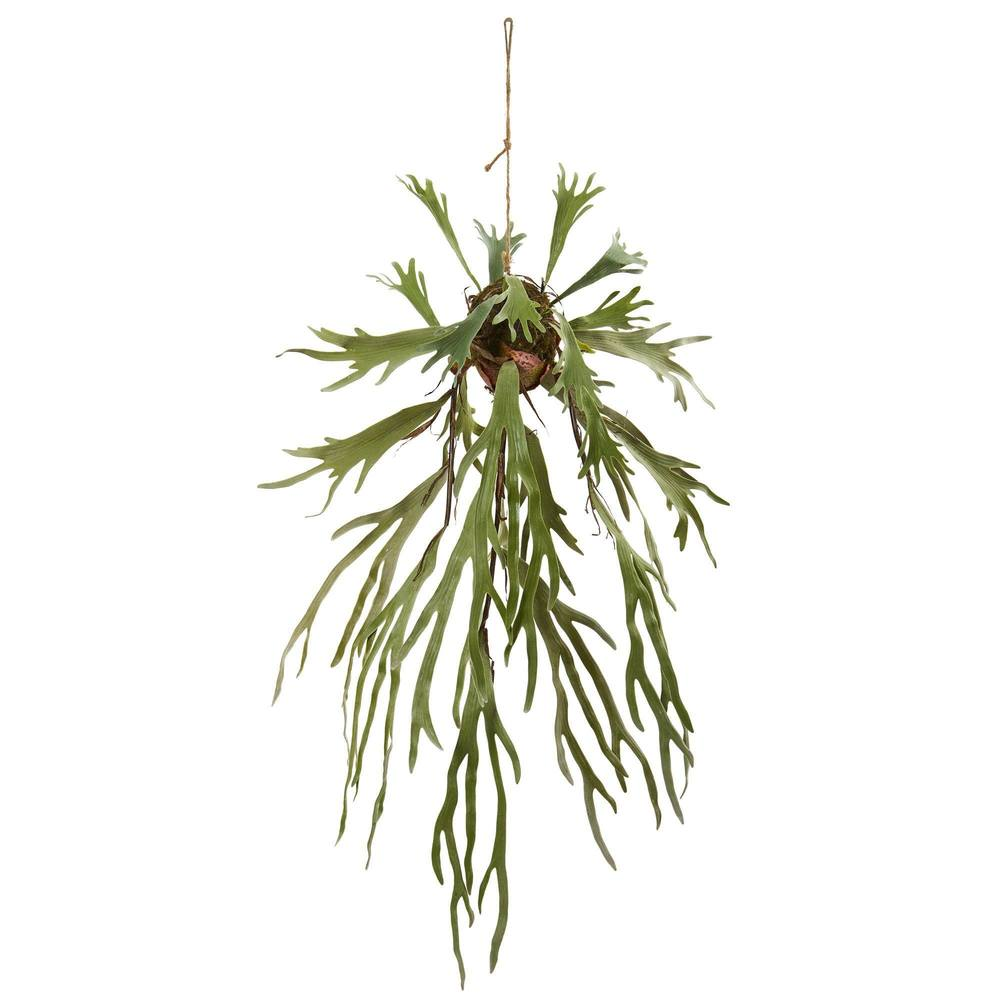 50" Staghorn Artificial Hanging Plant

Maximize your vertical space with the help of this artificial staghorn hanging plant. Hanging 50" long, this realistic silk replica boasts an overgrowth of lifelike tendrils, delicately dangling in a palette of soft green hues. An instant focal point, it would easily freshen up bare corners in a brightly lit kitchen or family room. Take a trip to wild side by displaying this faux hanging plant in any living area that needs a refresh. Complements many style decors including modern, eclectic, and boho. Change your surroundings effortlessly, with this faux hanging plant; we guarantee it'll be a conversation starter. Designer tip: Decorate against a bare corner or in a bathroom for a wow factor. The long tendrils add a fun, almost whimsical touch to any living area needing a focal point or wow factor.
More Artificial Hanging Plants (Top 10 - Honorable Mentions)

Artificial Large Boston Fern Hanging Basket

Ferns are big and billowy and instantly modernize any room, from the living room to the bathroom to a bedroom. Their draping fronds on the large Boston fern are a beautiful green and since they don't have flowers, you don't need to worry about a color clash in the room you choose to hang your fern in.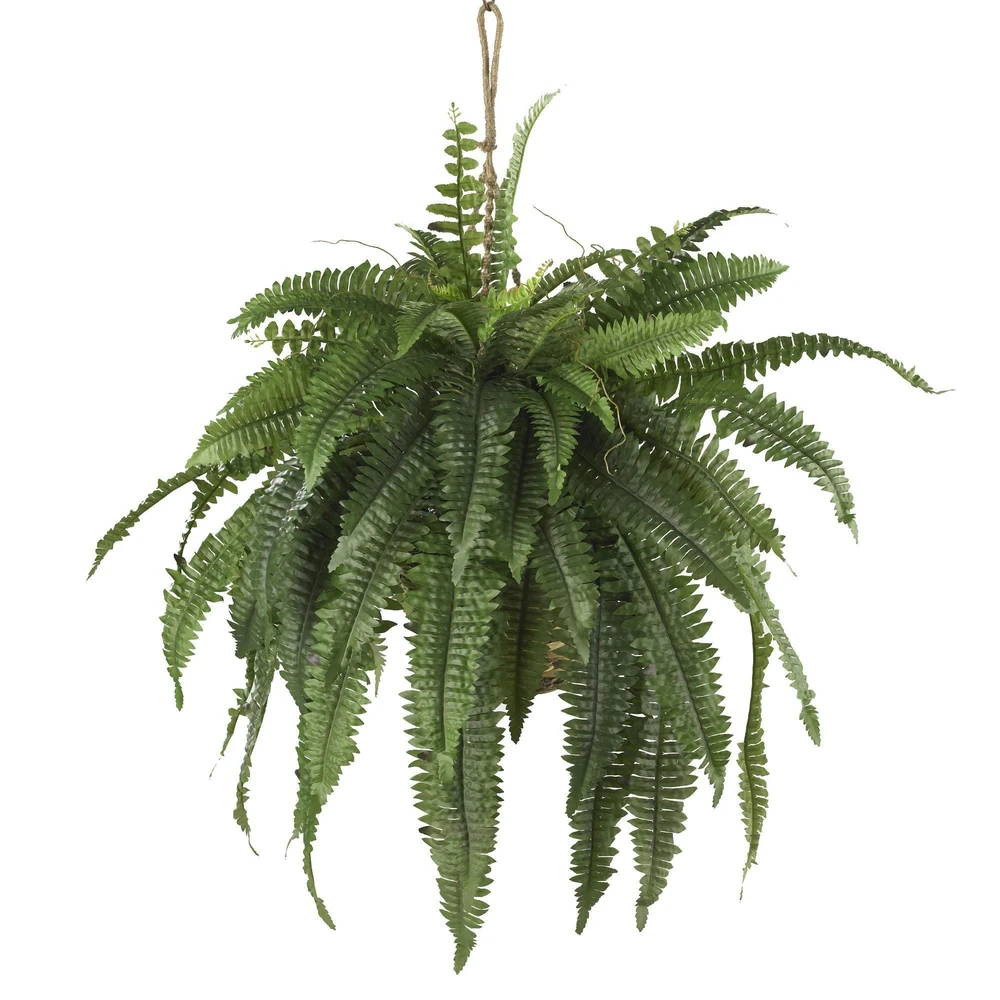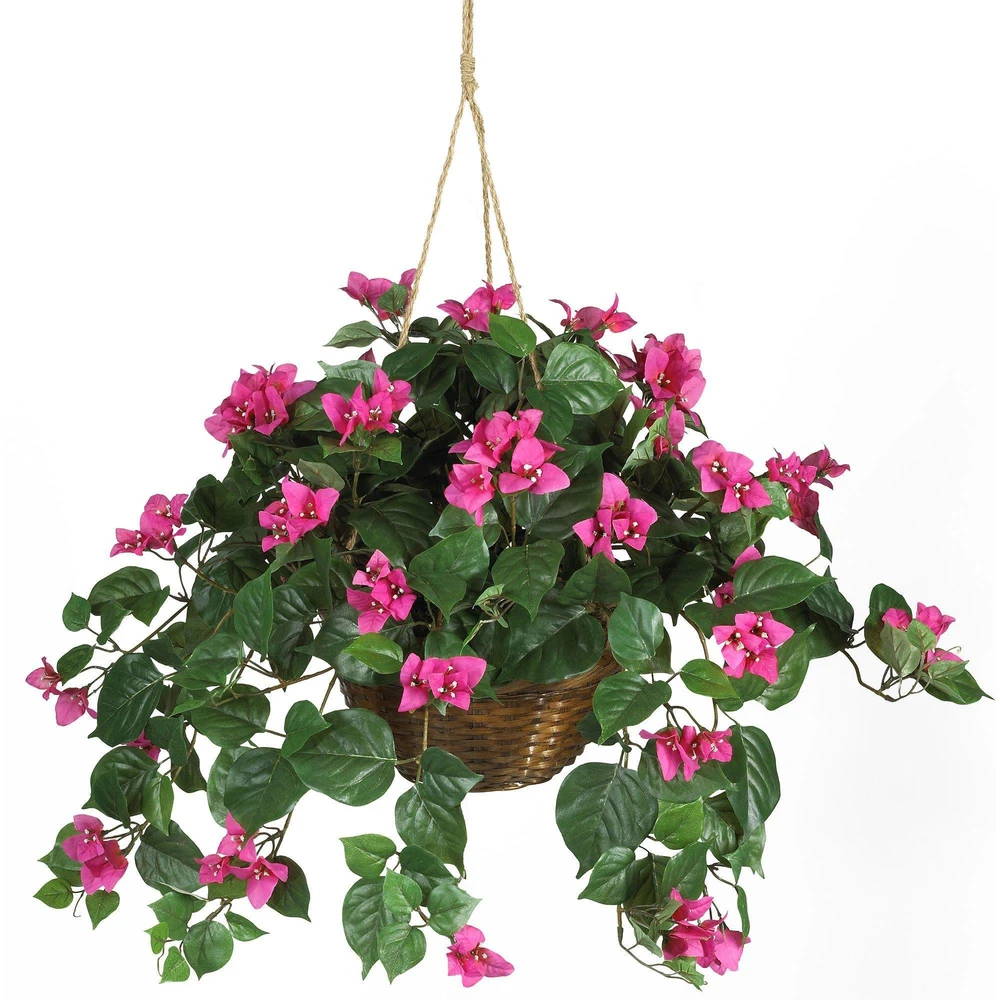 Bougainvillea Hanging Basket

This beautiful plant has dark green cascading leaves and pastel pink flowers. The bougainvillea hanging plant livens up a room with a touch of elegance and provides a way to incorporate nature into your décor. This plant comes in an earthy wicker basket completing the overall visual aesthetic of the bougainvillea hanging basket.
Philodendron Hanging Basket

This plant features long cascading green leaves adding a sense of elegance to any room. The 264 meticulously crafted leaves look completely real and instantly add an earthy sense of beauty to any room. With its luscious green leaves and vines, the philodendron hanging basket is perfect for any space in a room that looks boring or is lacking wall art since the vines are so long.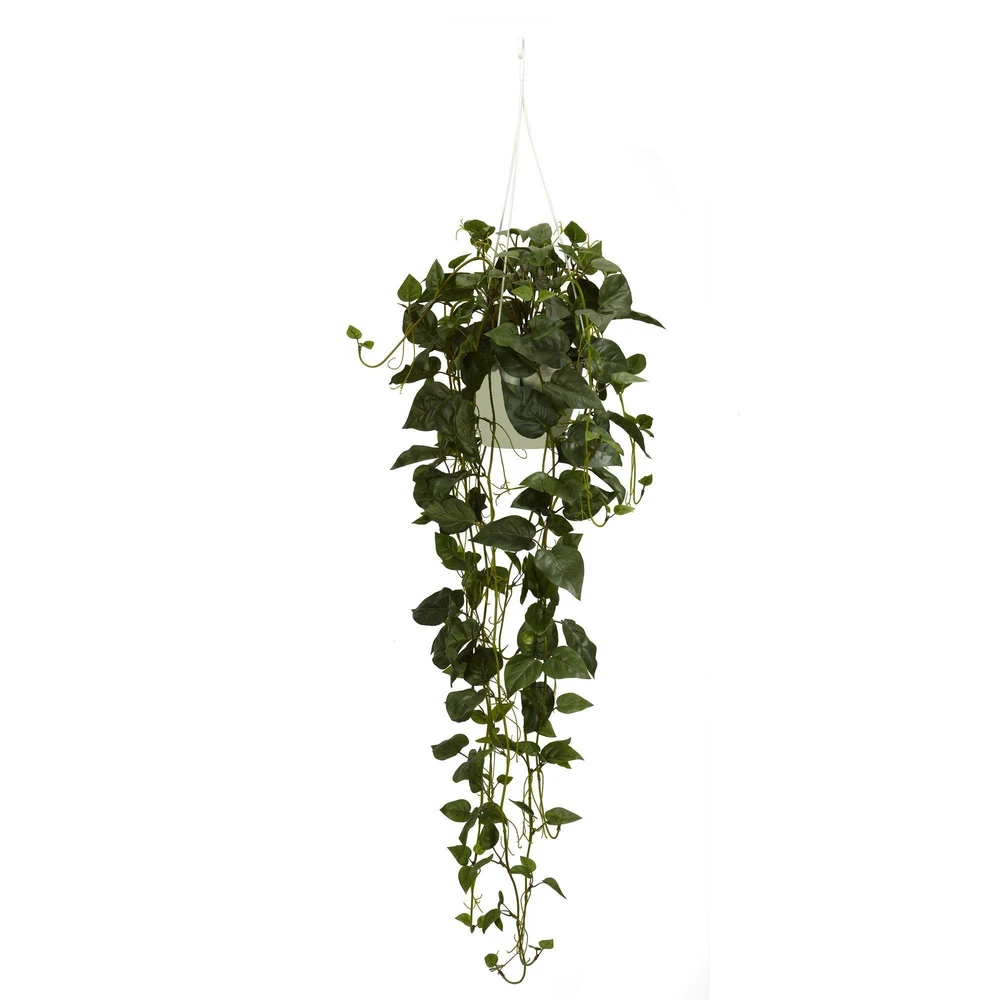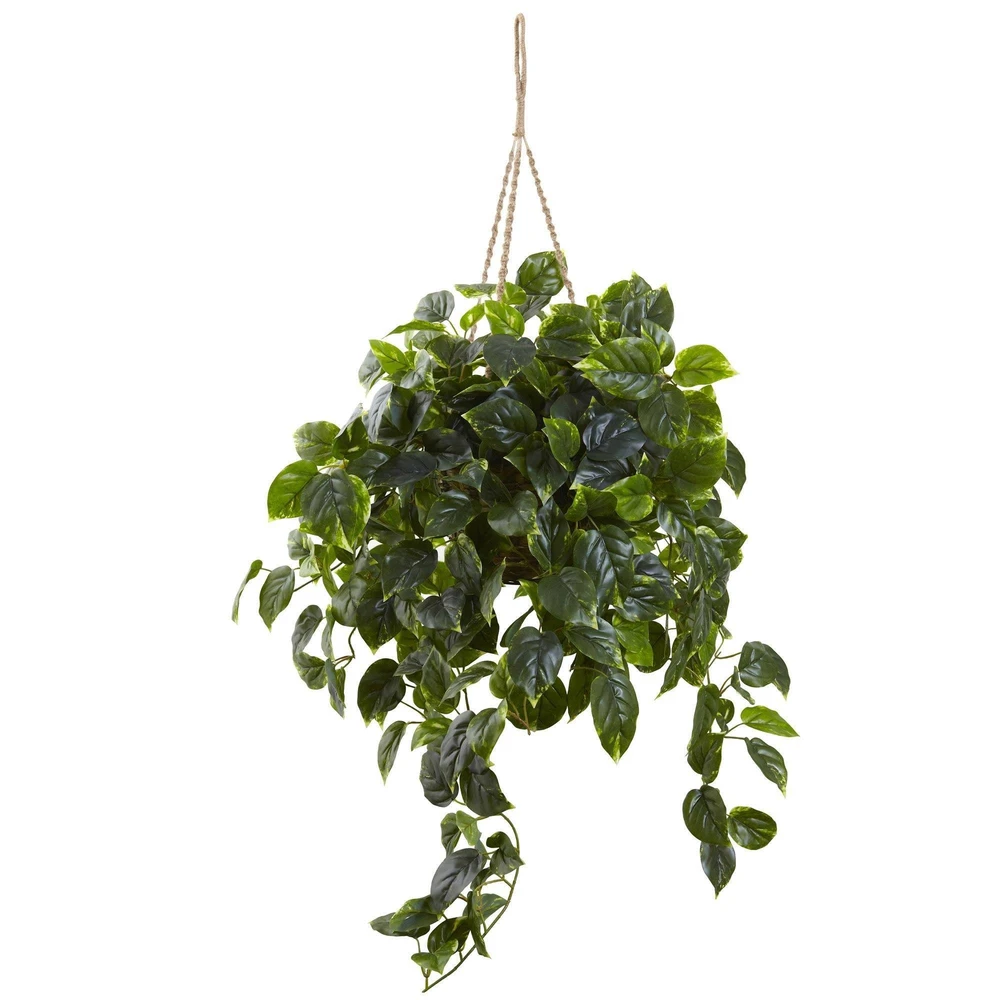 The pothos hanging basket is full of bushy dark green leaves that drape over the planter. It looks so real that your guests will be shocked if you tell them it's a faux plant. The pothos hanging basket's simplistic nature means that it will fit and breathe a sense of nature in any room.
Leather Fern with Mossy Hanging Basket

This leather fern hanging basket arrives in a set of two so you can add some cohesion in your living areas. The realistic-looking fronds flow in harmony while the mossy basket adds a rustic, homey touch that blends in modern spaces.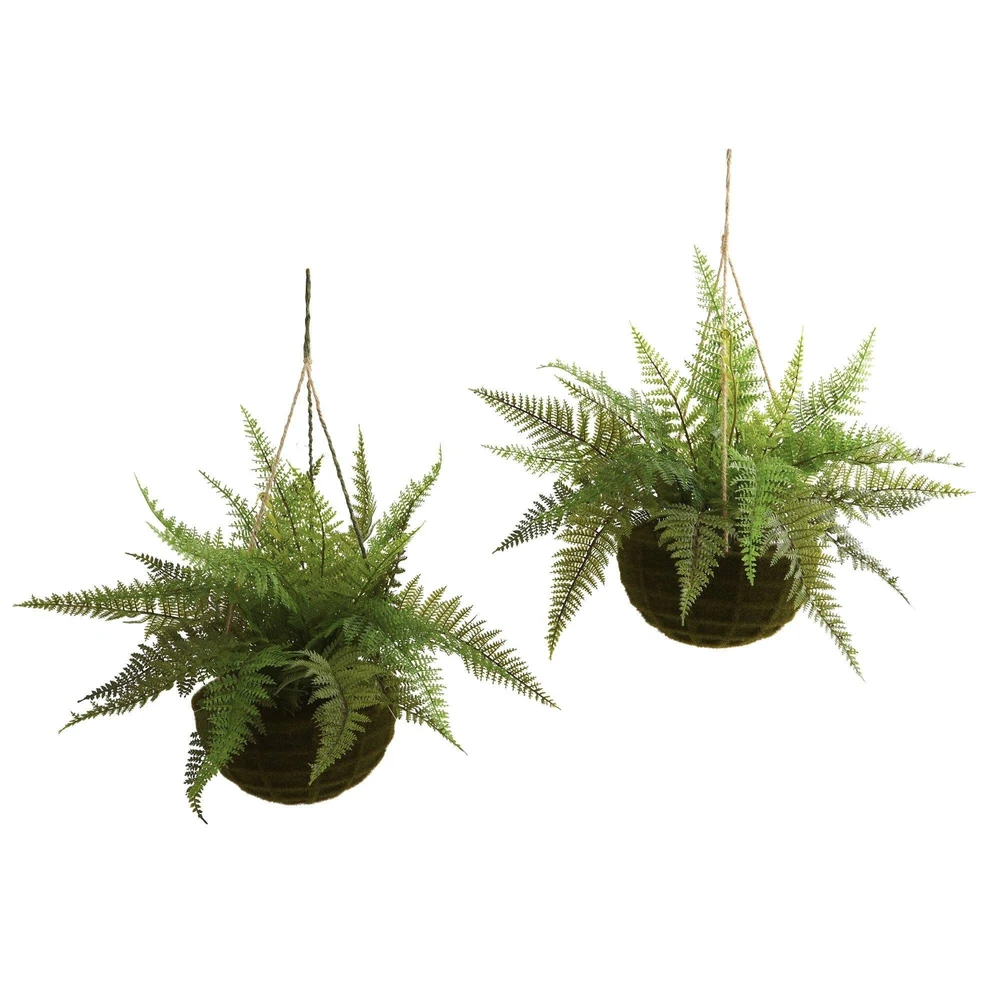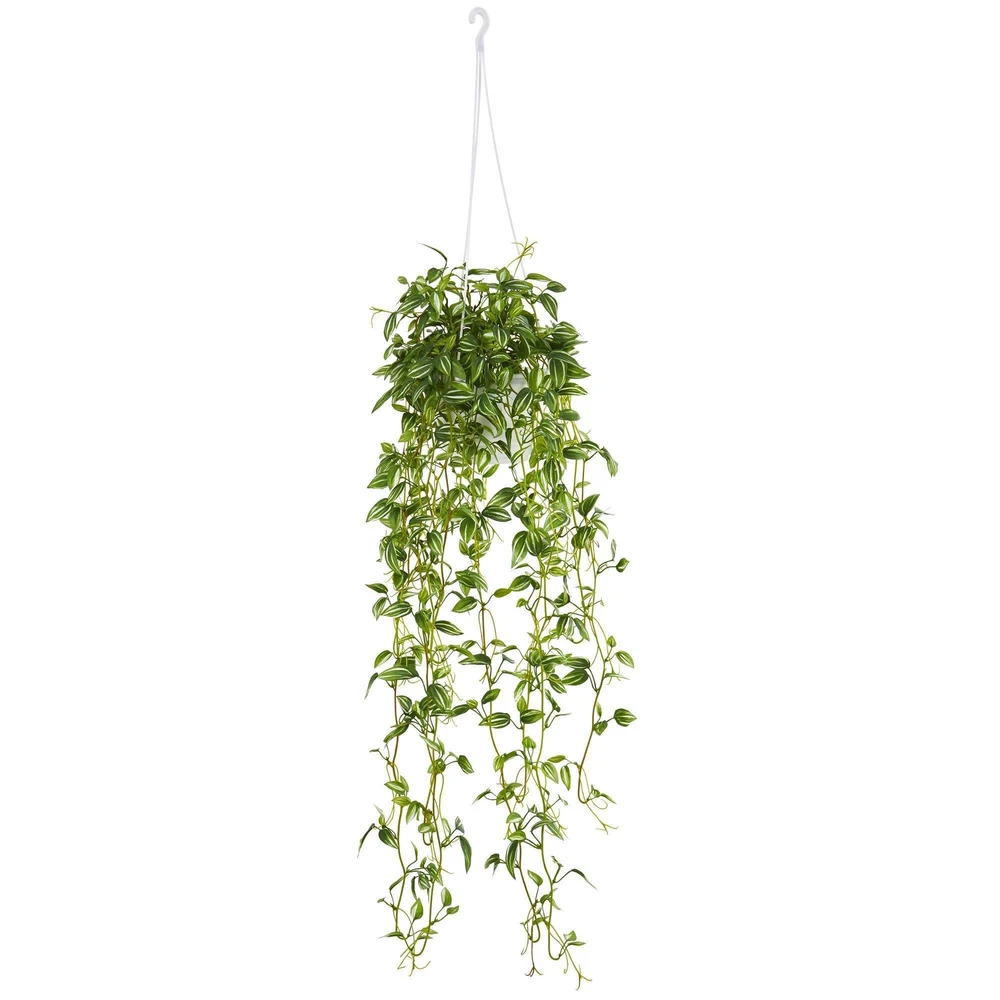 Green Variegated Wandering Jew Hanging Basket

This plant features bright green leaves with a touch of white veins. The green variegated wandering Jew plant has vines that spill out over the simple white planter like a waterfall. It adds a touch of natural elegance to any room.
The spider hanging basket features long wispy leaves that slightly drape over the wicker planter. The leaves are green with white pinstripes and are meticulously handcrafted to look completely natural; the only difference is that you don't have to worry about watering it! To stay aligned with what a natural spider hanging basket would look like, this plant is adorned with a few plantlets that stem from the leaves.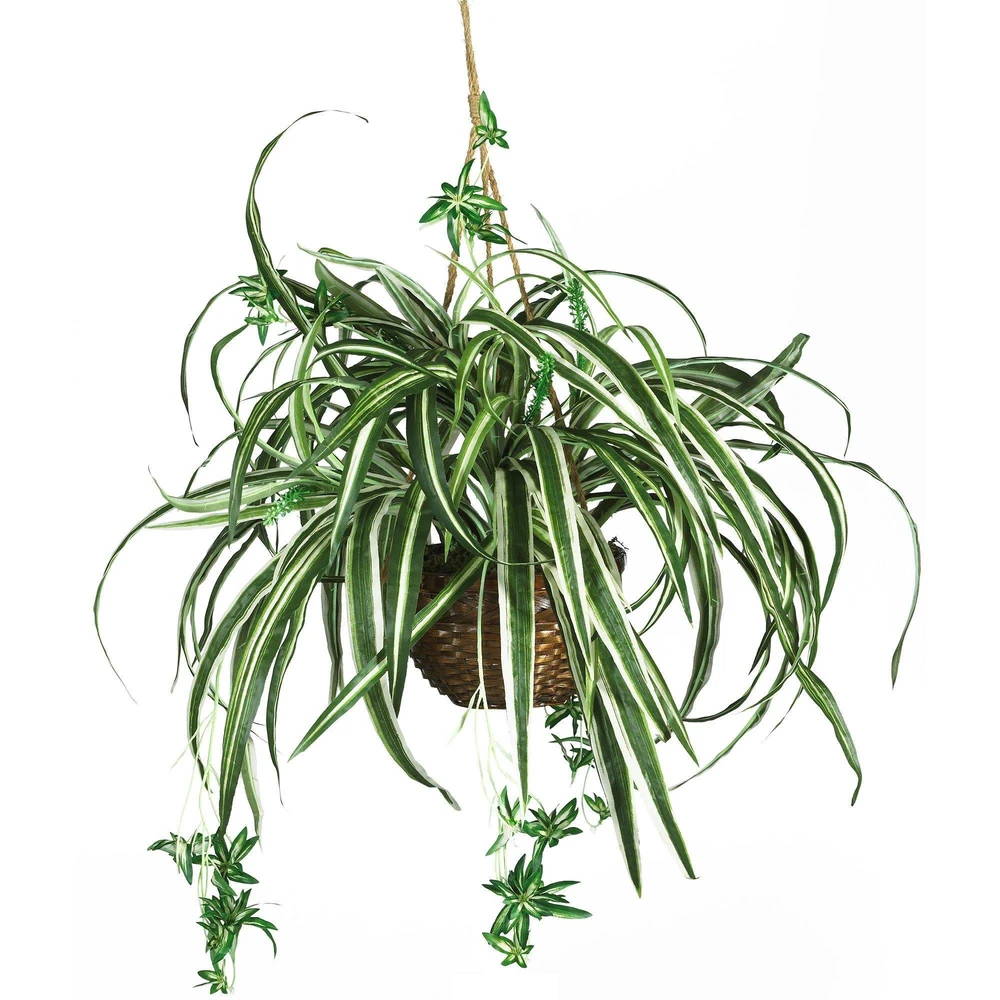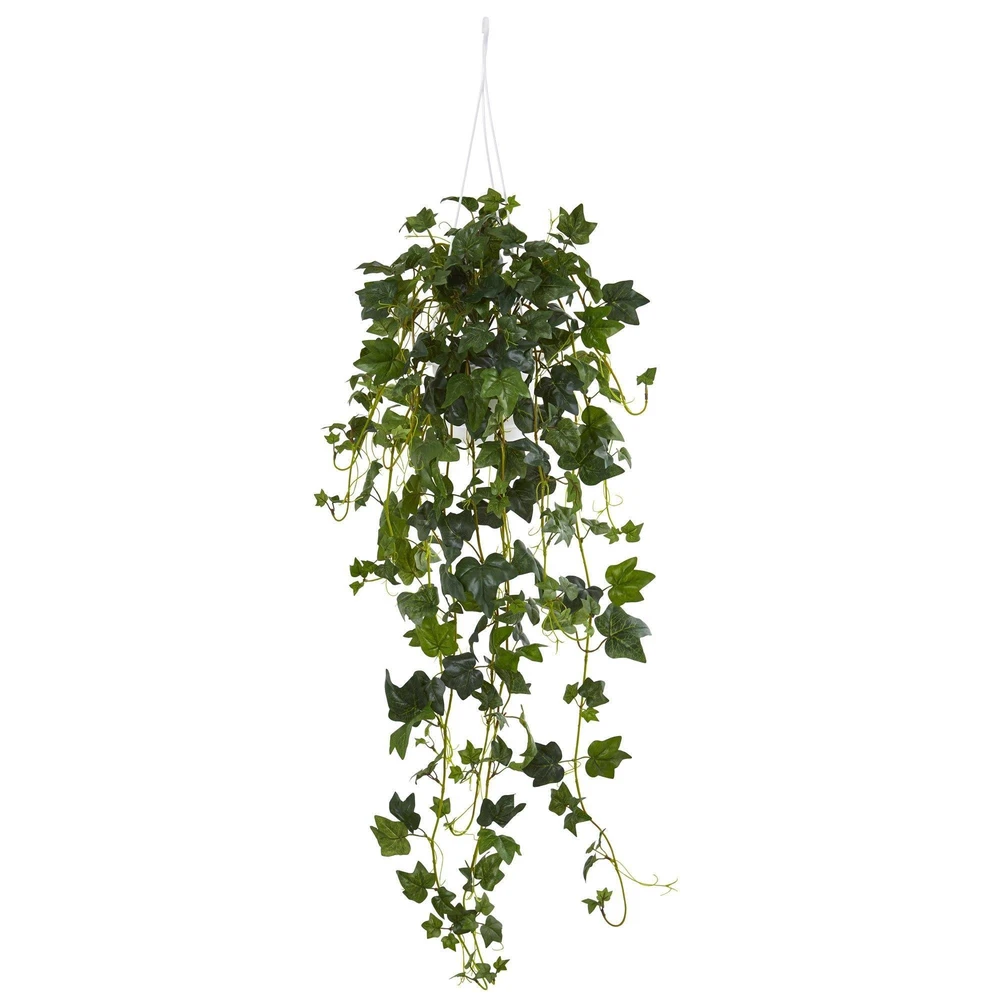 English Ivy Hanging Basket

The English ivy hanging basket is full of long classic ivy vines. The vines spill down a few feet, which makes this plant an ideal hanging plant. If your space is limited when it comes to a plant's surface space, this plant is an ideal solution because it hangs from the ceiling and doesn't take up space.
Full of dense dark green leaves and pink or red blooms that never fade, the geranium hanging basket adds a touch of nature and a splash of color to any room. This plant comes in a neutral wicker planter and blends with many home décor styles, and doesn't steal attention from this beautiful plant.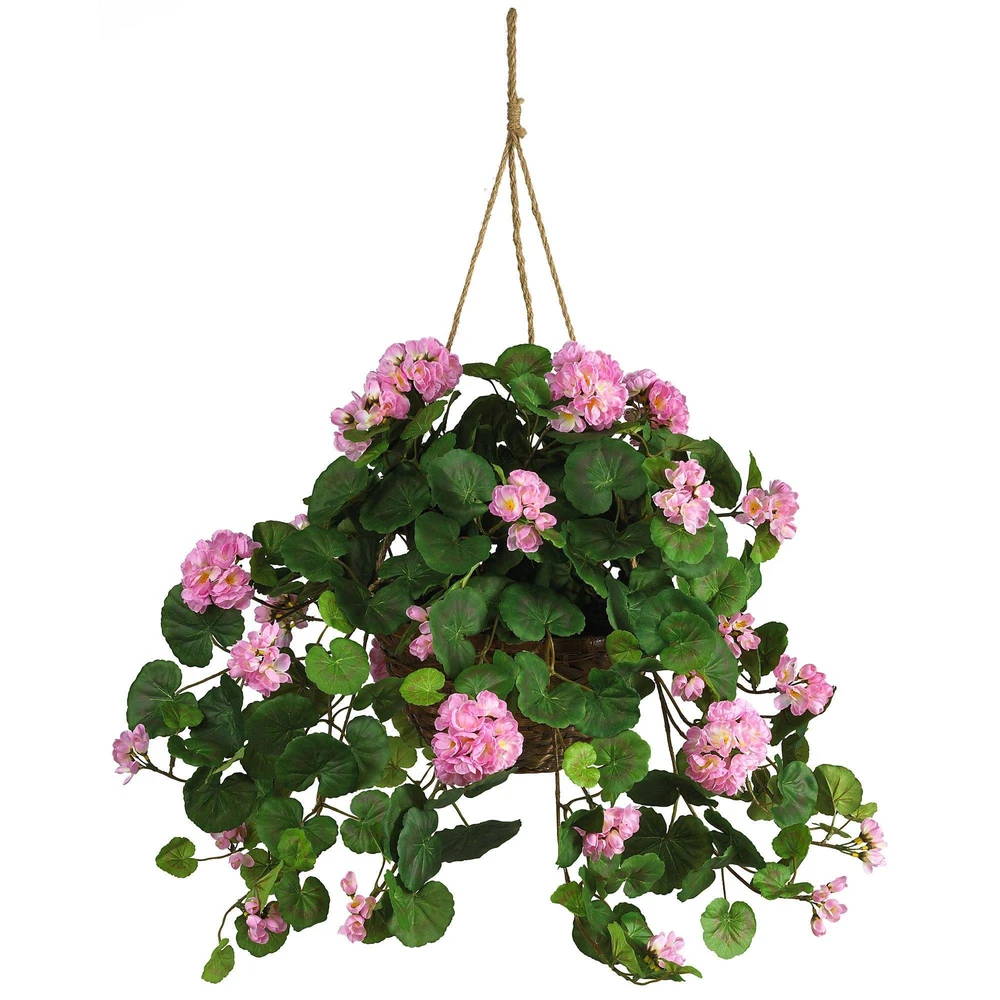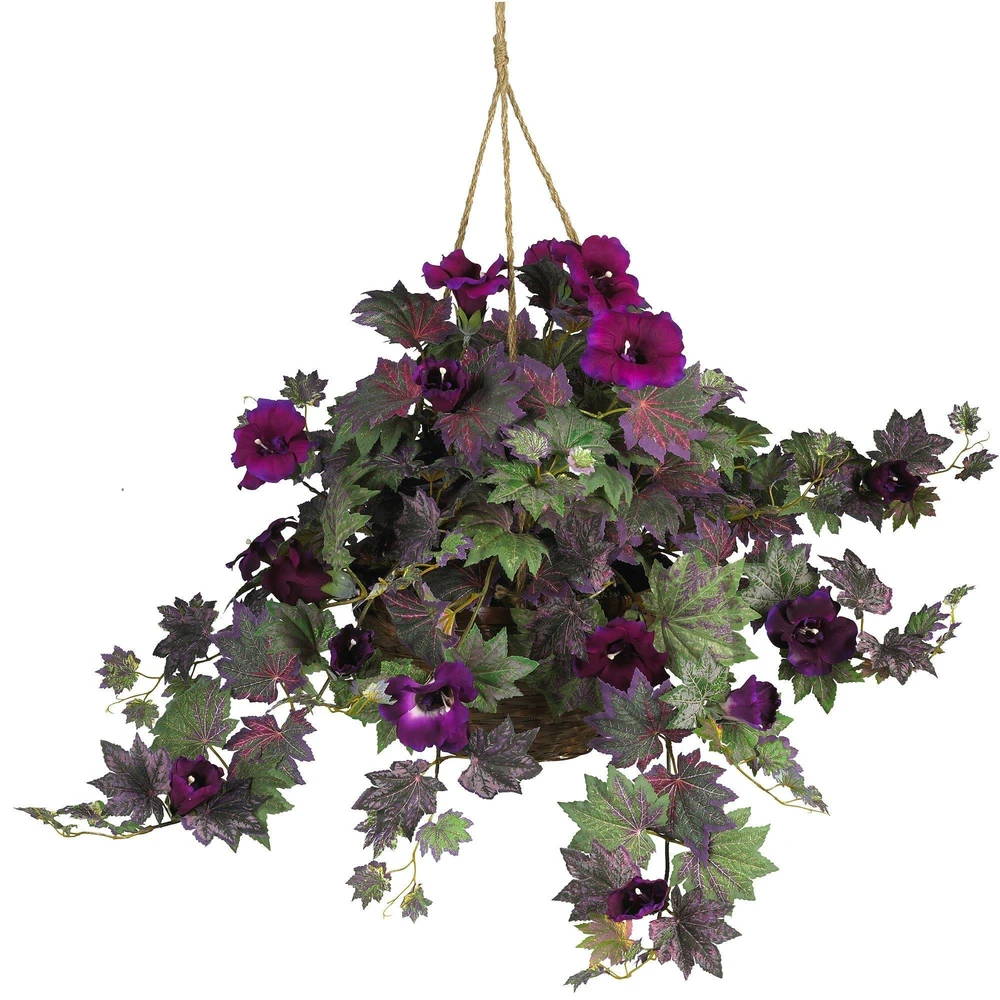 Morning Glory Hanging Basket

Characterized by dark green leaves with violet hints, the morning glory hanging basket adds a subtle touch of color to any room. The lovely blossoms are dark purple, and the plant comes in a nice wicker basket in a neutral hue so that it fits the vibe of any room.