Farmhouse Kitchen Cabinets Decor Ideas
Nothing completes your home more than a well-designed kitchen. Especially in farmhouse décor, bring the outdoors in with artificial plants for those fresh-from-the-farm vibes throughout. They are highly lifelike, but they can enhance the beauty of your kitchen cabinets. Be creative and learn the tips of our interior decorators, and get inspired to craft your dreamy kitchen inspired by modern and farmhouse elements. The key is to mix both for cohesion without overdoing one, the perfect juxtaposition of both. Read more and follow us for more kitchen cabinet tips that you can easily recreate.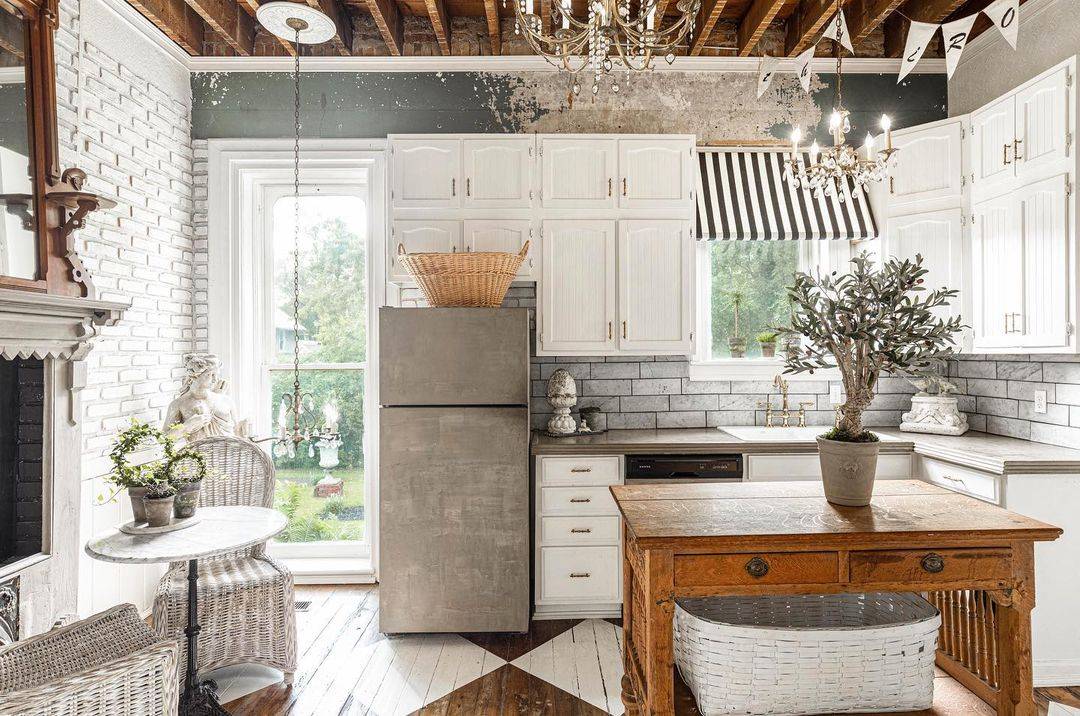 Learn more about our top farmhouse kitchen décor ideas from leading social media influencers and top interior decorators. The good news? No matter your budget or the size of your space, there is something that you can implement in your area. So put your design hats on and get ready to spruce up your space with our inspiration.
When you like the style of your cabinets, perhaps, shaker ones, and have a smaller budget, consider painting them for a bit of a refresh. We recommend choosing a soothing color for the cabinets and being aware of the hardware's color. Make sure they blend for harmony and cohesion. Look for those cabinet handles in a brass or black finish, this will blend with your existing décor.
With summer approaching, or if you want it to feel like summer faux-ever, there are ways you can inject those vibes into your space. Farmhouse kitchen décor ideas for summer are a great way to keep things fresh and lively as we transition from season to season. So what better way to spruce up your space than with some wallpaper to complement the kitchen? Unlike other investments, wallpaper is cost-effective to take your room to the next level.
One of the trends taking the design world by storm, you've probably seen mainly on Instagram, is the use of open shelves in the kitchen. Spruce up your kitchen, on a budget, with economical open shelves, typically more affordable than traditional cabinets. Look for those crafted from wood for a more farmhouse-inspired look. Place them evenly spaced, and don't be scared to display your favorite vases, plants, or mugs, they will inject those rustic vibes.
Wreaths are a great addition to any space, revamp your farmhouse kitchen with faux plants, and no maintenance is required. Depending on the size of your kitchen cabinets, consider adding wreaths to them every season for a touch of freshness. Then, store them for safekeeping and have them ready when you want to change things up a bit. If your cabinets are too small to display a wreath, consider displaying them on the walls for a touch of green.
Replace Your Plain Looking Cabinet Arm Pulls With Decorative Ones

Stretch the dollar further by replacing your existing hardware with some that have more flair. Some cabinet arm pulls we're currently loving are those in brass and black finish with structural silhouettes. The colors blend with the farmhouse side of the style, while the shape is more modern. If you have a larger budget, opt for some made from wood, they will get better with age and take your space to the next level.
Replace Your Cabinets With Grayscale Shiplap Cabinets

For those creating their dream house with a substantial budget, consider grayscale shiplap cabinets that are more on the farmhouse side than the modern one. Before taking on this significant project, work with a contractor on sourcing the materials and the timeline. You will probably have to shop around for a quote and see who can offer you the best deal. Also, if this home is for an investment, perhaps these cabinets are not for you because they might not appeal to the masses.
Decorate Walls Next To Your Cabinet

The easiest way to enhance the look of the cabinets doesn't even involve the cabinets at all! Look for kitchen wall décor tips that can offer an alternative way to spruce your space when you're pressed for time and money. Changing cabinets is a big commitment, and the best way to test the waters is by decorating walls near them to get a feel for what you like without investing large amounts of money upfront.