Modern Farmhouse Kitchen Decor Ideas for 2022
We continue our series with our customer's favorite style – modern farmhouse, and this time; we're taking a trip to the kitchen. Arguably, one of the best rooms in the whole house, create a modern farmhouse kitchen to love with artificial plants and bring the outdoors in. Feel as you're cooking outside to feel the power of nature through the recipes you cook at home with the ones you love. Inspired by nature and crafted from high-quality materials, artificial trees enhance the beauty of your kitchen, making it feel cozier and warmer. Learn more about the modern farmhouse kitchen décor tips to take your space to the next level.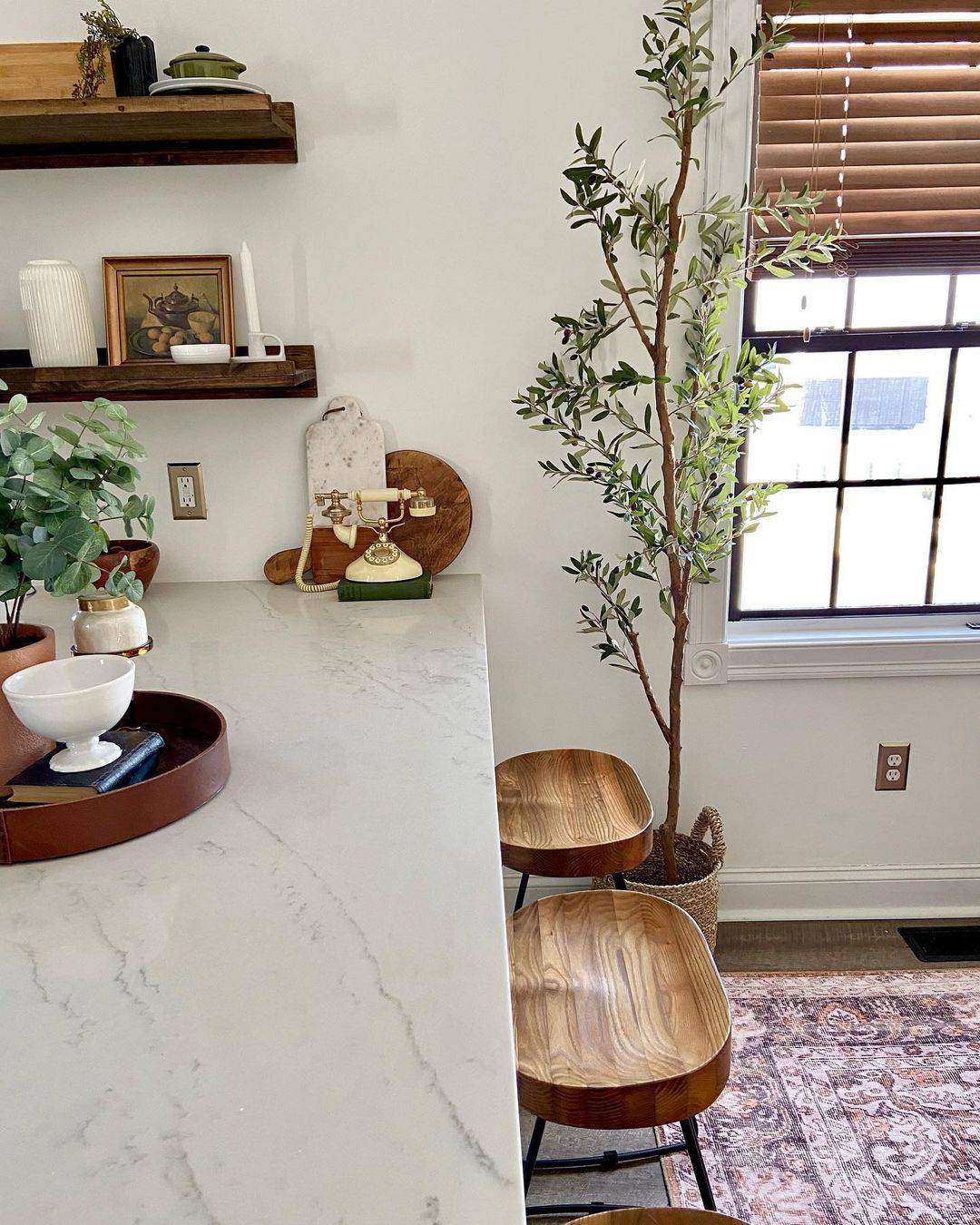 Our interior decorators with 75+ years of experience aim to inspire you in designing a home to love. We're here to help you create the space of your dreams without breaking the bank. Learn how to today without breaking the bank with a few simple steps. Read our farmhouse kitchen décor ideas.
Incorporate Rustic Accents

While modern farmhouse has elements of both styles, it's crucial to incorporate rustic accents to feel the essence of the design style. Some of the best ways to bring those rustic touches without overdoing it – is by looking for distressed wooden touches. For example, consider wooden hanging shelves and display mugs, plants, planters, or other essentials for an elevated look and feel. Also, look for lighting that can add those fresh vibes and vintage lightbulbs.
Make Your Small Space Look Big w/ Small Artificial Plants and Minimal Decor

It's no secret that both small and more significant areas present challenges when creating your dreamy, modern farmhouse-inspired kitchen. But did you know? You can add warmth and dimension by decorating with faux plants and trees. Revamp your kitchen with farmhouse décor without overdoing it by keeping things simple with minimal décor. Look for faux plants with an airy and modern look, such as olive trees and citrus trees, this will help create a clean style.
Add Open/Floating Shelves

As we mentioned above, floating shelves are a popular trend that's taking social media by storm. But before you choose these, consider that this may be a trend, and if you plan on selling your homes shortly, it might not be the preferred style in the coming years. If you decide to go with these shelves, consider those crafted from wood to bring warmth into your space. The size depends on the amount of space you'd like to cover.
Complement Wood Accents with Wooden Furniture

We recommend going with wooden furniture to complement the look when it comes to accenting your space. Because furniture is a high-value item, make sure you're maintaining those crafted from wood because you want it to last as much as possible. Opt for a dining table, counter stool chair, or another furniture piece from wood to instill those cozy feelings. As a bonus, you can enhance the look by adding more knickknacks and personal touches to make it unique.
Add Floor Plants with Metal Planters

When you're not sure how to inject those rustic vibes, why not opt for some kitchen silk plants? Especially for those that already come in a metal planter, it's a win-win for you! This allows you to enhance the beauty of your space without any maintenance on your part. Metal plants mimic the farmhouse with their long-lasting, glossy color, making them the perfect way to complement an empty corner of your kitchen.
Incorporate Decorative Wood Braces

While you may think that wood braces are more for traditional décor, when done right, they can make any space feel more farmhouse-inspired and warm. For example, if you decide to add wooden shelves, you can use wood braces to hold them together, creating an elevated look. Consider painting the wood beams in a color to complement your kitchen and draw attention to this accent; you can also consider staining the beams.
Decorate Your Walls With Artificial Hanging Plants

If you're tight on space, you'll want to maximize the space available without cutting value real estate. Consider adding modern farmhouse wall décor and artificial hanging plants to get the look even in the smallest areas. Because faux hanging plants don't require any maintenance, you'll have the best of both worlds. Just because your space is tight doesn't mean you can't take it to the next level.
Add Copper Industrial Accents

With different shades of copper out there, it's essential to first think about which hue will match the style of your home. Some colors are smokier, darker, and peachy, while others are lighter with a glossy shade reflecting light. Look for lighting, plates, cups, faucet, and cabinet handles in a copper finish for an elevated look. Next, consider mixing and matching darker hues with the copper ones for contrast and depth.
Especially in farmhouse décor, displaying decorating signs is a great way to spread those cozy vibes throughout your home. Were here to give you a few farmhouse kitchen wall décor tips, that you can easily recreate in your home. First, opt for inspiring messaging, especially those crafted from wood; this creates a sense of welcoming for all that pass by. Then, make your guests feel special and relaxed while cooking your recipes by being alongside these messages.
When it comes to choosing flooring, there's more than just thinking about your materials. Because this is a decision that should not be made lightly, we recommend thinking about floor tiles that follow a farmhouse pattern; for example, you can pick different flooring in your kitchen while the rest of the house has different ones, this will not change the look and feel of your home, but just make sure that they blend.
Farmhouse sinks are rising in popularity in many different styles of kitchens, and for a good reason. But before you start installing them, there's a few things to consider, such as their larger size that might require some plumbing work. Because of this, it's best to leave this to a professional before damaging any of your existing pieces. If you'd like to swap your farmhouse kitchen one day, remember that it can be more complex.
Install Multi-pane Windows

One of the easiest ways to create symmetry and depth is by replacing dull windows with multi-pane ones. In addition, our interior decorators recommend painting them in a black finish for a clean and modern look. What better way to bring the outdoors in than opening the windows and letting the fresh breeze spread in the kitchen. This is why windows capture the essence of farmhouse décor by feeling the outdoor elements indoors.