Modern Farmhouse Wall Decor That'll Leave Memorable Impressions
Almost everyone loves the trendy farmhouse wall decor everywhere in home stores and online now. Its light, uncluttered look appeals to many people who want to feel as if they are in simpler times yet who desire an updated style.
Featuring white or bright walls, with elements of wood, stone, or metal along with accents of greenery, this look harkens back to the prairie farmhouses that once dotted the American landscape. Antiques that have not been refinished are a part of this burgeoning decor trend; it's an excellent opportunity to look at what is available at the local flea market and online for that special something that pulls this look together.
Let's explore how to create that modern farmhouse feels that nearly everybody can incorporate into their home, even if it's just a few elements that are interspersed in their existing decor. Learn more by reading our farmhouse wall décor tips.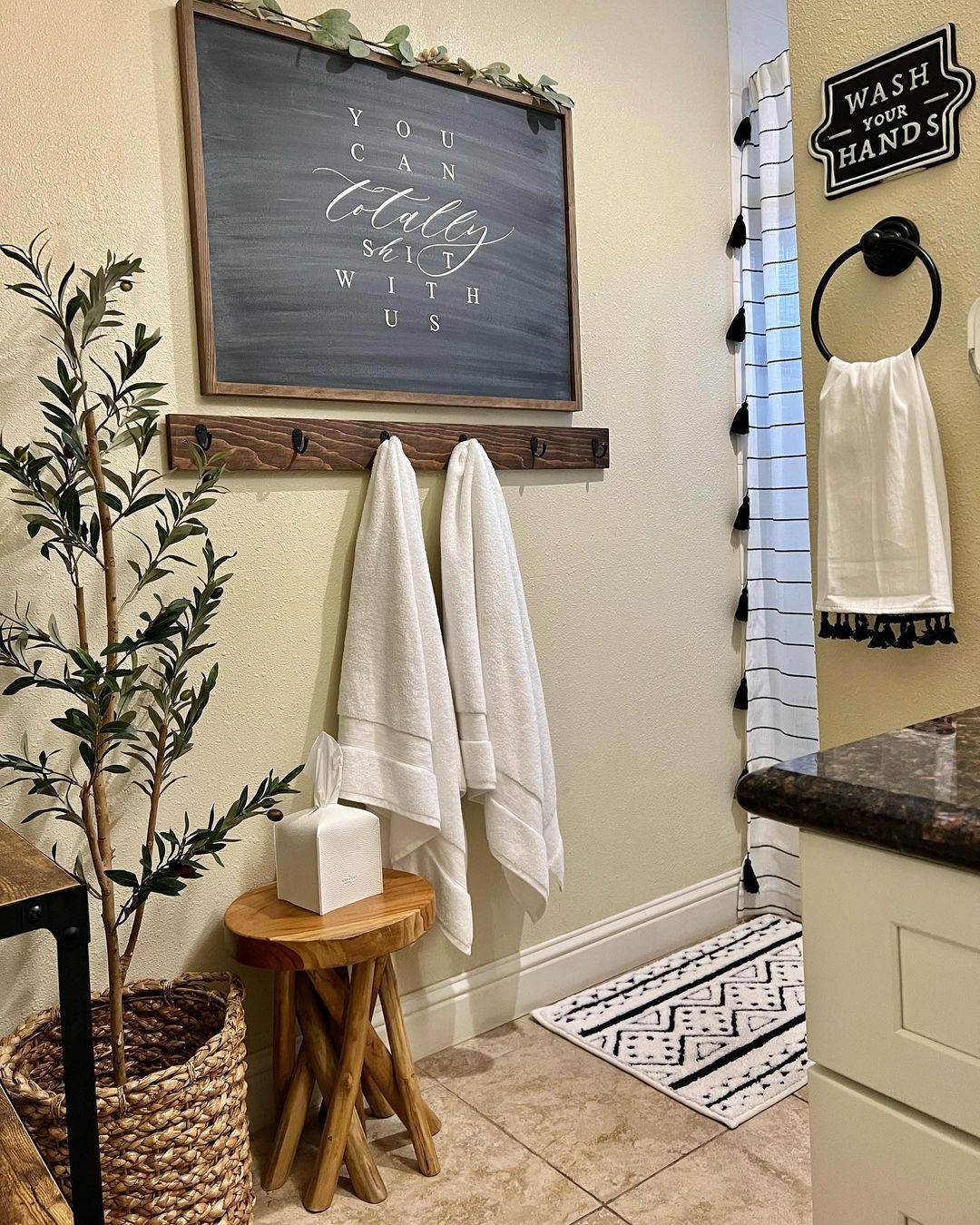 Practically speaking, not everyone can redecorate their entire household in a new theme all at once. The decorator should determine the budget before they start wandering through an antique mall or begin shopping online to search for just the correct farmhouse elements to add to the home. The hand-hewn beams that are often the crowning touch to farmhouse decor are great if they don't bust the budget. Still, anyone can begin creating the farmhouse look by simply freshening up walls with white or creamy paint and adding a few natural elements such as baskets, wooden farm implements, and greenery to the home.
Deciding which spaces will receive the most focus is the beginning of any journey into modern farmhouse-style decorating. It may be best to start with the most public rooms of the home, such as the kitchen or dining space since these areas are usually where guests congregate and spend the most time. Then, feel free to add significant elements such as oversize clock faces to public spaces such as dining or living rooms for that modern farmhouse look. Alternatively, one could start with a bedroom since this style lends itself to a simple and uncluttered feel that is highly restful.
The entrance to a home should never be neglected since it gives that all-important first impression to guests. So why not start by having some open shelving with groupings of green plants, picture frames, or vintage items that welcome visitors in modern farmhouse style? In addition, old mirrors with imperfections can be used to good effect, placed on shelving, and grouped in threes to reflect light in an otherwise dark entranceway.
Whether it is over a real fireplace or one that is simply decorative, the fireplace mantel is one of the focus points in any home. This is the perfect spot to highlight modern farmhouse wall decor, especially vintage objects like wooden spindles that have been made into candleholders and old mirrors with frames that have their original white paint on them, paired with natural elements like greenery.
Or maybe the wall at the back of the sofa, a central focal point in any living room, will be the primary area for adding some modern farmhouse decor. Decide carefully and note exactly which size should be the focus to achieve the maximum visual impact. Feel free to group decorative items for a more substantial visual effect, such as signs, picture frames, or mirrors.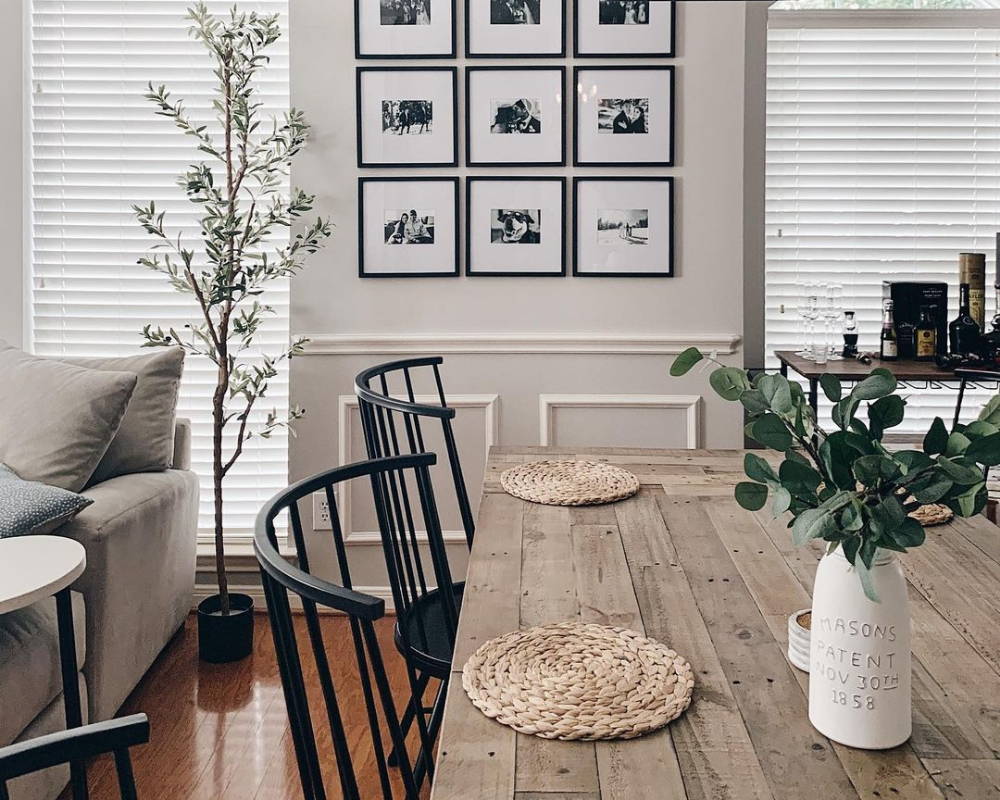 Decorate Your Dining Room Wall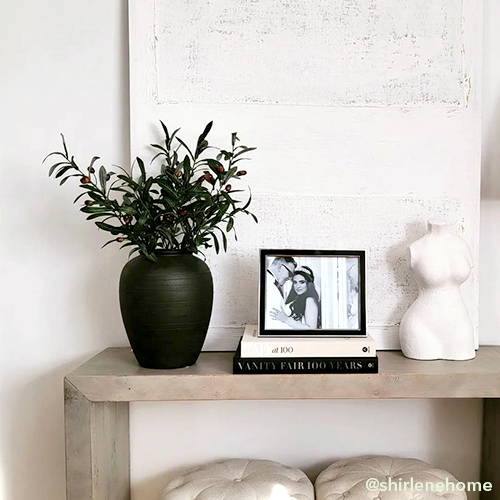 Keeping it simple and welcoming for guests is an essential modern farmhouse decor tip. The lasting impression of any interior space should be simplicity, coupled with a laid-back feel that reminds us of country living at its best.
Everyone wants to create the impression that their dining room is larger and more expansive. Of course, the perfect way to do this has always been to use mirrors as wall decor accessories. Add a series of mirrors - at least three, and always an odd number -- to dining room walls.
When your space is on the smaller end, add some wall décor accessories to liven the look and save on precious space. Check out our farmhouse dining room décor tips to see more on how to freshen the dining area.
Modern Farmhouse Ideas for The Entire Home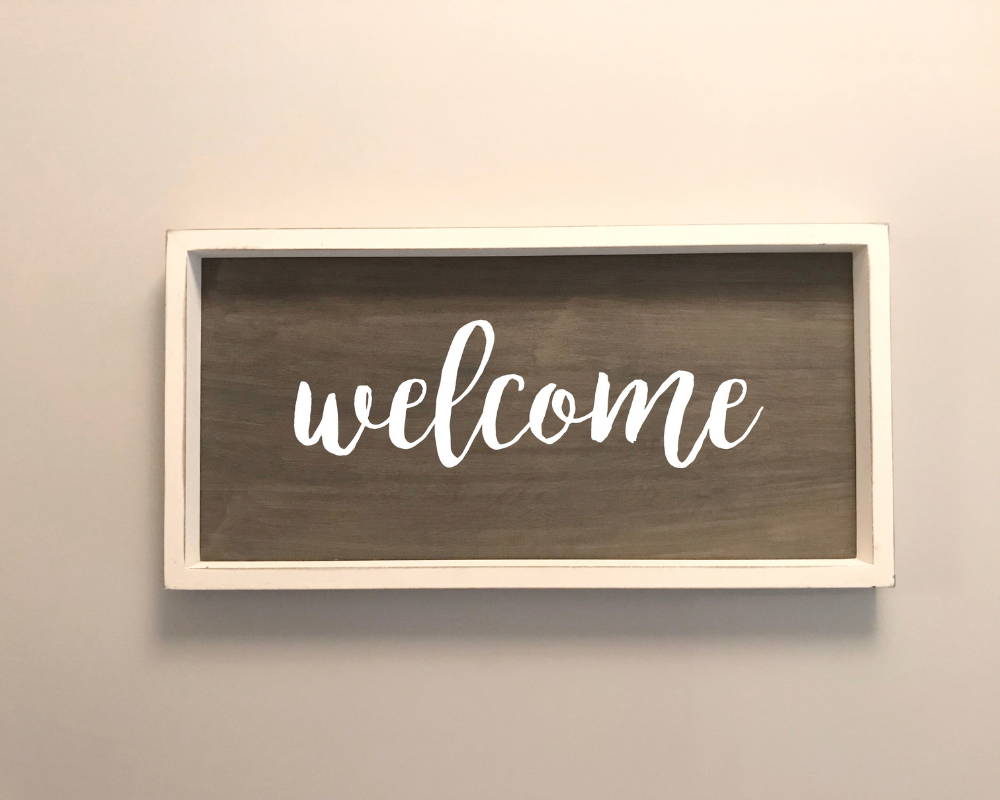 Signs of every kind are must-have items for the modern farmhouse look. Choose any number of hand-lettered signs in a home decor store online to add the perfect touch to a dining room.
White or Cream paint on walls

Walls painted in white or cream impart the calming atmosphere essential in farmhouse décor and you can also paint shiplap in this color.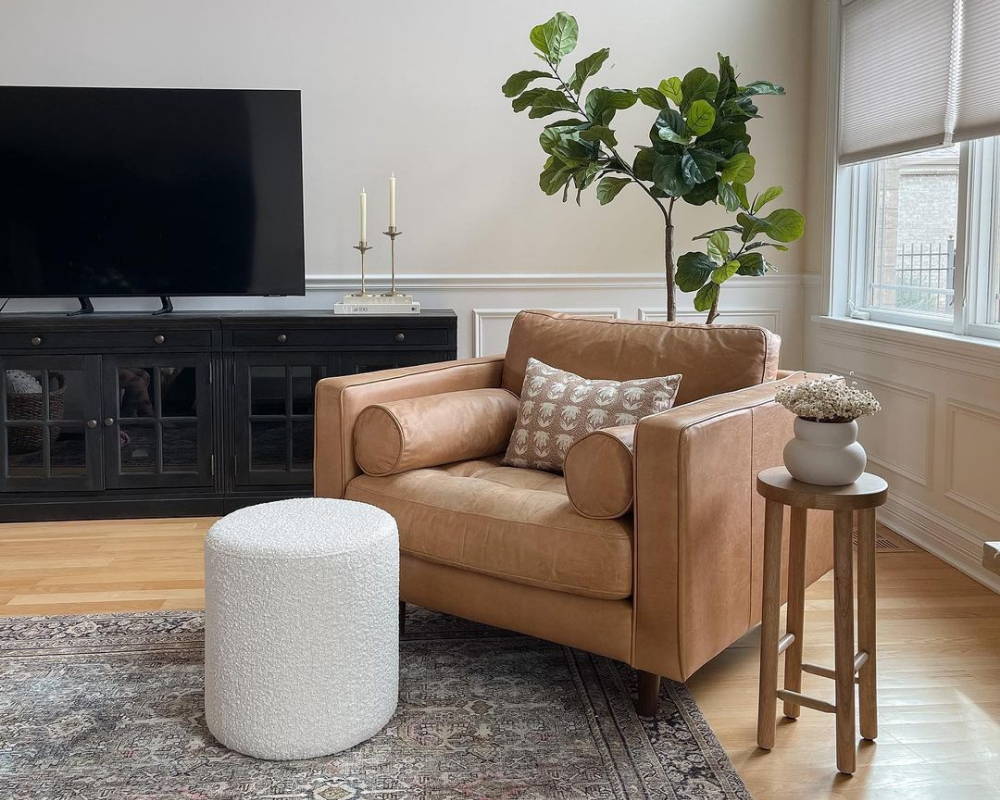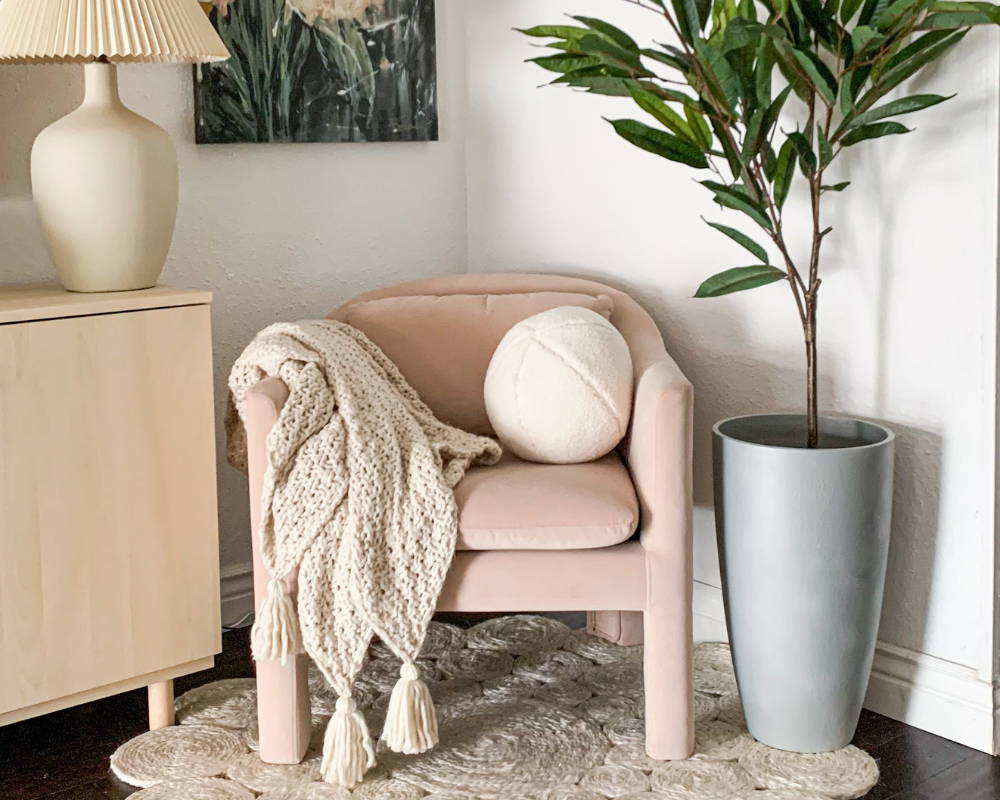 Green plants to bring the outdoors in

Green plants should be in every room of the home. But, for convenience, why not try beautiful artificial plants from Nearly Natural?
Floating Shelves for the Bathroom

Open-faced shelving is a quintessential part of the farmhouse look. Such shelves are perfect for the bathroom as they lend a feeling of spaciousness to what is usually a tiny room while providing storage space for essentials.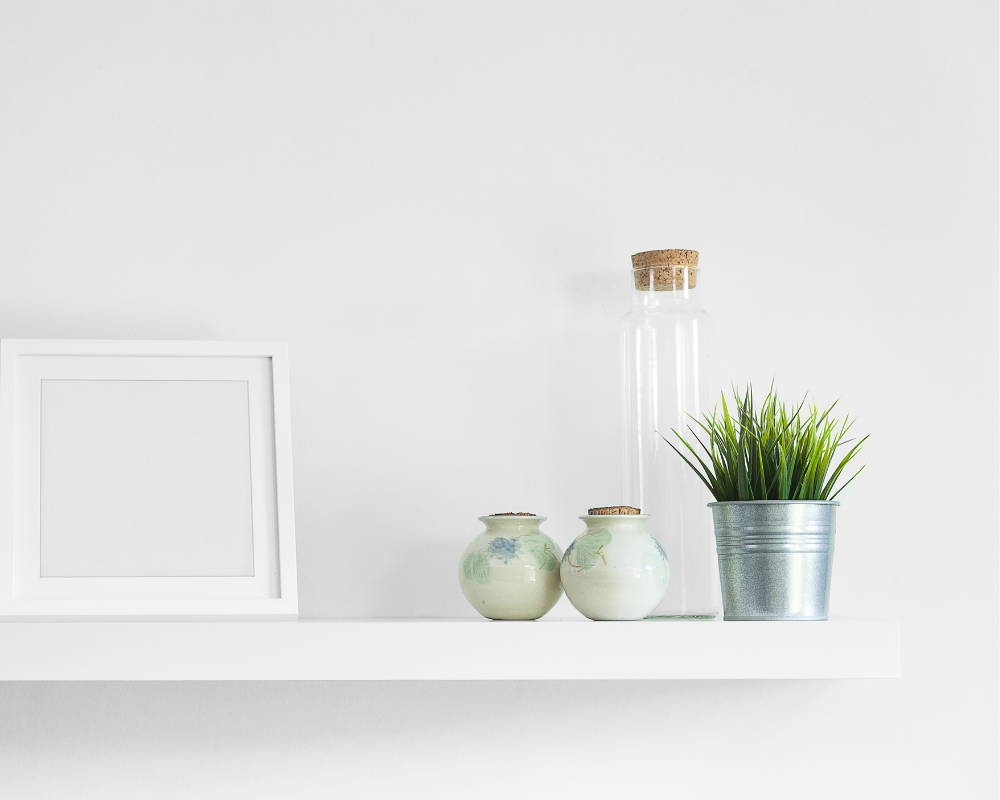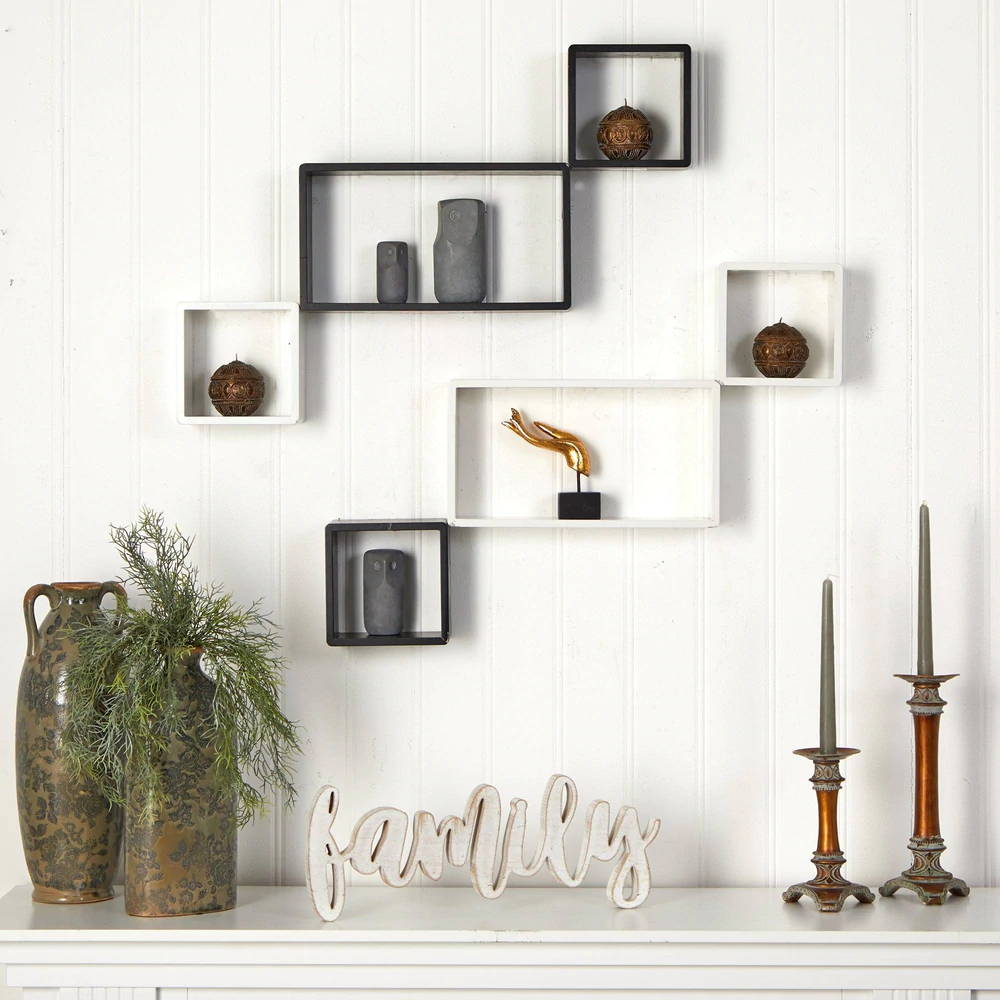 Modern Art Decor Floating Shelves from Nearly Natural

The modern Wall Art Decor Floating Shelves fit in effortlessly with the farmhouse style since they have the simple lines that pair with this minimalist decor and come in white and black. The perfect place for some draping artificial greenery, they can at the same time become a focal point and highlight in this room, where space is often at a premium.
Add Mini Artificial Plants to the Bedroom

And don't forget farmhouse decor in the bedroom, which is the perfect place to add in a bit of the outdoors, perhaps especially for city dwellers. Instantly elevate the look of bedroom walls by tucking in a bit of greenery here and there. Artificial plants are just the ticket for complex spaces that don't receive much light. Make the most of it by adding fake plant wall decor in the form of colorful succulents in just the right spot on open shelving. Available here from Nearly Naturals, they will be the crowning touch in any farmhouse look.