Top 10 Cute Valentine's Day Gifts for Kids
At this time where our technology along with social distancing has led us astray from the beauty of nature, there is no better time to give the gift that brings us back our roots. Valentine's Day can be a wonderful day not only for getting closer to and romancing your partner, but also for our children to develop their bond with Mother Earth. The benefits of artificial plants are many and one of them is to do just that. As the inheritors of our society and planet, it is essential that our dear descendants, our kids, are reminded of the beauty of the natural world.
Our Valentine's Day collection is the perfect fit. You won't have to water or worry about any of these hyper-realistic plants, so there is no excuse not to bring the natural world into the home this year. Not to mention that it can be done with a festive twist! With a big 25% off sale on our Valentine's Day gifts happening now, our products have never been more affordable for the holiday of love and passion. Since our plants are kid-proof, you never have to worry about losing your precious investment merely because someone was a bit rough or neglected to water. This opens up the opportunity to decorate any part of your home decor (check out our top 10 plants for home decor), even the dangerous kid's bedroom!
Succulent Garden in Artistic Faux Stone Bowl

Bring the essence of the desert to any room with a bowl of arid adorableness. With a central tree supported by small, mini succulents this simple and cute little forest could fit into just about any decor style. The pebbled forest bedding creates a terrarium-like feel which is sure to enamour your nature loving young one. Combined with an extra funny pun filled card, this gift will be sure to bring a silly smile or light hearted chuckle. Sporting one foot dimensions of height, width and depth, this bunch of succulent friends could fit into a bookshelf, table, or any corner of the house you would like.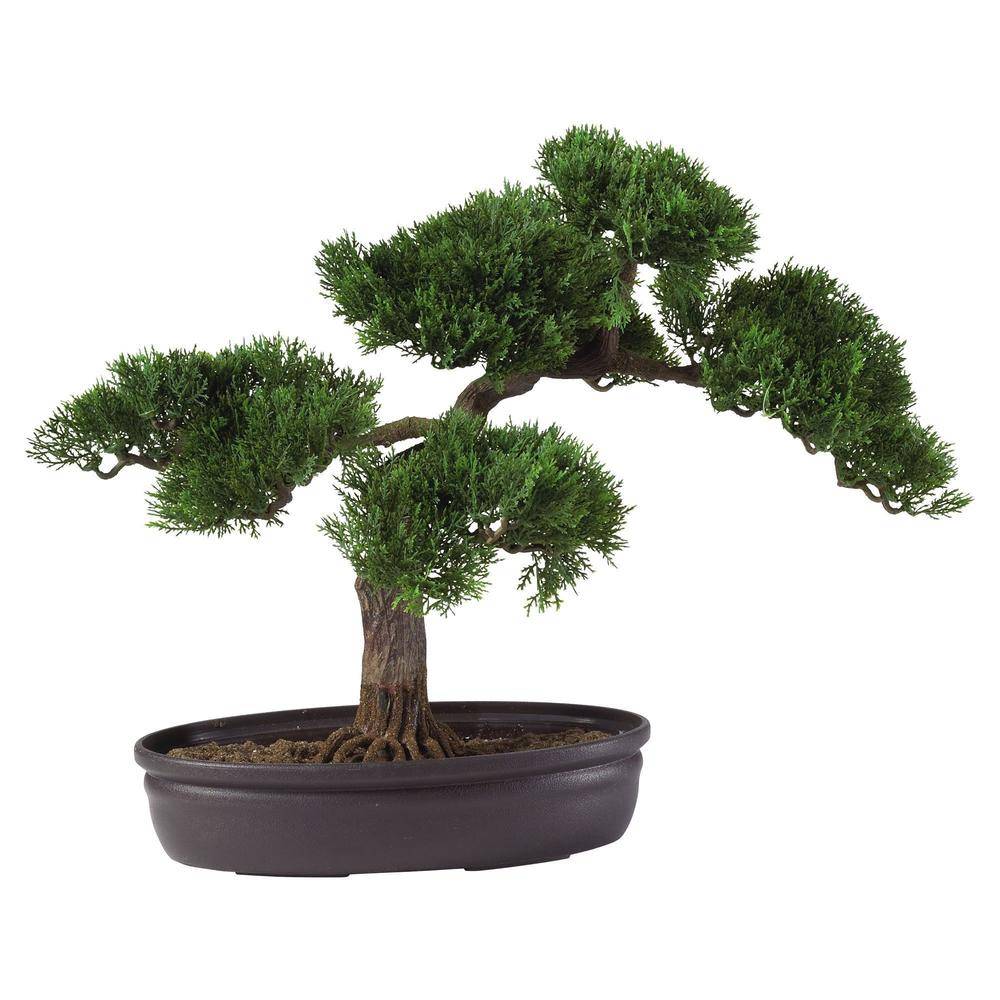 The majestic appearance of an old cedar tree packed into a fun sized package. Feel the wisdom of these mature trees as they are in the wild without having to leave the comfort of your home or take on the tedious responsibilities of bonsai maintenance. Standing 16 inches tall this miniature spectacle of tree is not overbearing, yet has plenty of room to place all kinds of toys underneath its canopy. Ranging from toy soldiers to birds and butterflies, a wide array of children's trinkets could find their place in the soil underneath or nestled in its deep green branches. With ornate silk construction, the quality and softness of this piece will not disappoint.
This adorable arrangement will spruce up a young woman's room in no time at all. The smoothly curved oval base creates a comfortable aura, perfect for a window sill or study desk. Choose the pinkish orange color palette for a lady who likes to express her femininity, or our various shades of vibrant red for a more passionate look. Natural river stones immersed in real looking water bring about a sense of nature and realism, without ever having to worry about a spill or refill. Despite being only 5.5 inches tall and 8.5 inches wide, these two compact rows of roses can make a big difference in any setting.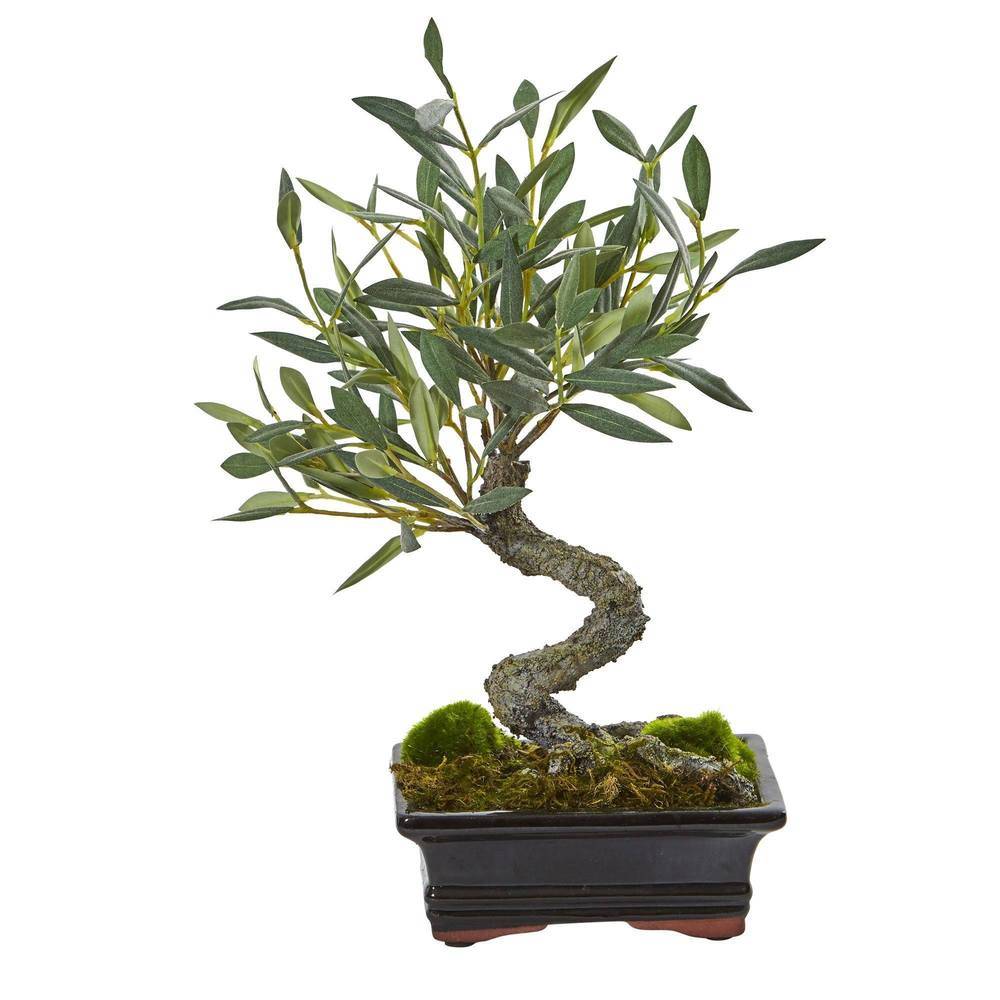 As a tiny rendition of an olive tree, one can bring the image of the expansive olive orchards of Italy to mind. It climbs up to the sky with an elegant upward spiral that can put a whole new twist on Valentine's Day fun. Attach some hearts on a string to dangle down and sway with wind while you rest a loving card in the midst of the olive leaves. Little bunches of soft moss bring a cozy and cute feel to the lower area. Nestled in a pretty, rectangular planter this unique and unusual gift will bring a pleasant surprise to your dearest one.
With a crew of these little orchids at your service, the atmosphere of any space can be completely transformed. Spread these throughout any room and watch as a heavenly tone envelopes your senses. Opaque purple leads to a pinkish hue that will serve the needs of someone who wants a more peaceful mind. Orchids are known to thrive in the mist of a rainforest waterfall and would be well complimented by a poster or representation of such natural phenomena. Snuggled into soft toned ceramic vases, this trio makes the perfect gift for one who likes to relax in a hidden tropical oasis.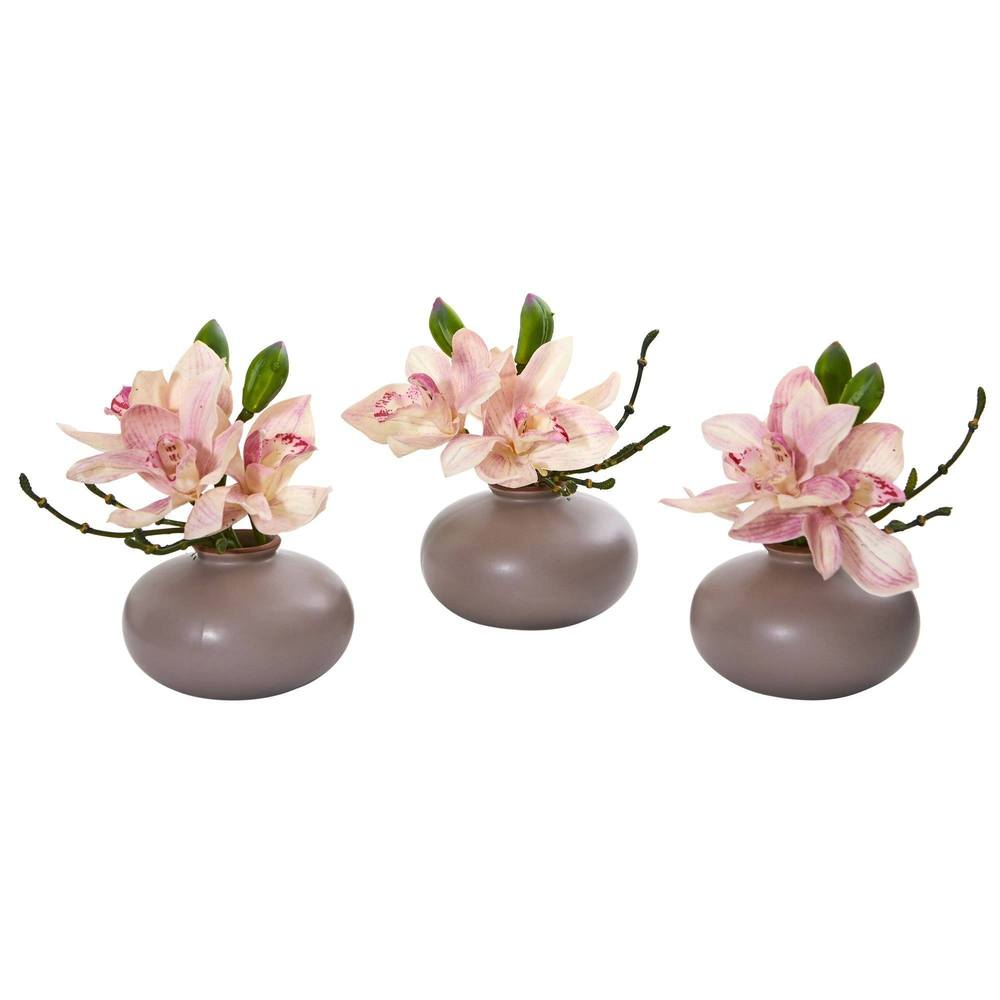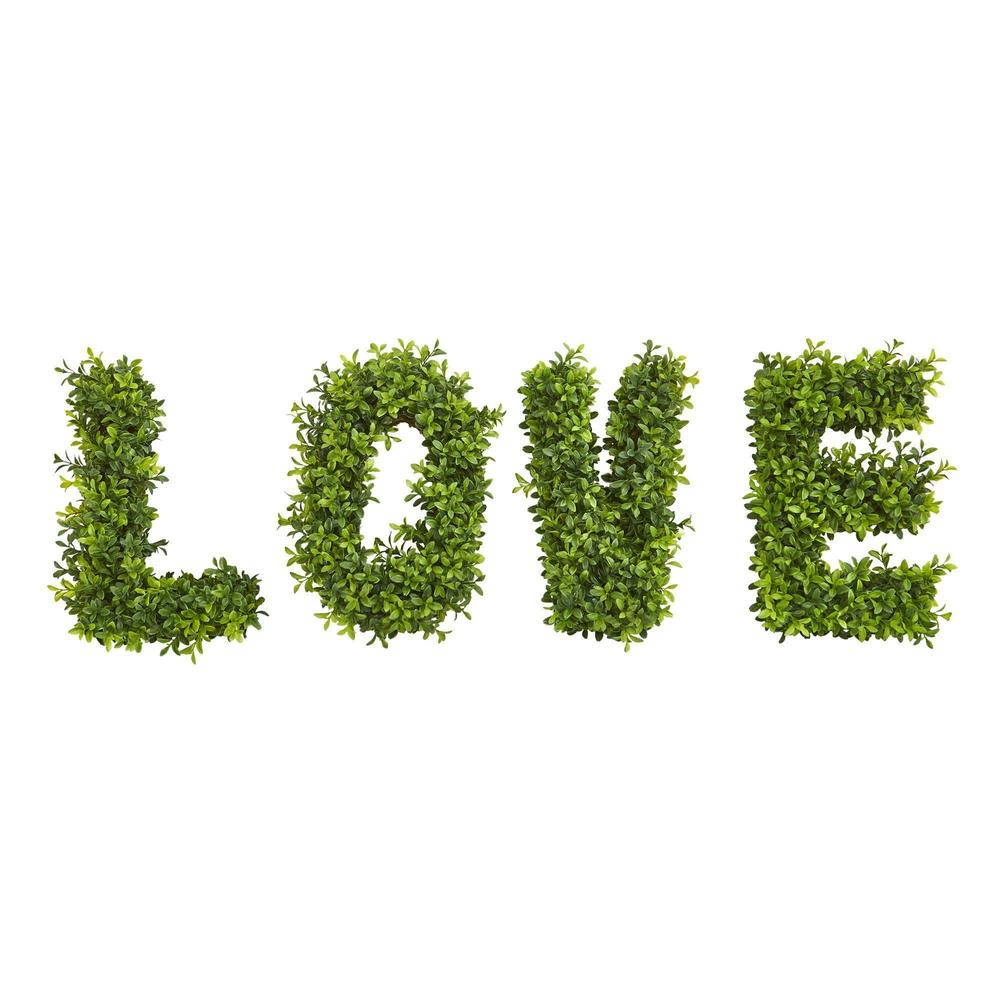 LOVE Artificial Boxwood Wall Decoration

Remind your younger family members how you feel with this bright and bushy display of affection. With the sweet and simple message of "love," no one can say you didn't bring the essence of the Valentine's Day cheer into the fray. As a part of our outdoor rated products, the possibilities are endless. A perfect backdrop for any party or get-together, this heartful display can join the fun at any time of the year. Let it rest in his or her room as an ever present reminder of the playful moment when it was received.
Take this smitten couple of roses into your Valentine's Day gift box and warm the heart of your dearest who opens it. As a hanging arrangement, this little pet plant will take up virtually no space allowing it to be augmented into even the most modest of spaces. Suspend it above his or her bed for a magical feeling of hanging botanical beauty. If you aren't able to drop it down from the ceiling, simply placed on a bookshelf will create just as much of a mystical mood. A most suitable gift for a fantasy loving adolescent.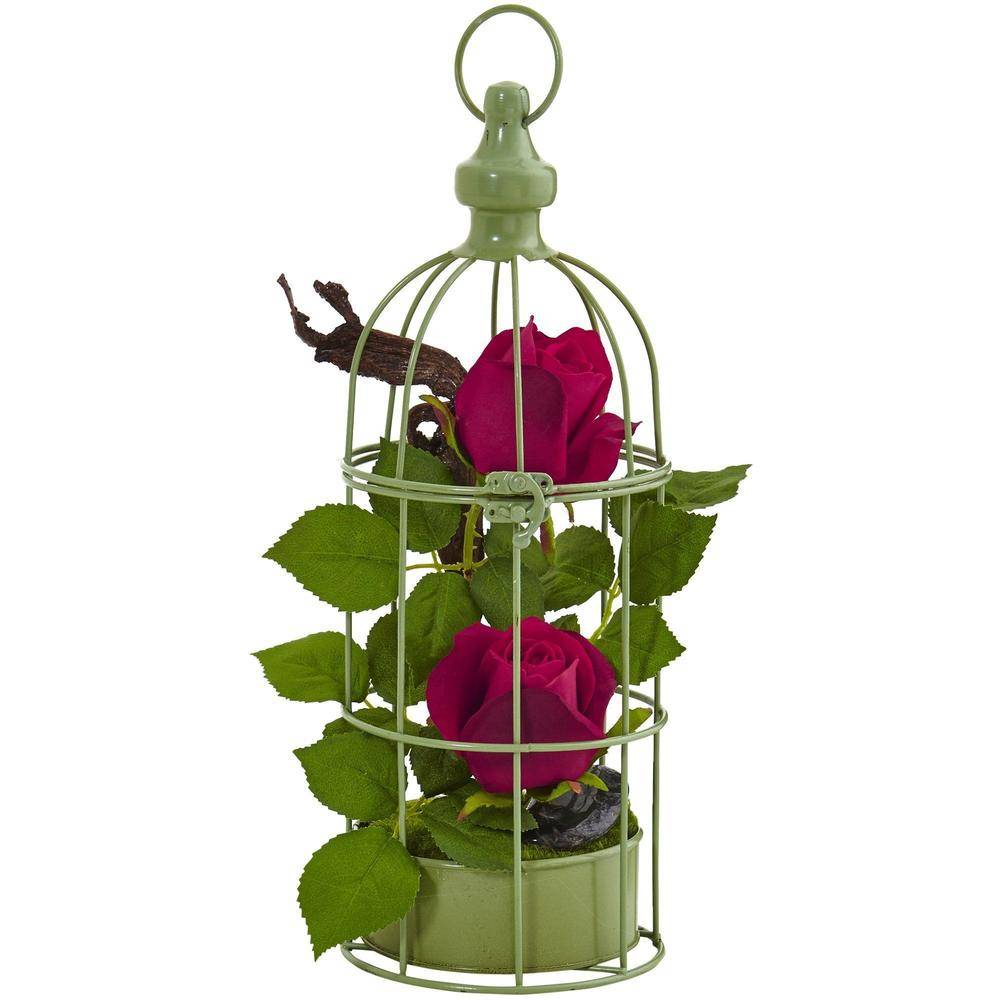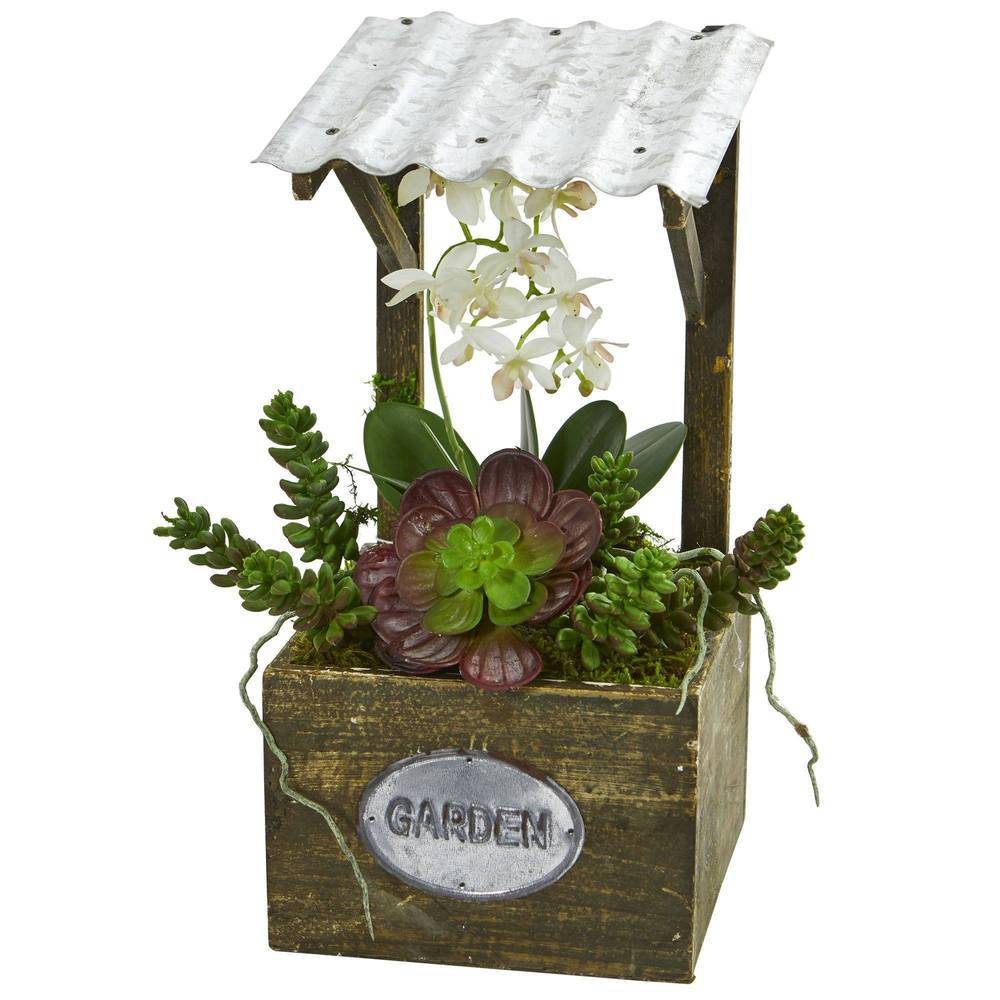 Phalaenopsis Orchid and Succulent

Endless options await with this versatile piece that could be used as a stand-alone classic or fit into anywhere that needs a rustic feel with a touch of elegance. Just about everything in this arrangement is some type of miniature, making it irresistibly adorable for any occasion. Hang it up on a wall and hide the nail under the little tin roof or set it down on any flat surface to bring in the quaint country cuteness. The eccentric style of this baby-sized garden shed can be sure to charm anyone who sees it. For those who are fond of nature and gardens this will make the perfect gift.
With a large variety of textures and leaves this ornamental festoon can bring the festivity to a whole new level. Draped over a bed's headboard or a mantel of your choice, one can bring the colors and themes of Saint Valentine's special day in an easy to assemble way. Gift this to the enthusiast of Victorian love stories and witness the excitement and awe. Lustrous and vivid red geraniums proclaim the arrival of the new holiday while bringing fond memories of Christmas past. Bring this home and discover how your young one uses it in their own creative way.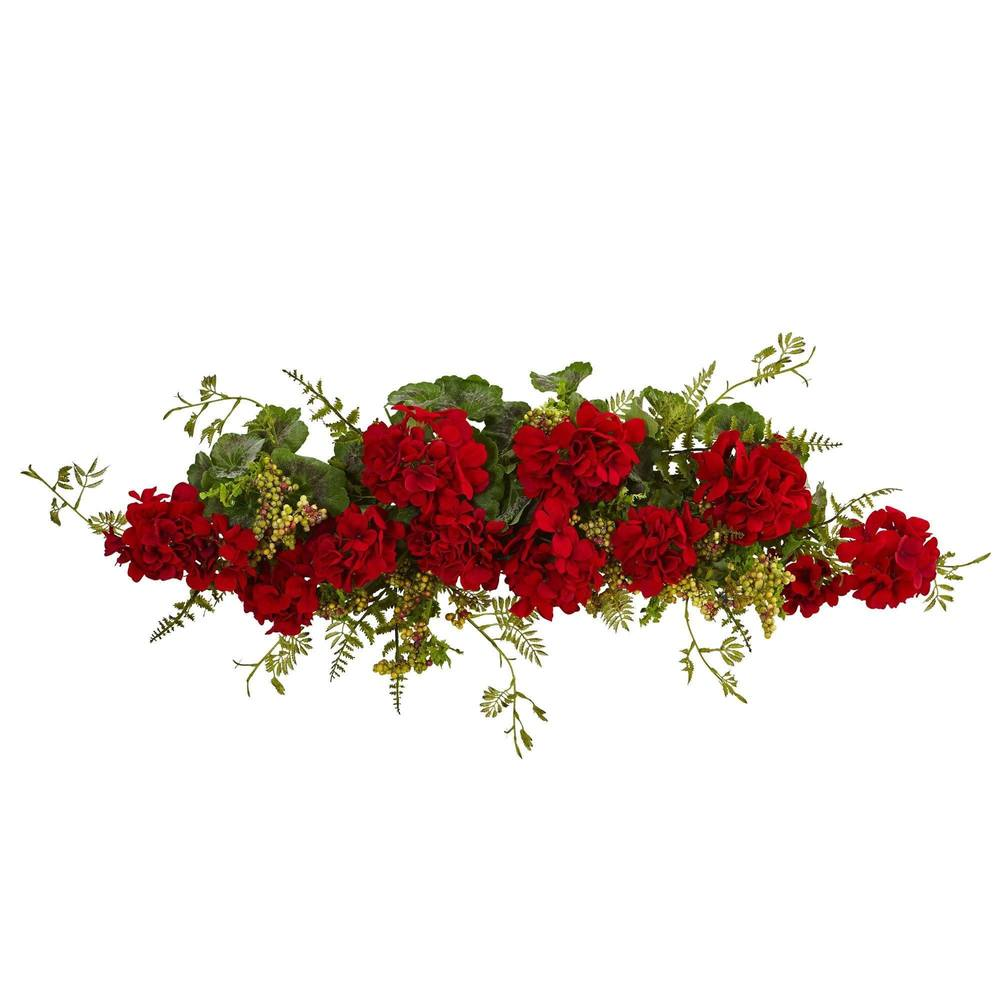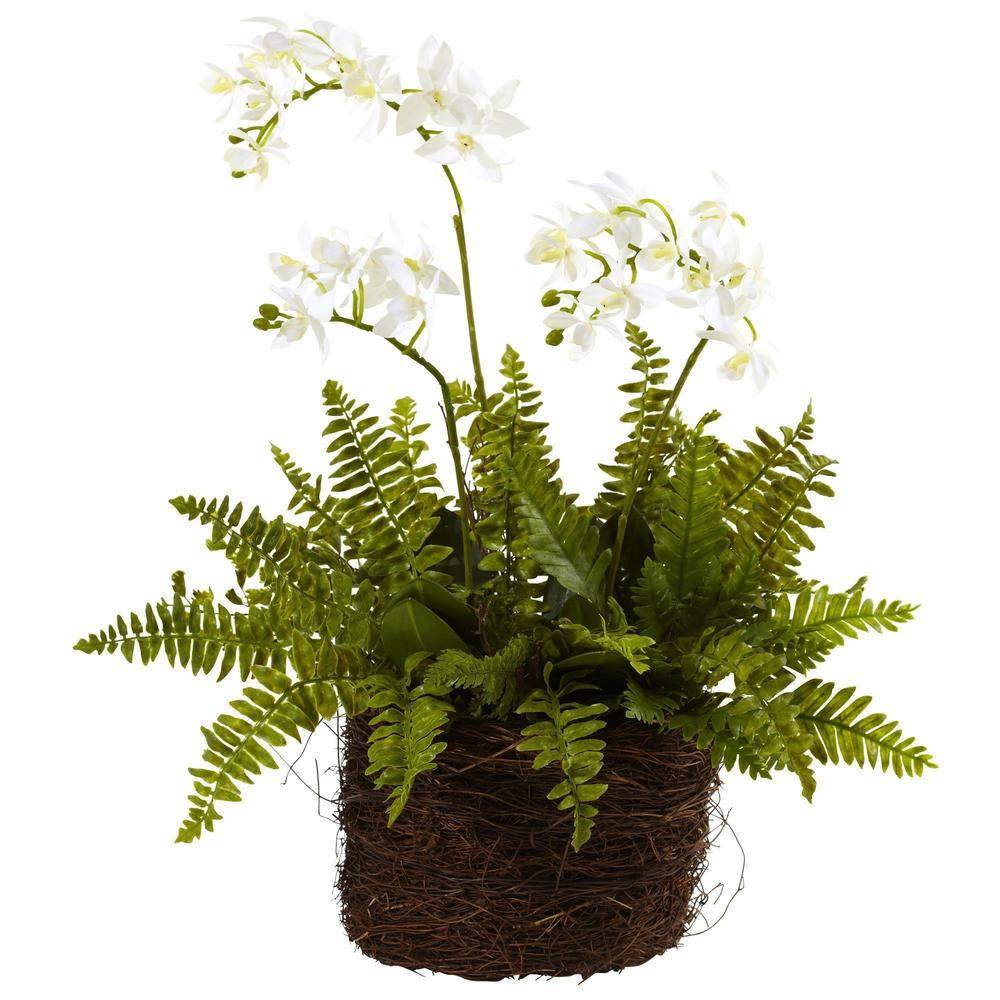 Mini Phalaenopsis and Ferns in Bird's nest

Welcome the sights of nature into your home with this uniquely potted combination. With ferns to engender a sense of prehistoric wonder, this is a great gift for a dinosaur enthusiast of any age. Paired with the allure of pure white orchids this arrangement can appeal to a wide variety of audiences. The bird's nest planter encourages one to imagine that this cute couple of plants were miraculously discovered in the wild and brought to your doorstep from a long time ago in a land far, far away. Remind your dear one of the bliss of nature for many years to come and take this home today.
Let's Not Make It Only About Kids!

We all deserve a great gift for Valentine's Day, and that includes you. Our expansive emporium of care-free imitation plants and flowers can fit your needs in any situation, especially for him or her during this special holiday. Below is a mere sample of our hundreds of products tailored just for Valentine's Day.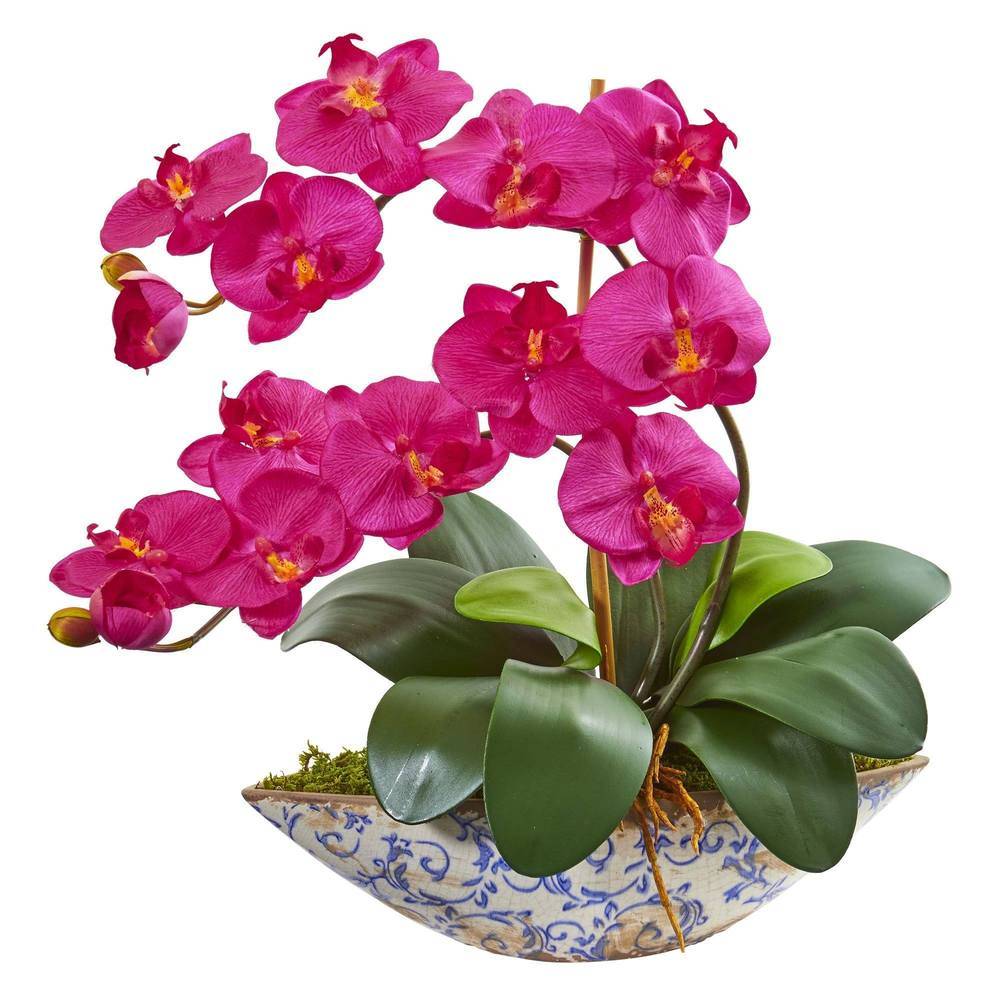 Phalaenopsis Orchid in Decorative Vase

Show your Valentine sweetheart how you want to grow together with this artistic arrangement. Two growing tendrils covered in mature blossoms as well as newborn buds represent your blooming journey together. Good things that have been done and new things that are to come. The planter boasts one of our most unique designs being a pointed oval painted with a gorgeous blue and white floral pattern. Color options include a large array of spirited, vivacious tones that can bring so much light to any decor.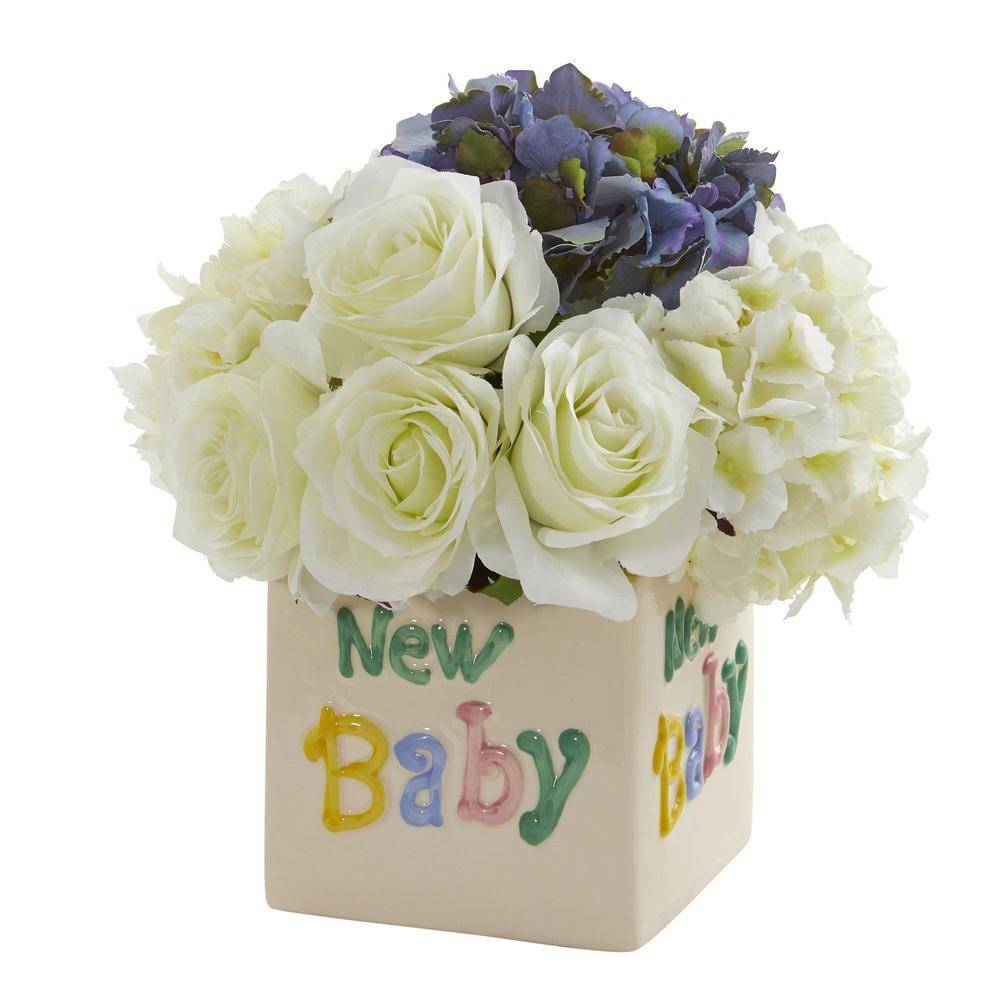 Rose and Hydrangea in New Baby Vase

Honor one of the most precious events in life with this sweet token of appreciation. Whether it's to your own partner or to your favorite couple, this cute coupling of roses and hydrangeas can bring a heartfelt message. Blue and white hydrangeas can symbolize gratitude and purity, respectively, and white roses are a traditional symbol of matrimony. With a vase that exclaims "New Baby," this present will bring back memories of a lifetime for countless days to come.