Artificial plants have become a staple in any home, fake plants for home décor have a way to connect us with the outdoors in ways not possible with other home décor accents. By adding faux plants to your space, you're inviting the outdoors in and bringing the calming benefits of nature into your home. And these benefits can still be enjoyed with faux greenery. However, because so many of us live busy lifestyles, fake plants are a better choice for many. At Nearly Natural, we have 75+ years of experience in the live plant industry, and through this experience we craft the most lifelike artificial plants.
Before you begin shopping, remember to pick a spot for your new artificial plant. This will allow you to know the size of the space so you can buy an adequate-sized faux plant. It also helps to decide on the style and choose a plant that matches the overall aesthetic and textures. Some popular spots many customers enjoy adding faux plants include – living room, nooks, front patio, bedrooms, kitchens, and more. You can decorate with artificial plants in virtually any setting. Especially bedroom décor with faux plants. 
The most important part about buying furniture – is first measuring your space. We know that this might not be the most fun part, but it's essential. Get your measuring tape and measure the height of your ceilings and the width. This will allow you to minimize returns and get it right the first time. We recommend opting for a faux tree about a foot shorter than your ceilings if you want to maximize the space with visual interest.
One of the best ways to disguise and camouflage your faux plants is by mixing them real ones. We know this might sound a bit counterproductive – but it makes them look more accurate as it plays a trick on the eyes whenever someone looks near. Also, remember to add natural elements to your faux plants, such as river rocks, fake soil, or flowers, to enhance and make your plant look more natural. Artificial plant wall décor is a great option to consider.
Because bringing the outdoors livens any space, many people choose to add nature to their homes. However, because many have a busy lifestyle, it can be challenging to maintain verdant plants. This is why decorating with the top 10 lucky plants for 2022 is the best option—welcome prosperity into the new year with these high-quality faux plants that require zero maintenance. Transform your space into an oasis of green quickly and effortlessly for a stylish look.
A common complaint of many plant enthusiasts is the constant need to care for them. And our lifestyles play a role in this, but you can still have a verdant, tropical oasis of green. Also if you live in places not friendly to plants, artificial greenery can provide those benefits without hassle. You can still design a well-curated space at budget-friendly prices. With an abundance of options, you're bound to find something that fits your style and space. Check out our top 10 snake plants.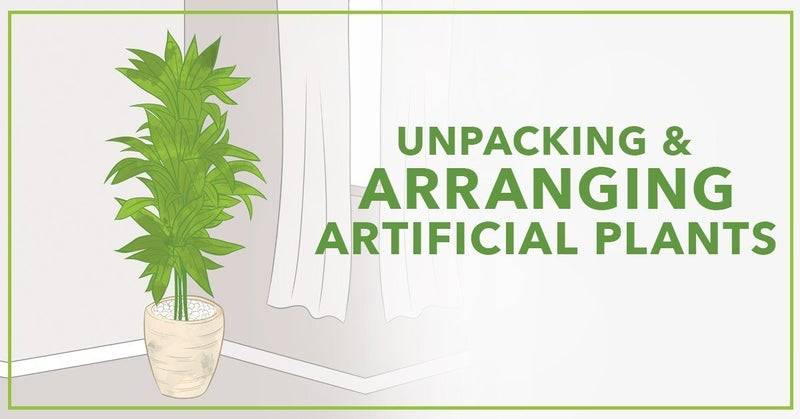 How to unpack your artificial plant or tree

Remove from packaging

Unpack your artificial plant or tree

from the packaging and ensure all the parts are there if necessary assembly.

Bend down the branches -

Use the product image on the item's page as a guide when shaping your new faux plant. Remember that it will come in a box, and you have to manually shape each branch to make it look full and lush.

Fluff the leaves -

Make it look lush and full by fluffing the leaves to look like the picture; you'll want to fill bare corners and spaces.

Add in accompanying base -

If you want to elevate the look with your personal touch, consider adding your favorite planter and upgrading your style.
How to choose the right size plant
When looking for faux plants, it's important to remember that choosing the right sized ones is key. Because there's so many styles and sizes out there, we recommend first identifying a spot for where your new tree will go. This is important so you can start measuring the width and the height of displaying the new faux plant. Learn more about how to measure your plants in our guide. We know this might not be the most dynamic and exciting part of the buying process, but it is essential to make the right decision and deal with annoying returns.