Ahoy! Welcome to your beach escape. If you wish for palm trees, the fresh smell of the breeze in the morning, and cozy, fresh hues, we're here to make those beach motif dreams come true even if you're miles away inland. Because we believe everyone can achieve good design at affordable prices, easily create your beach house effortlessly with our designer-curated faux greenery. Synonymous with beach-themed décor, nautical stripes, light woods, and palm trees, we're here to take your sea-themed design further with designer-curated tips you won't find anywhere else. With our vast selection of nature-inspired faux plants, discover the benefits of artificial greenery. Who knows? You might be chilling under a fake palm tree soon, no matter where you live. Learn how to design your dream beach escape today. Did you know? We have many high-quality faux trees that are just as lush, tropical, and green as palm trees.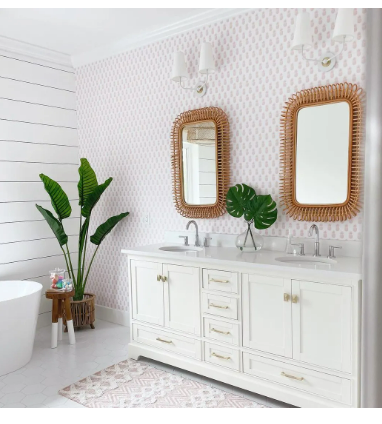 An alfresco bath with a view of the waves crashing on the rocks sounds good any season. If your idea of the perfect bath involves a seaside dream, you can always create a beach-inspired bathroom by incorporating elements of nature in your space; this works even if you don't live in a charming, quaint coastal town. By sprinkling sprinkles of beach motif throughout your bathroom, you can subtly inject those rustic, seaside vibes; the good thing about coastal décor is that it's perfect for any style. You can include fundamentals of this design into any bathroom. For example, consider adding light colors and brass finishes if your style is more traditional or transitional. Whereas adding brass and jute baskets does the trick if you're more on the minimalist side. Here are our three designer-curated tips from our award-winning team.
1. Add some lush, green plants
Designing with green in coastal décor is vital, but did you know? Adding green to the bathroom can help you feel more relaxed. This is because green is a calming, soothing color; it's no surprise that flora close to the beach tends to be vivid in green because there's more sun exposure; we recommend adding some faux plants, so you have one less worry. The boho jungle look, think Tulum bathrooms, is in, and transform your bathroom into the hotel ones with some faux palm trees. Designer tip: Add artificial palm trees to a corner of the bathroom for an explosion of greenery.
2. Use jute baskets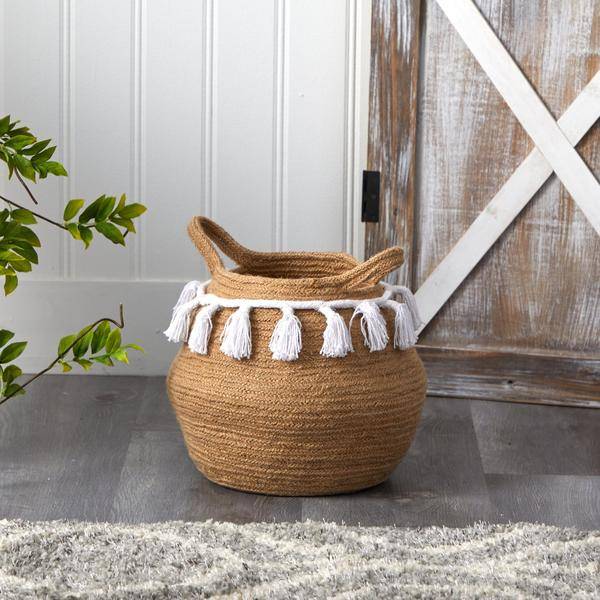 We love beach bathroom décor that can double serve as storage; it's a win-win in our book and wallets. Because of the natural material, jute brings thatnatural, rustic element essential in coastal décor. This easy-going, handcrafted jute basket is the perfect addition for adding laundry, small items, or small white towels. In addition, the white rope adds a little nautical fun.
3. Add beach-themed touches
For those who still want a little coastal charm without it looking too much, you can add some beach fun by subtly taking elements from the ocean. For example, you might not fancy the idea of using a seahorse lamp in your bathroom, but you can add a blue and white pendant with a bit of texture. Yes, seahorses and seashells inject a lot of texture, but you can add inspiring depth without overdoing it. A jute or rattan-inspired pendant that's a bit more on the boho side also enhances the look.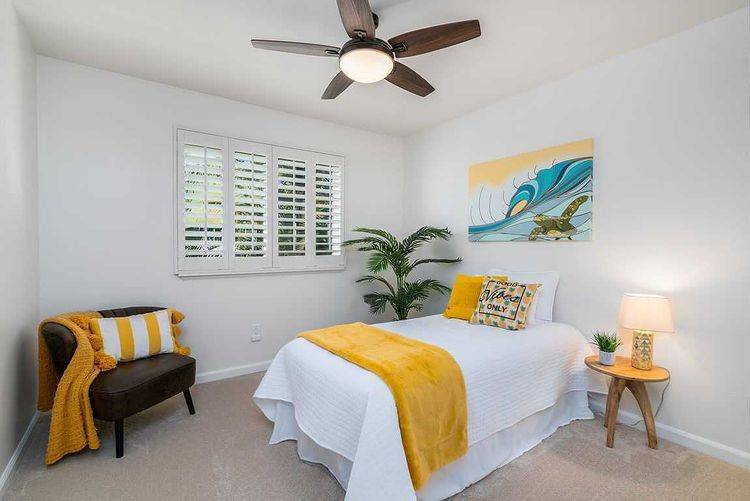 Wake up to the sight of the ocean with your very own beach room décor for the bedroom. You can DIY this look quickly with some fake plants for the bedroom. Don't worry! It's not just palm trees that can transform your space into a dreamy beachside retreat, here's other items that can too. Our top interior designers share their best coastal-inspired space tips for bedrooms.
1.Use soft, blue, and white sheets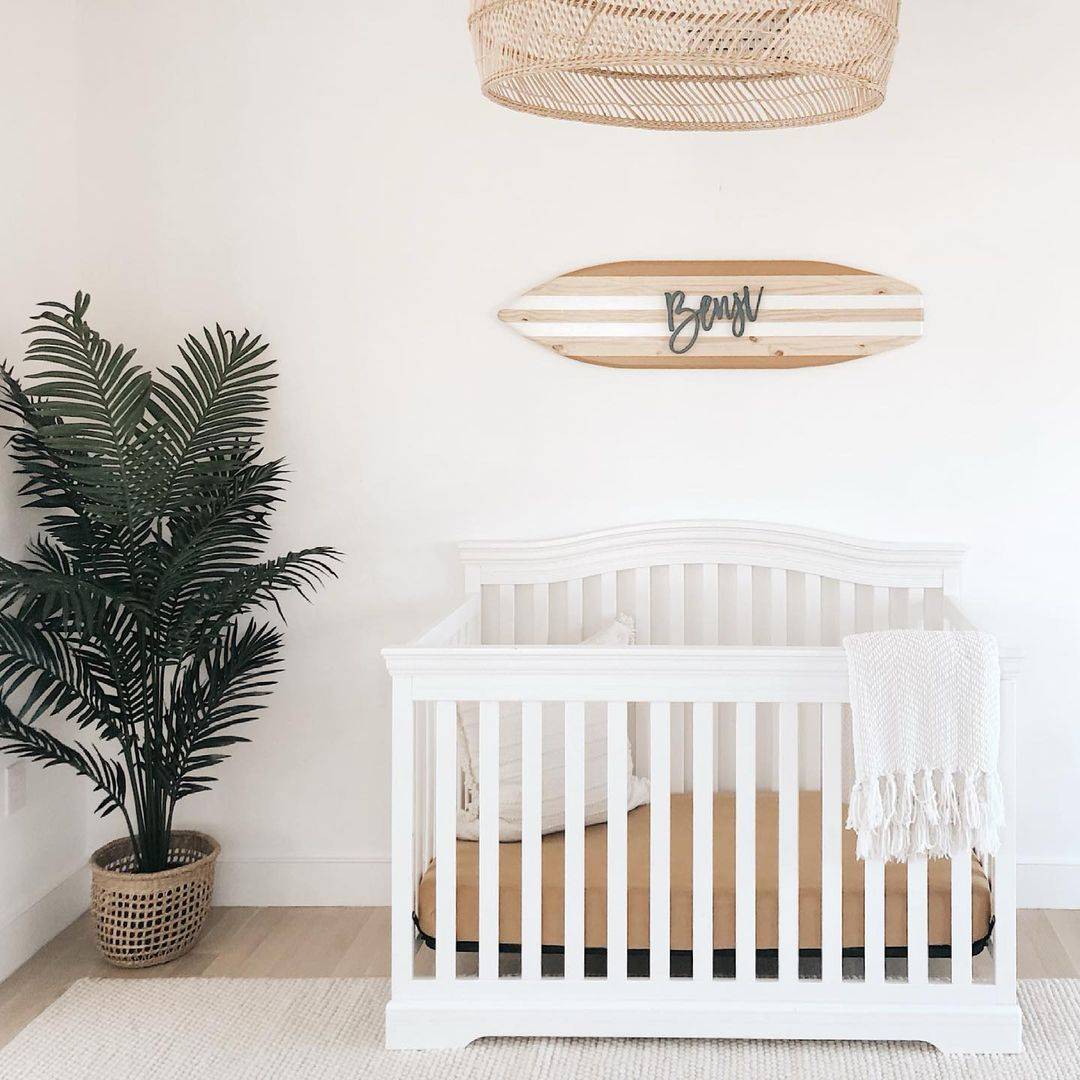 Who doesn't love that first headrest on the pillow after a long day of work? Especially if you're into minimalist and less maxi décor, clean white, blue cushions, and sheets deliver that fresh, airy feel when trying to soften the look. So choose white sheets and blue pillow covers and for the bottom portion of the bed, maybe a textured blanket.
2. Add an olive tree
We know that we've been saying to add lush, tropical plants, but if you're into trendy décor and a more European coastal look, the olive tree is one not to be missed. Olives are the hottest tree around (no pun intended). You see them everywhere on social media, you might have one on your wish list, but it's always sold out. Now is your chance to get one so you can curate it next to the bedside table.
3. Use clear furniture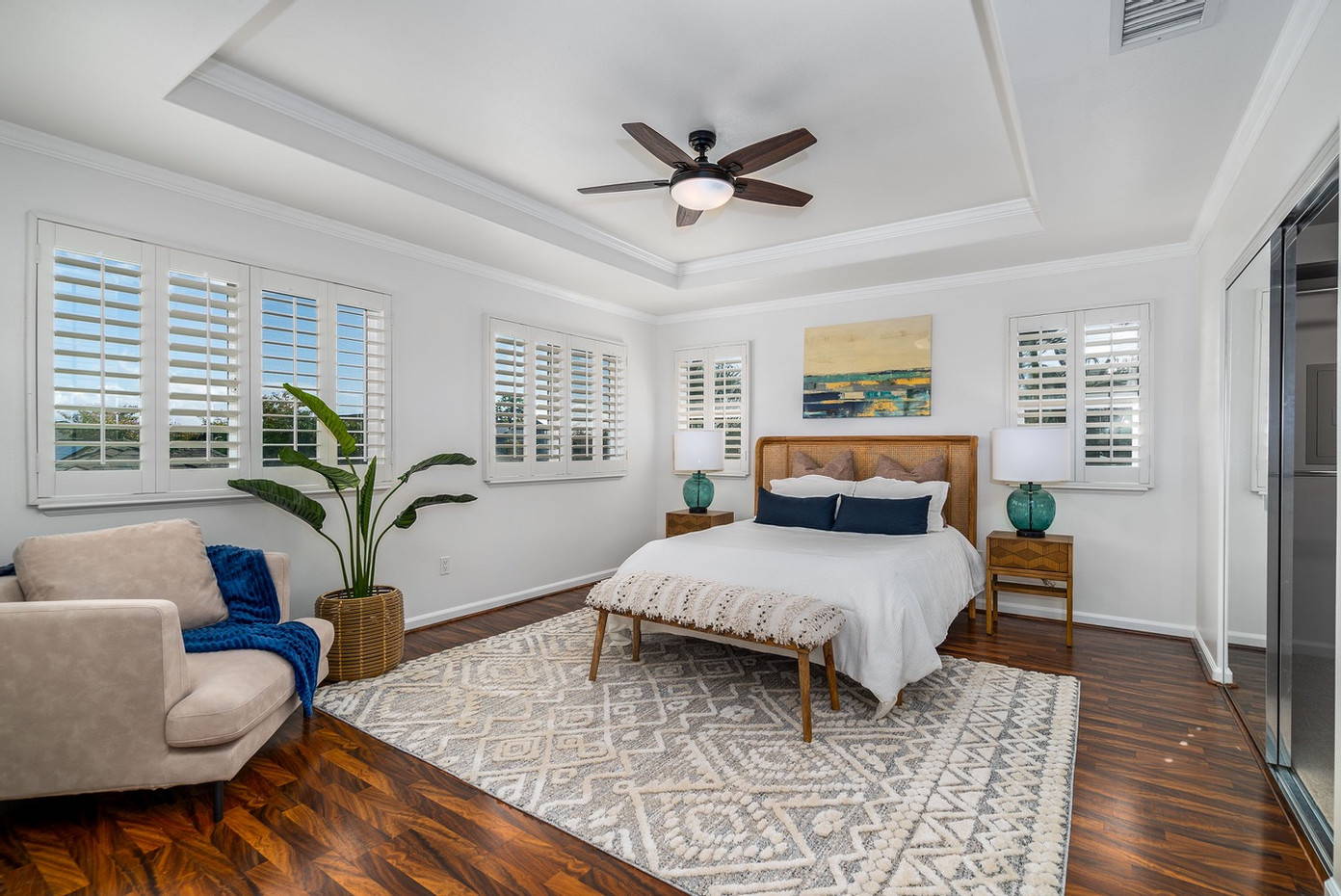 Trust us on this one. Clear furniture has been making its way into the mainstream home décor stores; you might already be a fan if you live somewhere with ocean views. But, if you seek that airy, beachy, open feel, clear furniture is the way to go. It might seem a bit different than from what you're used to but try slowly by adding clear lamps with a hint of sand in the bottom. If your space is on the smaller side, clear furniture will make your area seem larger.
If you're thinking about beach-themed wall décor ideas, you can't miss our selection of wall décor guide. Discover beach-themed wall décor sure to last and transition with every season. Here are our picks for the top three beach-inspired wall coastal décor.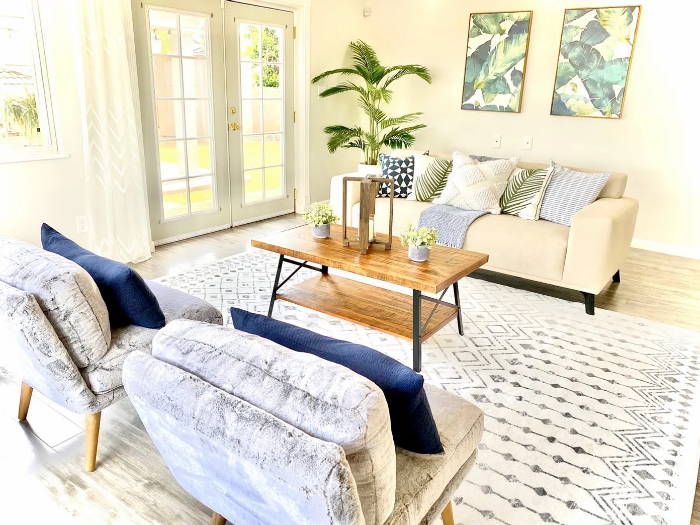 The centerpiece of any home, where you welcome guests, relax after a long day and create memories with the family. The anchor of your ship that holds the house together. Decorating a beach look in this space is easier than it looks with our DIY tips.
1. Pick a wooden table
You might already have a wooden table, if not, finding one is easy and affordable. Once you have your table, accent it with some vividly colored flowers for more depth and color. Again, we recommend using silk orchids to freshen the space.
2. Choose light-colored furniture
This one might sound controversial, and we agree that many decorators might have a different opinion, but for a classic, fresh look, white, neutral colored sofas are the best option. If you're scared about stains and messes, look for a cover for when you have guests over.
3. Add a faux palm tree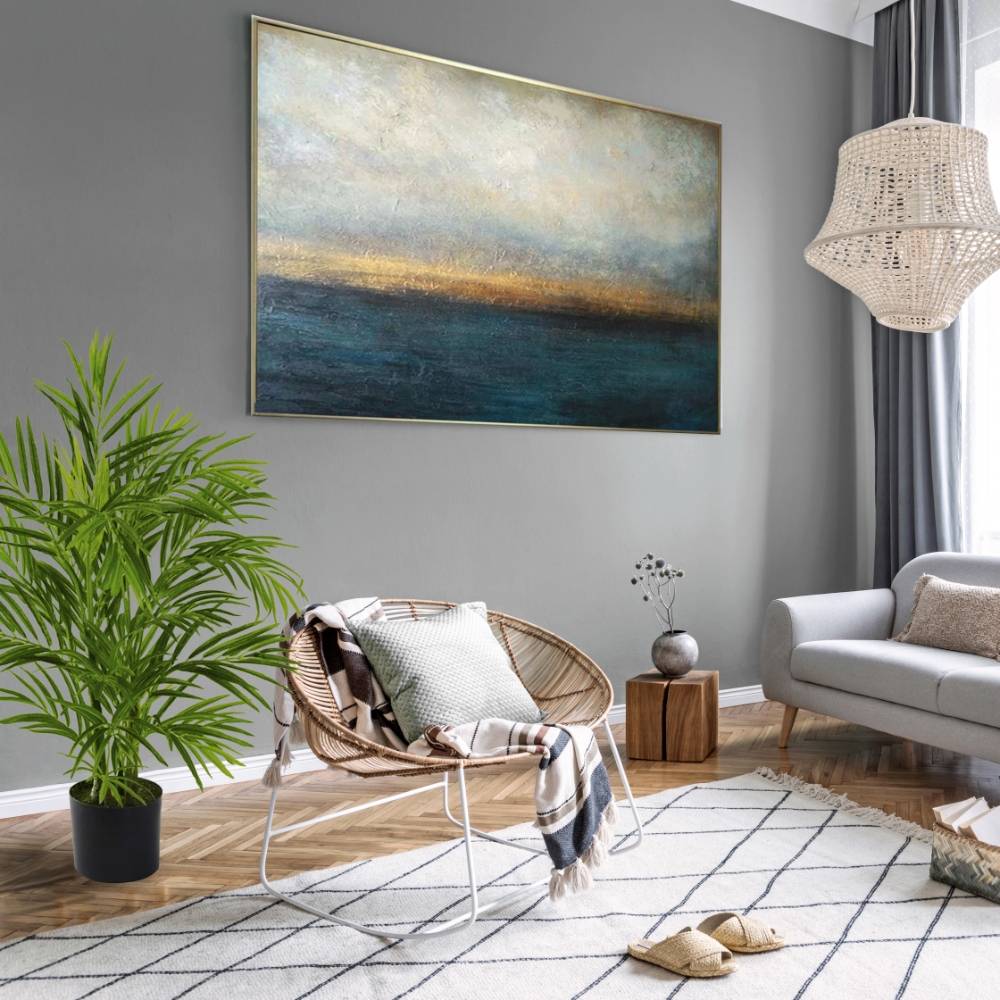 We can all agree that nothing screams beach vacation more than a palm tree. Inspired by nature, our artificial palm trees are some of the most realistic ones out there. But if you want to make fake plants look more real, learn our designer and horticulturist secrets on our blog.
If you're like us, you've probably been spending more time outdoors with your loved ones. From dinners to siestas to everywhere in between, you've probably spruced up and DIY a few things around for the ultimate outdoor retreat. But when talking about the outdoors, our tips cannot bring the ocean to you, unfortunately. Still, the good news is that with our advice, you're one step closer to being in a vacay state of mind by bringing the elements of the wild into your space—what better way than bringing your outdoors to life than with some artificial greenery. But, of course, we know you want to relax as much as possible, and maintenance-free faux plants provide just that. So here are our top three outdoor plants and trees.